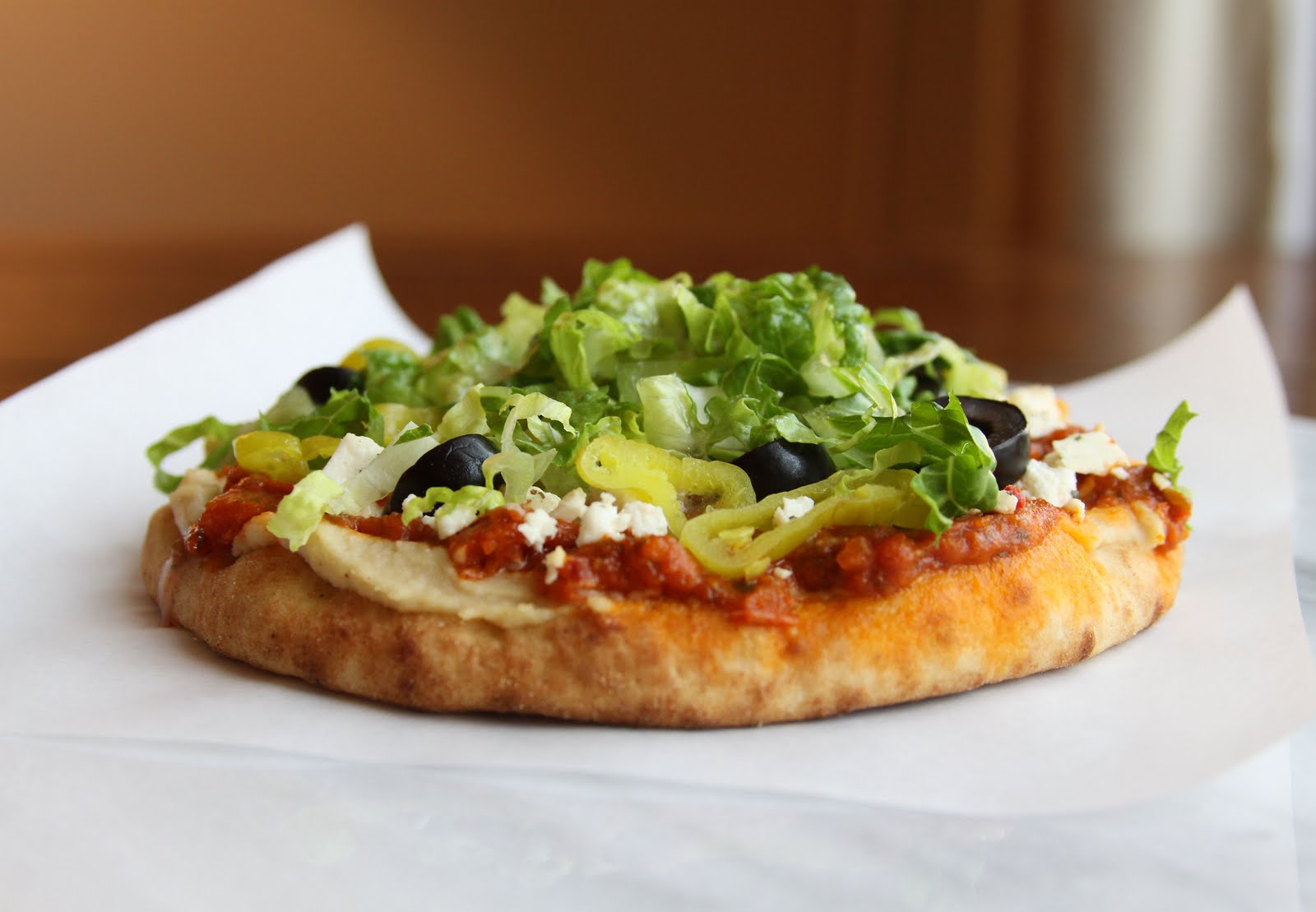 J and I approach food in two completely different ways. It's almost comical sometimes; the food editor who muses about all things culinary and savors every morsel and the former football player who has spent the last eight years of his life eating for fuel, wolfing down thousands of calories without much of a second thought about the actual taste of his food.
I'm working on him, going to places off his beaten path, encouraging him to slow down and taste what it is he's eating. But truth be told, sometimes I need a lesson in slowing down and savoring each bite, too; because at the end of a long day, sometimes cooking a meal seems like the world's most daunting task and a bowl of cereal never looked so good.
This Greek Salad Pizza is here to tell you, and me, that a dinner worth savoring isn't out of reach. Trust me, I found myself with a bag of pitas and the fixings for Greek salad last week and ate this meal three days in a row. And while pita bread pizzas are hardly anything new or revolutionary, this dish was a fresh reminder of how deliciously easy a ten minute meal can be.
Greek Salad Pizza
(Printable Recipe)
Ingredients
*2 small whole pita bread rounds
*4 Tbsp. hummus
*4 Tbsp. roasted tomato pesto or other jarred pesto
*1/2 cup crumbled feta cheese
*4 to 6 pepperoncini peppers, thinly sliced
*1/4 cup thinly sliced black olives
*2 cups romaine lettuce, thinly sliced or chopped
*2 to 4 Tbsp. Greek style salad dressing
Instructions
*Preheat oven to 400°F. Line a baking sheet with parchment paper or aluminum foil; set aside.
*Spread 2 tablespoons hummus on each of the pita breads, followed by 2 tablespoons of the pesto. Top each with a 1/4 cup feta cheese. Evenly divide the pepperoncini peppers and black olives between the two pitas.
*Place in the oven and bake for 7 to 10 minutes, until the pita is crispy and the toppings are heated through.
*Toss the romaine in the Greek style salad dressing. Top each pita with some of the lettuce mixture, or serve along side the pitas.
Happy Cooking!
Madison