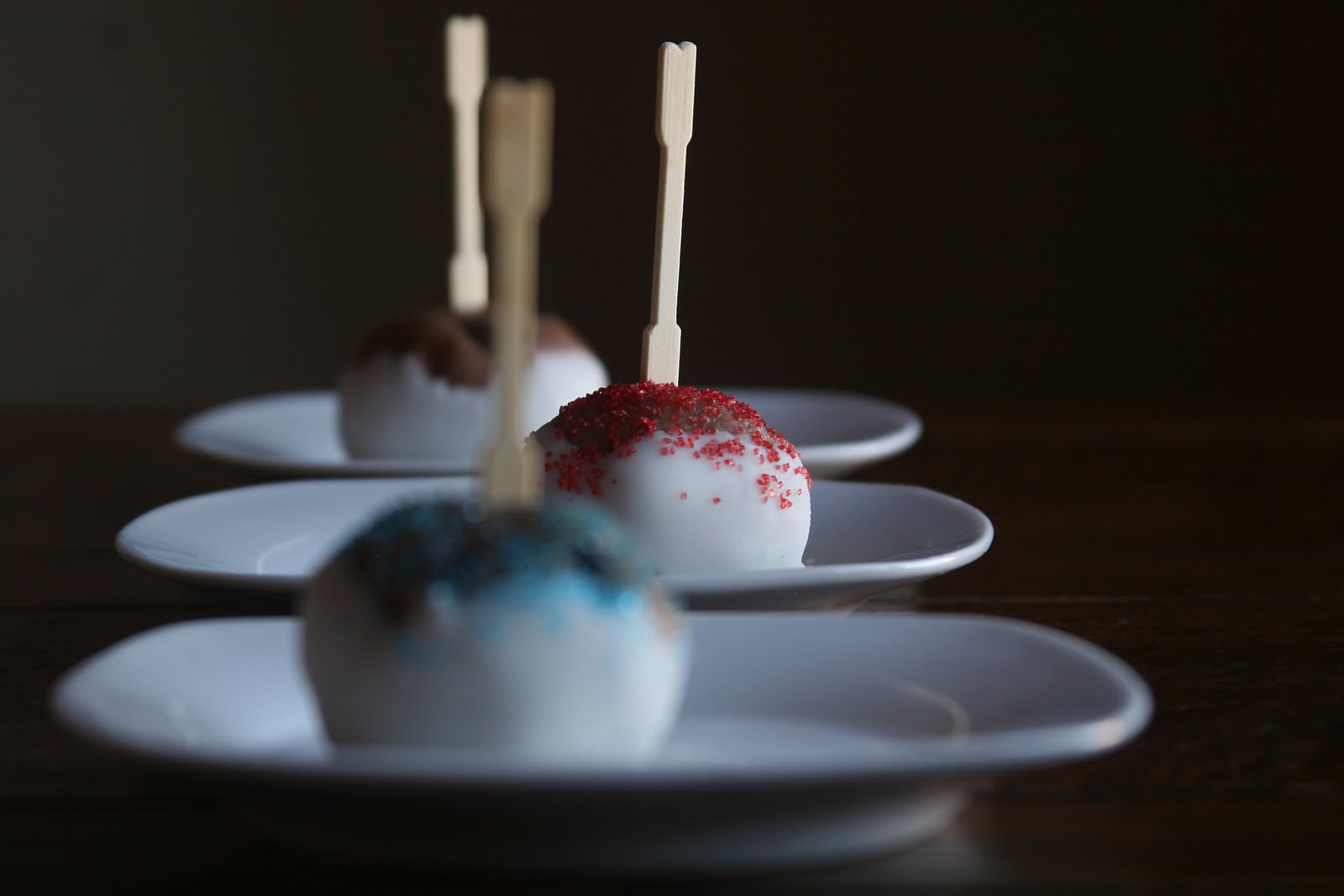 Originally I planned to post these on Friday in preparation for 4th of July. But then I made these brownies and got so excited about them that I lost my mind, got distracted, and in a sugar-induced haze I posted brownies instead. Not to worry, these White Chocolate Dipped Nutella Cookie Dough Bites (yes, you heard that right) taste good any time of the year.
If you're at all like me, you probably don't need to read the rest of this post to know you want to make them, so I will keep this short and sweet so you can head on over to your kitchen and get to making them. Joy's post last week was what first got me thinking about chocolate dipped cookie dough, but me being me, I had to play around and make it mine.
So what could make chocolate dipped cookie dough better? Adding Nutella, of course! Boy oh boy are they delicious, and quick, because when a craving strikes, the last thing you want to do is wait. Rest assured, this cookie dough is egg-free and safe for all to eat, though I can't safeguard you against the stomach ache that comes when you eat too many, too early in the morning.
White Chocolate Dipped Nutella Cookie Dough
(Printable Recipe)
Ingredients:
*3/4 cup butter, softened
*3/4 cup sugar
*3/4 cup brown sugar
*1 tsp. vanilla extract
*1/2 tsp. salt
*1/2 cup Nutella or creamy peanut butter
*2 cups all-purpose flour
*1 (16-oz.) package white chocolate or almond bark
Wooden toothpicks 
Sprinkles or other toppings (if desired)
Instructions:
*With an electric mixer, beat the butter on medium speed until creamy. Add the sugars and beat for 2-3 minutes, until fluffy. Beat in the vanilla, salt, and Nutella. Add in the flour and beat until well combined.
*Drop dough by rounded tablespoons onto a waxed paper lined baking sheet. Stick a toothpick into the center of each dough ball. Freeze for 20 minutes.
*In a microwave-safe bowl, melt the chocolate or almond bark, microwaving in 15 second intervals and stirring between each interval until chocolate is just melted, about 2 minutes.
*Dip cookie dough balls into chocolate and return to waxed paper. Freeze for at least 20 minutes. Keep in the freezer until ready to eat.
Happy Baking!
Madison