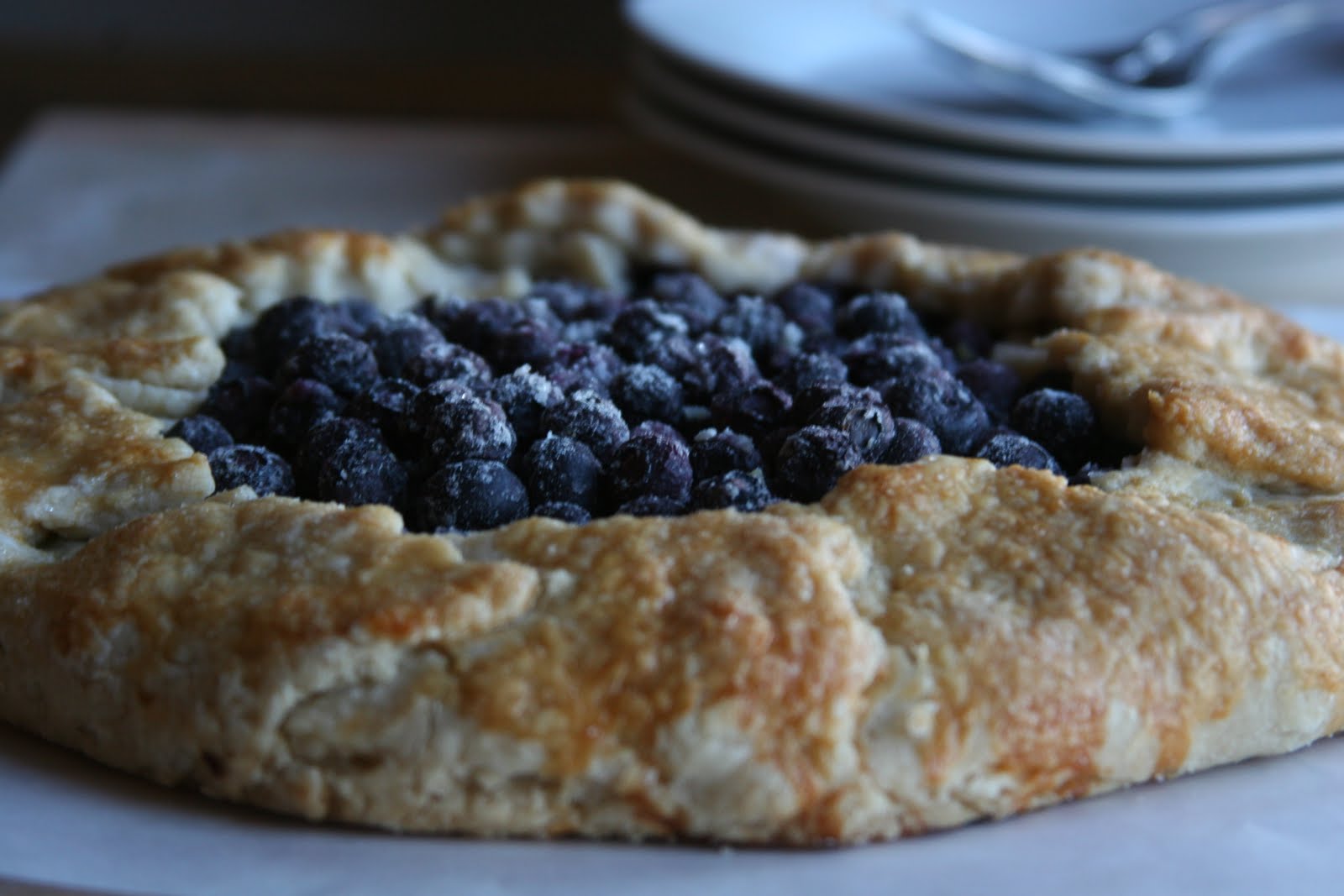 Whew! I feel as if I've been out of touch with the outside world for months when it's only been a week. I've been spending time with family and friends and celebrating a milestone birthday for my dad. And now the list of blogs I have to catch up on reading is a mile long, the laundry is piling up as I write this post, and I don't even want to think about the state of my eyebrows. I'm not sure what the connection is, but I'm pretty positive good-looking eyebrows and technology go hand in hand.
I've taken a brief reprieve from this lack of technology to share with you something I made just before I left. J. and his family stopped by my apartment last Thursday and while they were here, I shared a good portion of this Blueberry Galette. Though I've said it before, a galette is probably the easiest variation on a pie. Flaky crust? Check. Fruit filling? Check. The only thing that is missing is the fuss and frustration of rolling out a perfect pie crust with a beautiful, fluted edge.
Every pie crust I've ever made, before this one, has contained butter. Buttery, flaky crust is what it's all about, right? Well Ree, aka The Pioneer Woman, has changed my mind about it all. She provided this recipe for perfect pie crust, made with shortening in place of butter, and boy is it divine. Flaky and light, this crust has it all. And the blueberry filling tops it off, with bright citrus, a touch of sugar, and a little flour to pull it all together, this is pie at its very best and easiest.  
I'm off to continue my vacation, but I'll be back soon with lots of exciting news!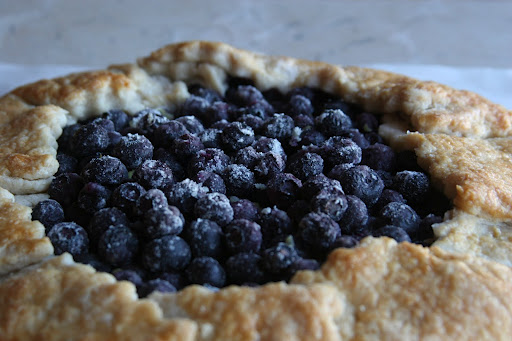 Blueberry Galette 
(Printable Recipe) 
Perfect Pie Crust
Courtesy of the Pioneer Woman Cooks 
Ingredients:
*1 1/2 cups Crisco
*3 cups all-purpose flour
*1 whole egg
*5 Tbsp. cold water
*1 tsp. salt
Instructions:
*Preheat oven to 400*F. 
*In a large bowl, with a pastry cutter, gradually work the Crisco into the flour for about 3 or 4 minutes until it resembles a coarse meal. In a small bowl, beat an egg with a fork and then pour it into the flour/shortening mixture. Add 5 tablespoons of cold water, 1 tablespoon of white vinegar and 1 teaspoon of salt. Stir together gently until all of the ingredients are incorporated.*Form the dough into a ball, then flatten slightly into a disc. Put the dough into a zip-top bag and place in the freezer for 15 to 20 minutes.
*On a large sheet of parchment paper roll the dough, starting at the center and working your way out into a 12 to 14 inch circle. This circle doesn't have to be perfect, just in a fairly circular shape. Transfer the dough circle, on the parchment paper, to a baking sheet. Prepare the blueberry filling.
Blueberry Filling
Ingredients:
*2 pints bluberries
*3 Tbsp. sugar
*2 Tbsp. flour
*2 tsp. lemon zest
*Juice from half a lemon
*1 egg, lightly beaten
*1 Tbsp. sugar
Instructions:
*In a large bowl, combine the blueberries, sugar, flour, lemon zest, and lemon juice. Toss to coat evenly. Spoon the mixture into the center of the dough circle, leaving a 2 to 3 inch dough border around the filling. Turn dough up around the filling, pinching the edges of the crust together as needed. Brush the crust with the lightly beaten egg, sprinkle with sugar.
*Bake for 40 to 45 minutes, until crust is golden brown and filling begins to bubble slightly. Remove from oven and cool for at least 30 minutes before serving. Cut into wedges to serve.
Happy Baking!
Madison