As much as I may enjoy a busy, fun filled weekend every now and again, this nonstop travel and craziness has got to stop. Returning home from work last night, I was so tired that I completely forgot about dinner. Trust me, that never happens. So I celebrated the longest day of the year by getting the year's longest night of sleep. Eleven hours later I feel like a completely new person. Not to worry, this new person still likes to eat and blog.
Scones were never a part of my childhood. I don't have stories of waking up to the smell of scones or my mom teaching me to make them. The first time I remember eating a scone was in college at my friend Emily's house. Emily lives on an acreage in Minnesota that looks like something out of a magazine. The house is country-chic beautiful and surrounded by fruit trees, chickens, and goats. Her mom is a do-it-all type that happens to make very delicious raspberry scones. Raspberry scones made with freshly picked raspberries. After that trip, I was sold on scones.
I've made scones before, but they've usually ended up tasting like rocks. Call me crazy, but I don't think scones are supposed to taste like rocks. On the bright side these Oatmeal Scones with Coconut Glaze taste nothing like rocks, quite the opposite actually. They are crispy around the edges and light inside and the coconut glaze serves to add extra moisture. While eating one, I found they mysteriously tasted a bit like carrot cake. Don't ask me how or why. Maybe I'm just imagining things and need some more sleep.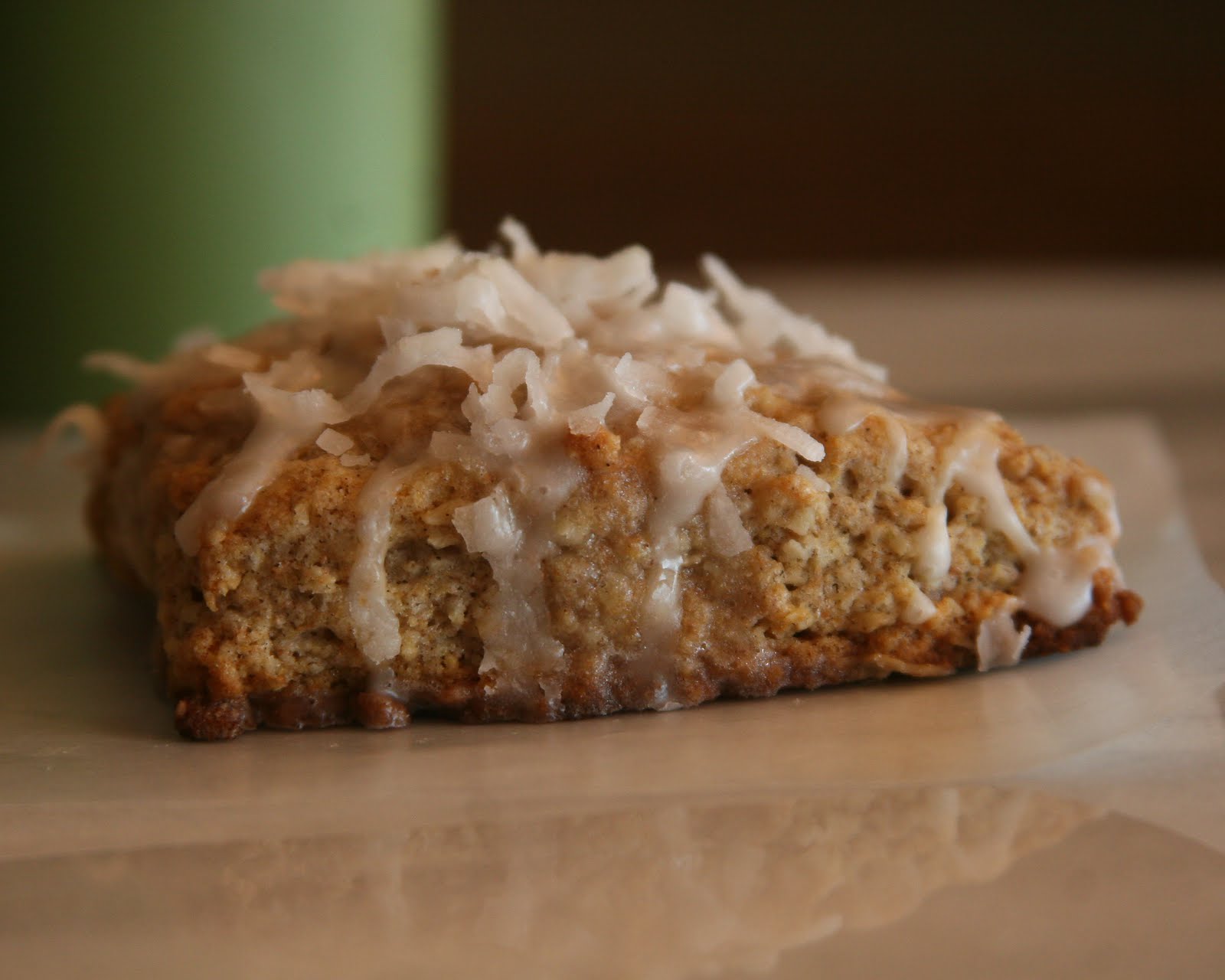 Oatmeal Scones with Coconut Glaze 
Adapted from Gourmet, November 2005
(Printable Recipe) 
Ingredients:
*1 cup all-purpose flour
*2/3 cup whole wheat flour
*1 tsp. cinnamon
*1 Tbsp. baking powder
*3/4 tsp. baking soda
*1/2 tsp. salt
*1 tsp. vanilla extract
*1 1/3 cups old fashioned oats
*1 1/2 sticks butter
*2/3 cup milk
*1 1/4 cups powdered sugar
*1/4 cup milk
*1 tsp. coconut extract
*1/2 cup shredded coconut (sweetened)
Instructions:
*Preheat oven to 400*F. Line a baking sheet with parchment paper.
*In the bowl of a food processor, combine flours, cinnamon, baking powder, baking soda, and salt. Add oats and pulse for 30 seconds. Add butter, cut into cubes. Pulse 15 times, until butter forms coarse crumbs no larger than the size of a pea. Transfer mixture to a large bowl.
*Add milk to the flour mixture and stir with a fork until dough forms and dry and ingredients are just combined. Turn dough out onto a floured surface and form into a large rectangle. Cut into triangles and place on a baking sheet. Bake for 13 to 15 minutes, until scones are lightly golden.
*Meanwhile, mix together the powdered sugar, milk, and coconut extract. When scones are slightly cool, drizzle glaze over the scones. Sprinkle with coconut.
Happy Baking!
Madison