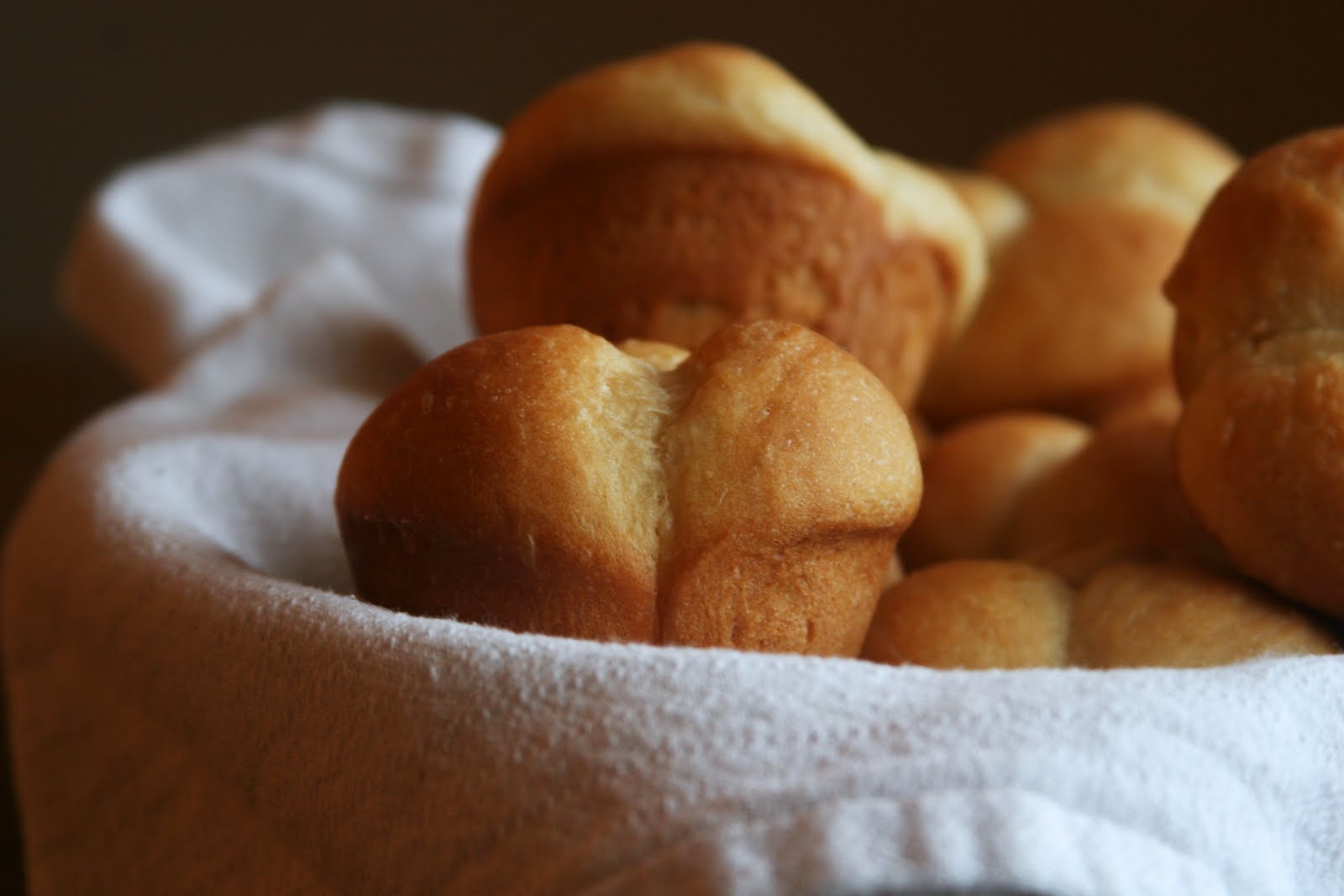 Having a weekend at home is, to say the least, absolutely divine. Since it's been almost two months since I've had a weekend like this, please excuse the short post. I've got a lot more weekending (is that even a word?) to get back to! Browsing the farmer's market, a birthday barbecue, a wedding, and consuming way too much delicious food make for a wonderful couple of days.
Before I leave you, a word or two should be said about these heavenly rolls. My first Scott Peacock dinner roll was made by the chef himself. Trust me when I say they were beyond perfect and I ate one too many. Buttery all over with a crisp exterior and light, airy interior, these rolls are everything packaged rolls strive to be but never come close. If you make these rolls, people will fall at your feet, proclaim you a dinner roll master, and do favors for you in exchange for more rolls. Next time you need a favor, come with a smile and a basket of Scott Peacock's rolls. You won't be sorry.
Have a happy weekend!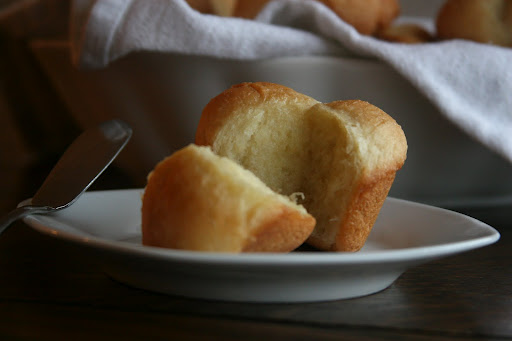 Chef Scott Peacock's Dinner Rolls
Recipe Courtesy of Better Homes and Gardens magazine and Chef Scott Peacock 
(Printable Recipe)
Ingredients:
* 1 cup milk 
* 6 Tbsp. butter (room temperature) 
* 1 pkg. active dry yeast 
* 1/4 cup warm water (105 degrees F to 115 degrees F) 
* 2 eggs, lightly beaten 
* 3 Tbsp. sugar 
* 4 to 4-1/4 cups all-purpose flour (not unbleached) 
* 1 Tbsp. kosher salt
*  Melted butter
Instructions:
* Heat the milk to 120*F to 130*F; add the butter and set aside to cool to room temperature. Meanwhile, in a large bowl dissolve yeast in warm water. Add cooled milk, eggs, and sugar to dissolved yeast and stir to blend. With a wooden spoon stir in 2 cups of the flour and the salt; stir until smooth. Add 2 cups of remaining flour, 1 cup at a time, stirring vigorously for 3 to 5 minutes until the dough is smooth and elastic and only slightly sticky. (Only if needed, after 3 minutes of stirring and dough is overly wet, stir in 1 tablespoon flour at a time.
* Cover the surface of the dough with lightly oiled plastic wrap. Cover the top of the bowl with a second piece of plastic wrap. Let rise until doubled (1 to 2 hours). 
* Lightly butter 24 muffin cups. Gently press the dough to deflate. With lightly buttered hands pinch off generous 1-inch pieces of dough. Fold the dough over, turning and tucking the edges to form a ball. Pinch the seam together to seal. Dip in melted butter and arrange three dough balls in each muffin cup. Let rise until fully doubled (about 1 hour).
* Heat oven to 400*F. Bake rolls for 20 to 25 minutes or until well-browned. Remove from oven. Brush with softened butter. Remove rolls immediately from cups to a wire cooling rack. Let cool about 5 minutes before serving. Makes 24 dinner rolls.
Happy Baking!
Madison