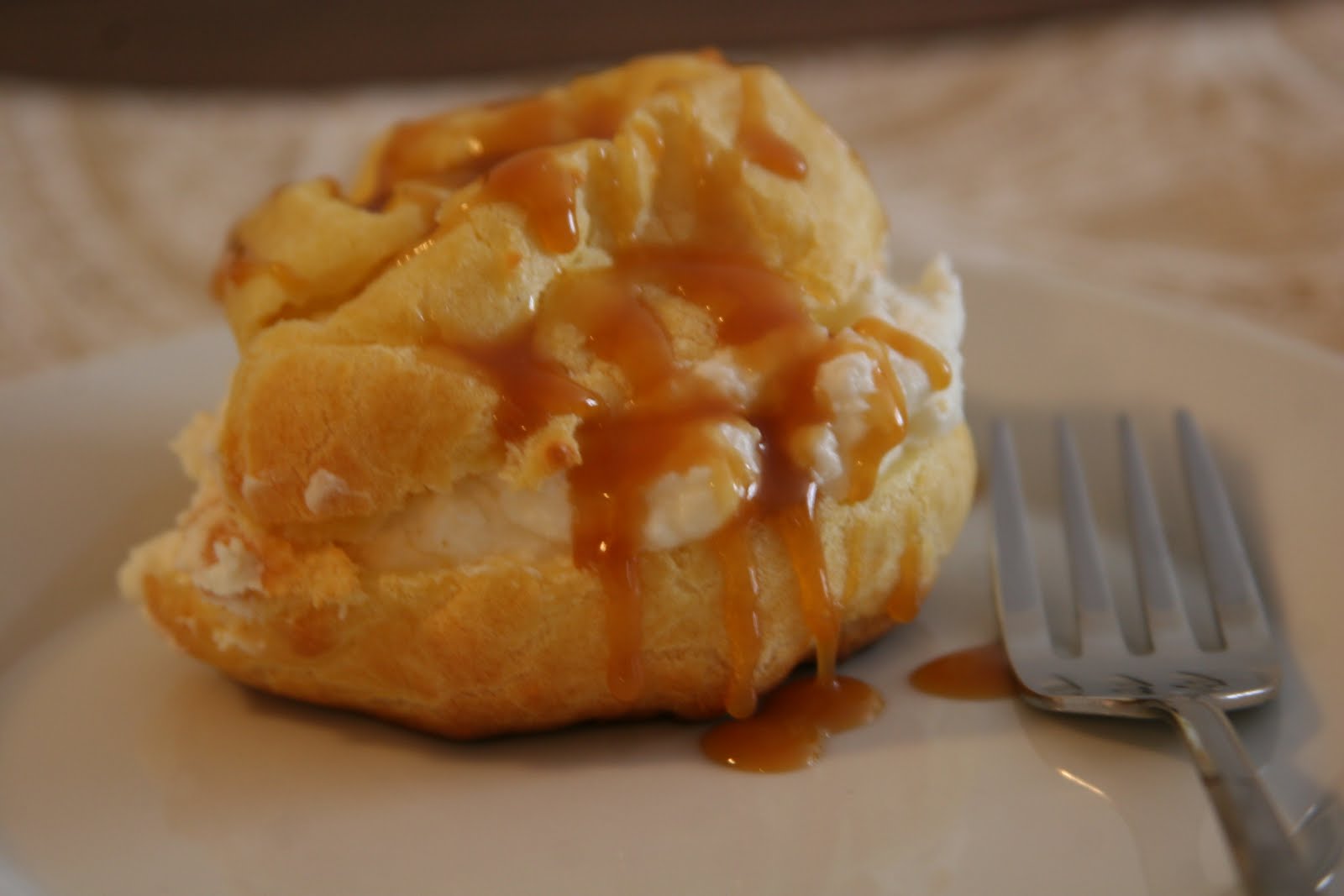 Looking back at my childhood, I think my mom was preparing me for a career in food. I may not have eaten a peanut butter and jelly sandwich until 7th grade and have yet to try gravy, but I did frequently experience the joy of biting into a freshly baked sourdough roll or sitting down to a dinner of homemade beef stew and biscuits. And while other parents may have run to the bakery on occasion, my mom whipped up a batch of cream puffs.
I can still remember the way the wooden spoon swirled the dough around in the pan and the magic of pulling the cream puffs out of the oven – transformed from spoonfuls of dough into hollow puffs perfect for filling with rich cream. They are the kind of dessert that makes you wonder why you would ever buy another cream filled doughnut again.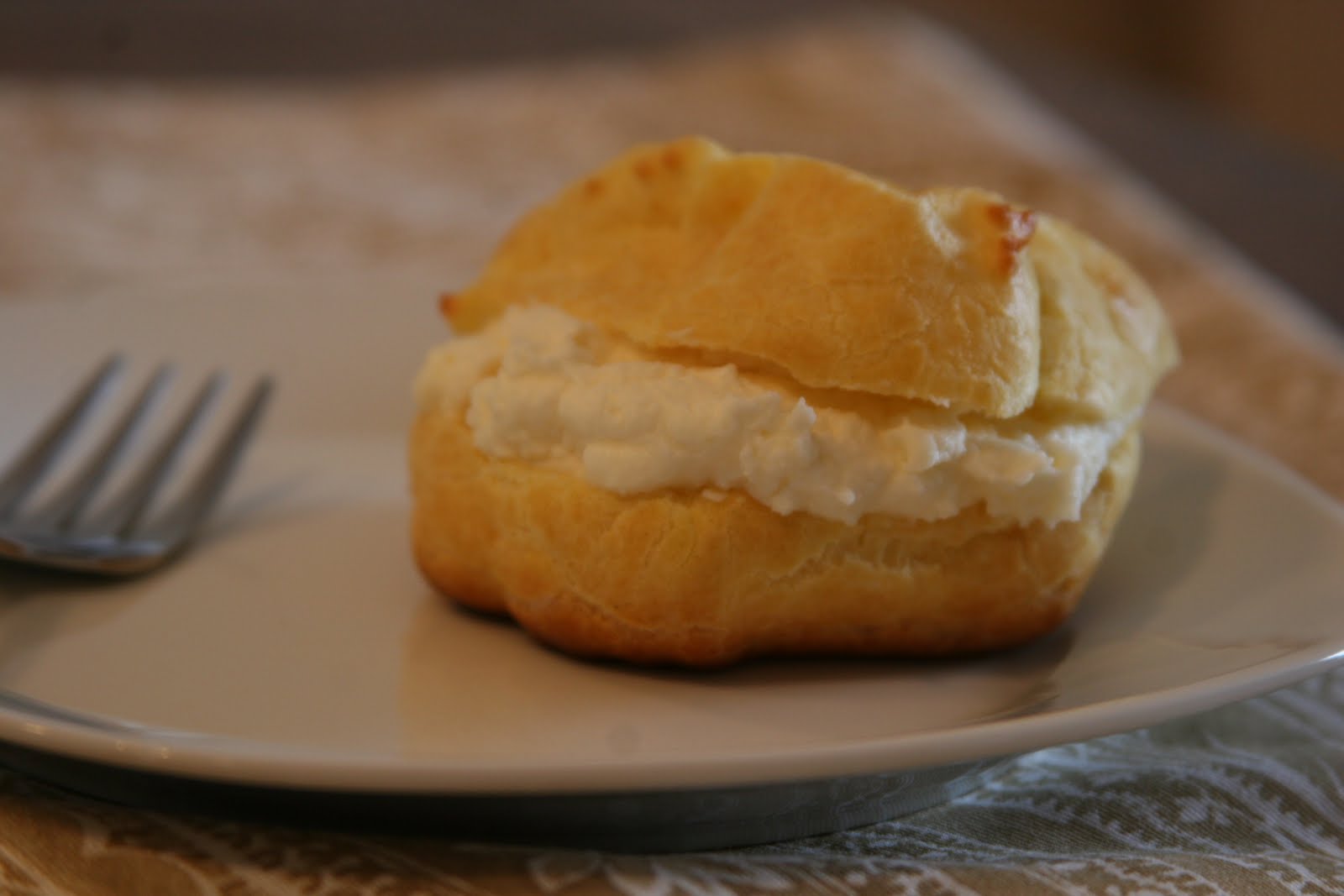 White Chocolate Cream Puffs
Adapted from Mango Cream Puffs | Bon Appétit, May 2006
Ingredients:
*1 cup whole milk
*1/2 cup (1 stick) unsalted butter, diced
*1/4 teaspoon salt
*3/4 cup all purpose flour
*4 large eggs
*2 large egg yolks
*1 cup heavy cream
*1 tsp. vanilla extract
*1 cup white chocolate chips
*1 Tbsp. vegetable oil
Instructions:
For puffs:
Preheat oven to 375°F. Line 2 large rimmed baking sheets with parchment paper. Bring milk, butter, and salt to boil in heavy large saucepan over medium-high heat, stirring until butter melts. Add flour all at once. Reduce heat to medium and stir with wooden spoon until dough forms ball and some batter films bottom of pan thickly, about 4 minutes. Transfer dough to medium bowl and cool 5 minutes. Using electric mixer, beat in eggs and yolks 1 at a time.
Drop dough by generous tablespoonfuls 3 inches apart onto baking sheets, making about 12 puffs.
Bake puffs 15 minutes. Reverse sheets and bake puffs until deep golden, about 10 minutes longer. Make small slit in side of each puff. Return to oven, turn off heat, and let dry 15 minutes. (Can be made 6 hours ahead. Let stand at room temperature.)
For cream:
While puffs cool, make cream. Melt the white chocolate chips until smooth. Add the oil to the white chocolate and stir until well combined. Allow the chocolate to cool slightly (just slightly above room temperature). Combine cream and vanilla in the bowl of an electric mixer. Beat on high speed for 1-2 minutes. With the mixer running, slowly pour the white chocolate mixture into the cream. Beat until stiff peaks form. Refrigerate until ready to use.
To assemble, with a small sharp knife, cut the cream puffs in half horizontally. Spoon cream by heaping tablespoons in between the layers. Drizzle with caramel sauce or chocolate sauce, if desired.
Happy Baking!
Madison