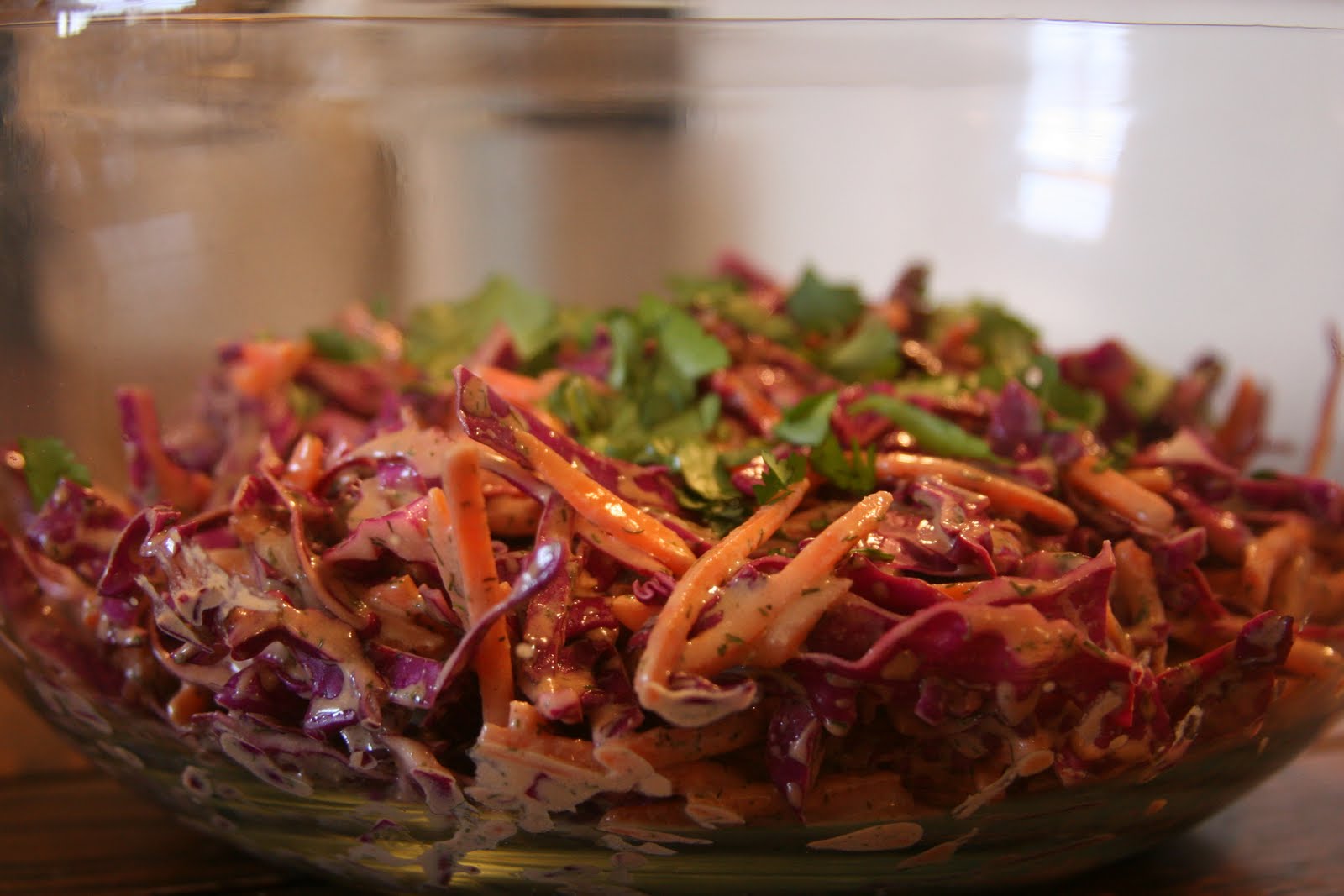 Yesterday I…..
…spent too much money on a high-tech scale that tells not only weight but body fat percentage.
…tried on swimsuits during a quick trip to return a dress at the mall.
…came to the realization that summer is right around the corner, and a spring vacation to Florida (hello beach!) is even closer.
Apparently I'm a glutton for punishment, because I can't imagine what else would result in such behavior. But I tell you all this so you'll understand why Espresso and Cream is getting a bit of a healthy makeover. Not to worry, there will still be sweets every now and again. Just think of it as me doing my part as a food blogger to get you ready for swimsuit season.
I've never really been a fan of coleslaw. Covered in so much white mayonnaise dressing you can hardly see any of the ingredients, it's always seemed like the vegetable equivalent of lunchroom mystery meat. So to remedy this problem and make peace with coleslaw once and for all, I set to work creating a dressing that wouldn't cover up the ingredients, but enhance them. Zippy, tangy, with the right combination of sweet and salty, (and no mayo!) this is not your run of the mill coleslaw. If you've had issues with slaw in the past, give this recipe a try.

Tangy Dijon Coleslaw
Ingredients:
*2 cups shredded carrots
*3 1/2 – 4 cups red cabbage, shredded or thinly sliced
*1/4 cup light sour cream
For dressing:
*1/4 cup Dijon mustard
*3 Tbsp. olive oil
*2 Tbsp. balsamic vinegar
*2 Tbsp. cider vinegar
*1 Tbsp. dried dill
*1/2 tsp. ground cumin
*1 tsp. kosher salt (or 1/2 tsp. regular salt)
*1 Tbsp. brown sugar
Chopped fresh cilantro or parsley for garnishing (optional)
Instructions:
*Place carrots and cabbage in a large bowl.
*In a small bowl or glass, combine all the ingredients for the dressing and whisk until well combined. Pour the dressing over the carrot/cabbage mixture and toss to coat evenly. Top with freshly chopped cilantro or parsley, if desired. Refrigerate until ready to serve. Serve within 1-2 hours of tossing with dressing.
Make it a meal:
*Toss in two cups of shredded chicken (those rotisserie chickens at the grocery store are great for this!) and serve in toasted pita breads or on whole wheat hamburger buns.
Happy cooking!
Madison