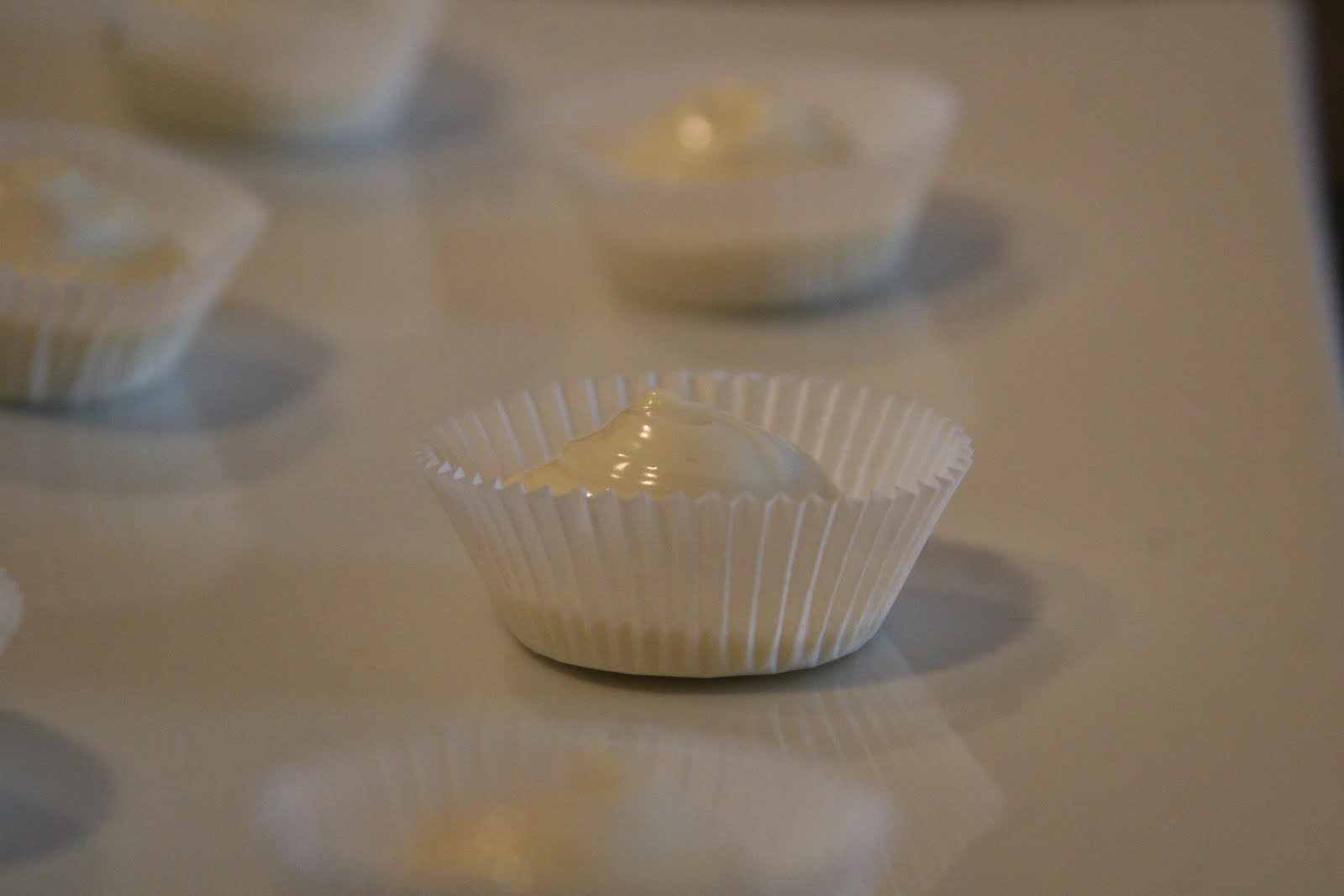 The more I listen to the people around me talk, I realize Valentine's Day is a very polarizing holiday. There aren't many people who don't have strong feelings about the day designated above all others to celebrate love. People love it, people hate it, some people pretend it doesn't exist, and while browsing the card isle at Target yesterday, I even saw "Anti-Val" cards for the ultimate cynics out there. Me personally? I love Valentine's Day. Romantic valentine or not, it's a great time to celebrate those you love – friends, parents, siblings, you get the idea.
But one thing I think we can all agree on is that Valentine's Day is a great time to indulge your sweet tooth, no heart-shaped box filled with bad chocolate necessary. Why you ask? Because you can make your own box of chocolates in less than an hour for a whole lot less than you would spend at a chocolate shop, and they're so easy. If you don't believe me, take a look at the step-by-step photos below.
These little chocolate cups are filled with Europe's gift to America – Nutella. If you have something against Nutella (or Europe?) you can swap about the Nutella for creamy peanut butter, but if you don't like either, then maybe you need to seek medical help, because you're seriously missing out. Likewise, milk or dark chocolate can easily be substituted for white chocolate. Finally, you will have extra Nutella filling leftover. I can think of a few ways to use that filling in baking, but the best option is probably eating it plain, with a spoon. Try to resist… or at least stop after a few spoonfulls. 🙂
White Chocolate Nutella Truffles 
Ingredients:

*2 (12-oz) packages white chocolate chips
*2 Tbsp. vegetable or canola oil
*1 package Golden Oreos or other vanilla sandwich cookie
*1 (8-0z.) package cream cheese, softened
*1/2 cup Nutella
*32 miniature paper baking cups
*Colored sprinkles, if desired
Instructions:
*In a medium saucepan over medium heat, combine 1 bag of white chocolate chips and 1 Tbsp. of the oil. Watch the chocolate carefully, stirring frequently, removing the chocolate from the heat when it is mostly smooth, but some lumps still remain. Once removed from the heat, continue to stir until the chocolate is completely smooth. (see photos above)
*Arrange 32 paper liners on a baking sheet or counter and spoon one teaspoon of the chocolate into each of the liners, making sure to cover the bottom of each. Allow the chocolate to cool slightly in the liners.
*Meanwhile, put the Golden Oreos in a food processor. Pulse for about 1 minute, until the Oreos are processed into fine crumbs and no lumps remain. Add in the cream cheese and Nutella. Blend until the mixture is well-combined. (You could do this all without a food processor, crunching the cookies by hand and then mixing the cream cheese and Nutella with a mixer, though it's much easier to do with a food processor)
*Drop rounded 1/2 teaspoons of the Nutella dough into the center of each chocolate cup.
*Melt the second bag of chocolate and second tablespoon of oil, same as before. Top each chocolate cup with another teaspoon of the white chocolate.** Garnish with sprinkles, if desired. Allow the cups to cool completely before eating, at least 1 hour.
** To get the 'swirled' look for the tops of these cups, move your spoon in a circular motion as you add the second teaspoon of chocolate.

Happy Valentine's Day!
Madison