I love chili. In all forms, flavors, and areas of the country, with cornbread, rice, toast, if you put a bowl of chili in front of me, I will eat it. The only exception to this rule being that chili is not allowed to be watery; it has to have substance, a mix of textures, and big flavor. 
But unfortunately, chili and I have a bit of a love-hate relationship. In the winter I could eat it every night, but it's often a gut-bomb, packing hundreds of calories and many grams of fat in a single serving, not including all the delicious extras that chili demands to be eaten with. 
My remedy to this problem? Make it at home. It's incredibly easy (you can make it in under 30 minutes!) and you can control everything that goes into the pot. The version I bring you today is a vegetarian chili, though there are plenty of healthy, delicious, carnivorous versions to be had. After a bit of thinking, I've decided this recipe would be delicious served with a few cups of brown rice, though I'm not sure anything can top a slice of cornbread with butter.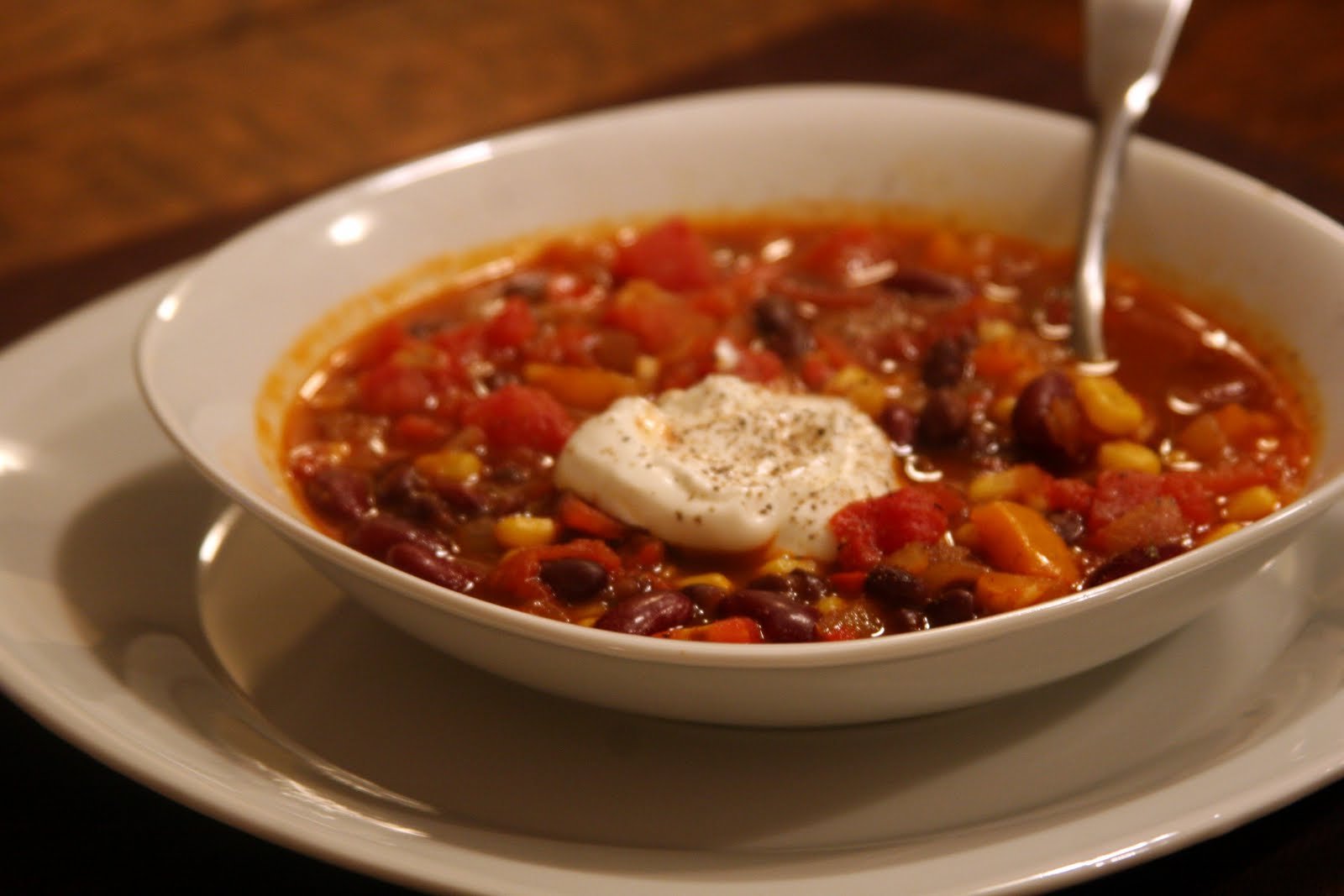 *3 Tbsp. Olive Oil

*1 medium yellow onion, diced
*2 bell peppers, seeded and chopped (I used one red and one orange)
*1
jalape
ñ
o
 pepper, seeded and diced
*2 tsp. coarse sea salt (or 1 tsp. regular salt) 
*2 1/2 Tbsp. chili powder
*2 (14.5 oz) cans diced tomatoes
*1 (15 oz.) can black beans, rinsed and drained
*1 (15 oz.) can kidney beans, rinsed and drained
*1 (15 oz.) can whole kernel corn 
*In a large heavy pot, heat olive oil over medium-high heat. Add in onion and peppers.
Sautee
5-7 minutes, until onions and peppers are softened but not brown. Add in garlic, salt, chili powder, cumin, coriander, and black pepper. Cook 2 minutes, until spices are evenly coating onions and peppers. 
*Add in remaining ingredients, except sour cream. Bring to boiling, reduce heat to low. Cover and simmer 15 minutes, stirring occasionally. Serve in bowls with sour cream, if desired.