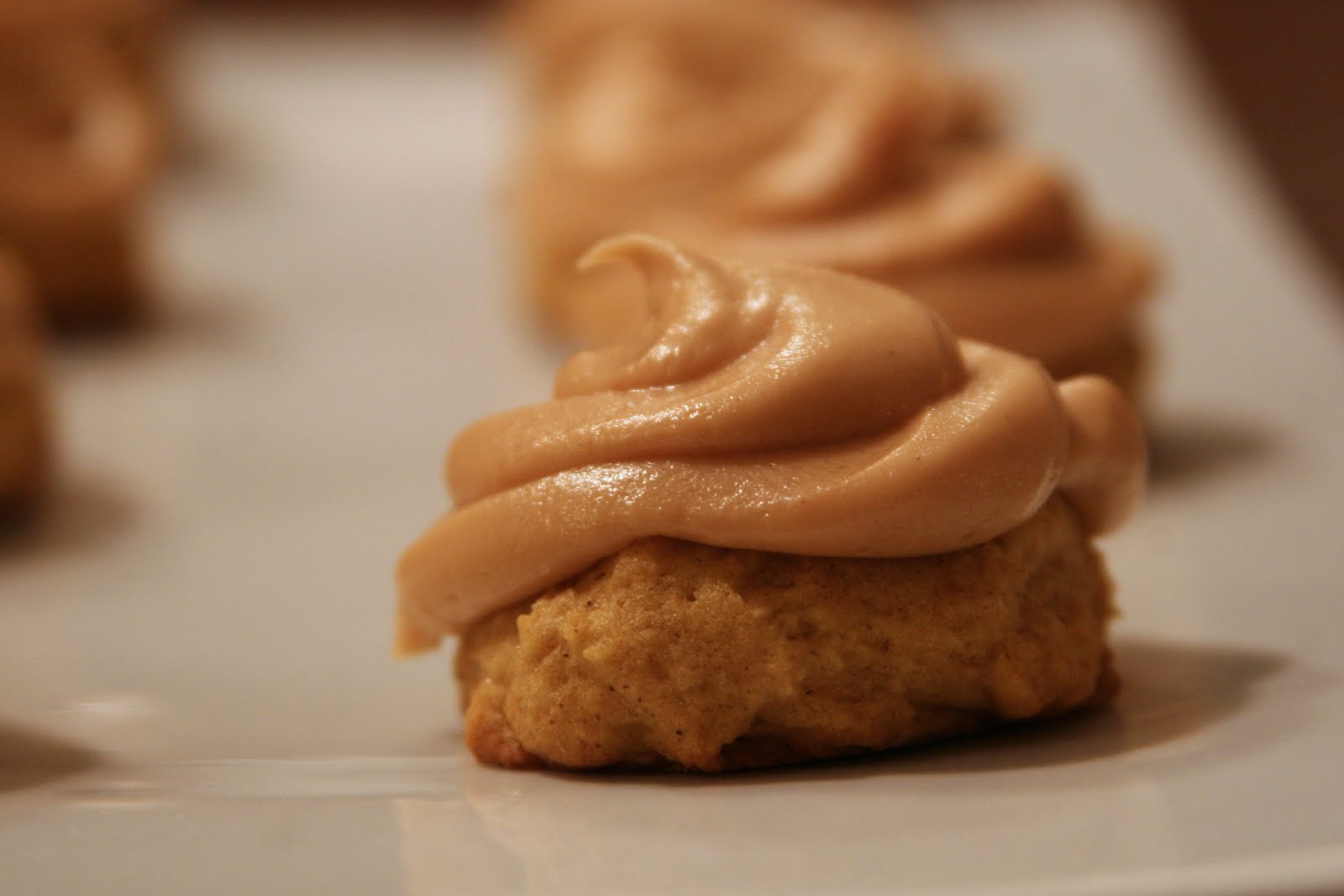 My two absolute favorite ingredients are peanut butter and pumpkin. Impressive, exclusive, gourmet? No. Delicious and versatile? Most certainly. Because they are both so versatile, and can star in dishes both sweet and savory, I never run out of ways to use them, and if at all possible, together.
If you take a seat at my breakfast table during the winter months, which here in Iowa the term 'winter months' can mean any time between October and April, you will probably be served a slice of whole wheat bread from Great Harvest, spread with a bit of creamy peanut butter and topped with a mixture of canned pumpkin, cinnamon, and a bit of brown sugar.
But I'm not here to talk about ways to use peanut butter and pumpkin at breakfast. No, I'm posting to share my newly discovered way to combine the two – in a cake-like cookie topped with fluffy peanut butter cream. I've been showing a lot of healthy, veggie-centric dishes lately, so to balance it out, I give you Open-faced Pumpkin and Peanut Butter Whoopie Pies.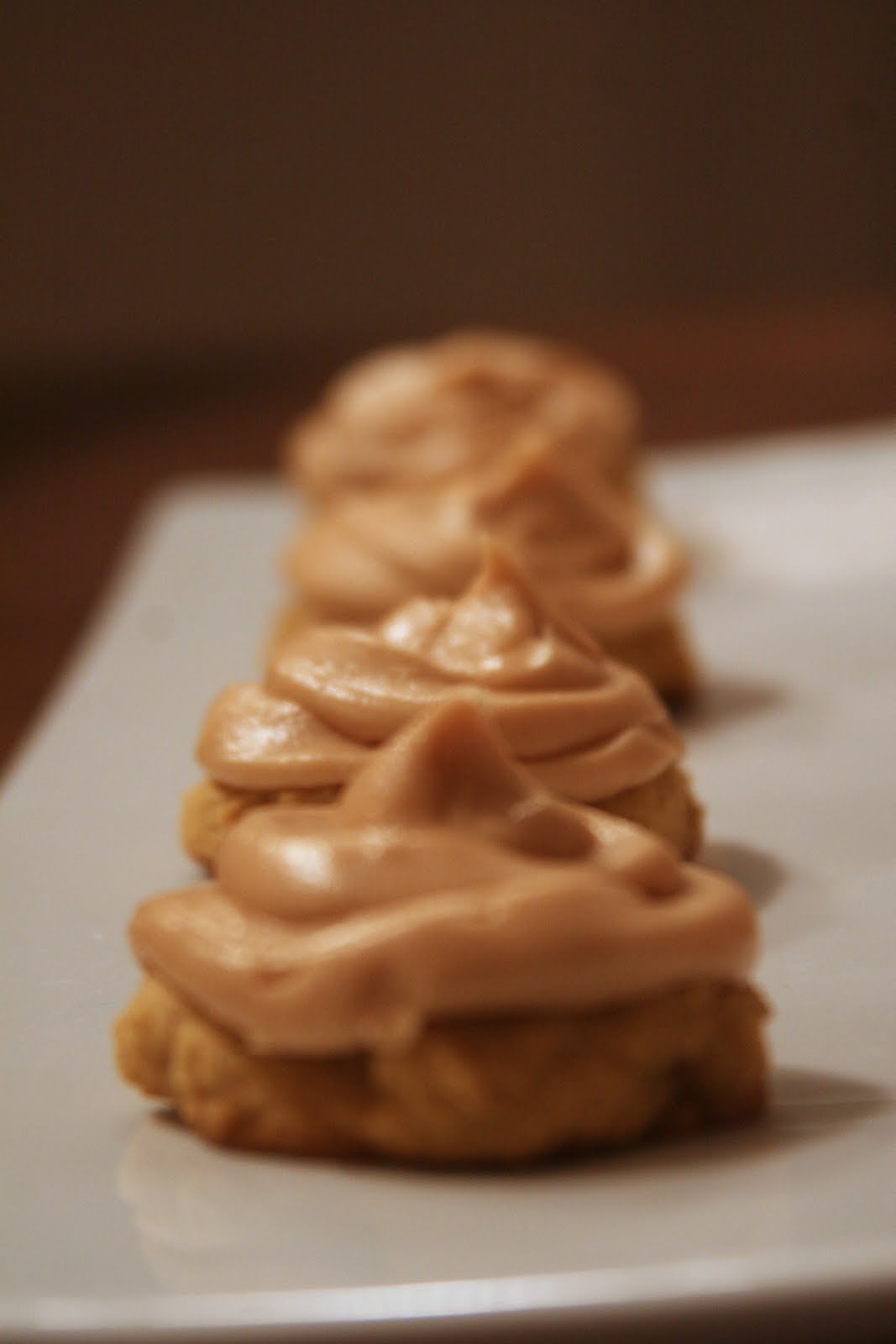 Open-Faced Pumpkin and Peanut Butter Whoopie Pies 
Ingredients:
*1 cup (2 sticks) butter, softened
*1 1/2 cups granulated sugar
*2 large eggs
*1/2 c. canned pumpkin (not pumpkin pie filling)
*2 tsp. ground cinnamon *
1/2 tsp. salt
*1 tsp. baking soda
*2 1/2 cups flour
Icing:
*3/4 cup creamy peanut butter
*1/4 cup (1/2 stick) butter, softened
*1/3 cup milk
*4-5 cups powdered sugar
Instructions:
*Preheat oven to 350*F. With electric mixer, beat butter on medium speed until creamy, about 1 minute. Add in the sugar; beat 1-2 minutes, until creamy. Add in eggs, one at a time, beating just until combined. Add in pumpkin, cinnamon, salt, and baking soda. Beat until well-combined. Slowly add in flour, 1/2 cup at a time, until well combined.
*Scoop dough by heaping teaspoons onto lightly greased cookie sheets. Bake for 8 to 10 minutes, until cookies are browned on the bottom, puffed up, and the cookie springs back when lightly touched with your finger. Cool on wire racks. Yields about 32 cookies.
*For the icing, with an electric mixer (preferably fitted with a whisk attachment), combine peanut butter and butter, beating until well combined, about 30 seconds. Add in milk. Slowly add in powdered sugar, a cup at a time, until the cream is fluffy. (I will be honest, I didn't really measure the amount of powdered sugar I added. I just kept adding until it was creamy, slightly firm, but still spreadable. I think it was around 4-5 cups, but by adding it in a cup at a time you can control the consistency as you go. If you add too much powdered sugar, just add in a bit more milk until you reach your desired consistency.)
*Pipe or spread the icing onto each cooled cookie. Don't be shy. Spread it on thick. It's truly the best part of this cookie.
Happy Baking!
Madison