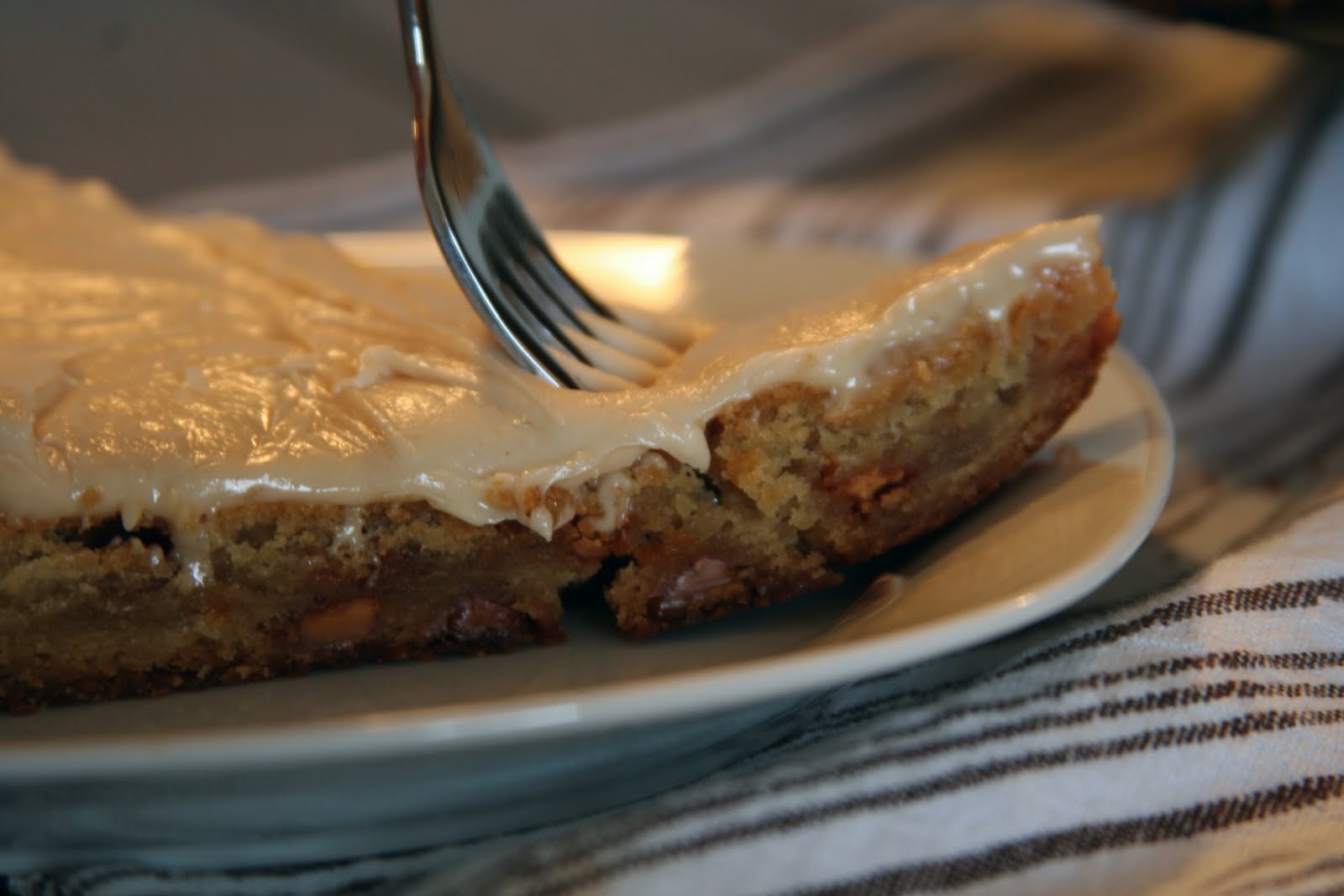 I wasn't planning on posting anything until after the weekend, but this idea was nagging at me all week, begging "bake me!" And now I'm glad I didn't wait, because it would be cruel and unusual punishment to withhold this recipe from you all. Seriously, this is without a doubt the best recipe to come out of my kitchen in an awfully long time.
One of my favorite food trends to surface in the past year has been kosher salt playing a major role in baked goods. A longtime fan of the salty/sweet combo, my taste buds have been overjoyed with every salted caramel and chocolate that comes my way. Salt works so well with everything sweet because it's a flavor enhancer, so in the right amounts it can enhance the flavor of anything, including sweets. Don't believe me? Add a tiny bit of kosher salt to your ice cream, chocolate cake, or banana tart. Not a lot, just a little is enough to make the flavors of any sweet amazingly better.
Better yet, instead of sprinkling salt on to ice cream or chocolate cake (because you can always do that some other time) run to the kitchen, preheat the oven, and get to making these salted blondies. But whatever you do, make sure you have someone in mind to share these with because one slice could easily turn into two, or three. Don't say you haven't been warned.
Ingredients:
Blondies
*1 cup (2 sticks) unsalted butter, softened
*1 cup packed light-brown sugar
*1/2 cup granulated sugar
*2 eggs
*1 1/2 teaspoons coarse (kosher) salt
*1/2 cup creamy peanut butter
*1/4 cup sour cream
*2 teaspoons vanilla extract
*2 cups all-purpose flour
*1 (12-oz.) package butterscotch chips
Salted Peanut Butter Cream
*1/2 cup creamy peanut butter
*4 Tbsp. unsalted butter
*1/2 tsp. coarse (kosher) salt
*1/4 cup milk
*3 cups powdered sugar
Instructions:
*Preheat oven to 350*F. Grease a 10-inch round tart pan (9×13-inch pan may be substituted). Set aside. With an electric mixer, beat butter at medium to high speed until creamy, about 1 minute. Add in granulated sugar and brown sugar; beat until fluffy and well-combined, about 2 minutes, stopping to scrape the bowl once.
*Add in eggs, one at a time, beating until just combined. Add in salt, creamy peanut butter, and sour cream. Beat until well-combined and fluffy. The batter will be light and airy. Add in extract.
*Mix in flour in two additions, beating just until combined. Stir in butterscotch chips by hand.
*Transfer mixture to pan and spread evenly to edges. Bake for 40 minutes, or until the edges are crisp and brown, and center is golden.
*Allow blondie to cool on a wire rack until completely cool.
*Meanwhile, cream together peanut butter and butter. Add in salt, milk, and powdered sugar, beating until creamy and well combined. Spread atop blondie, sprinkle with additional kosher salt, if desired.
Happy baking!
Madison