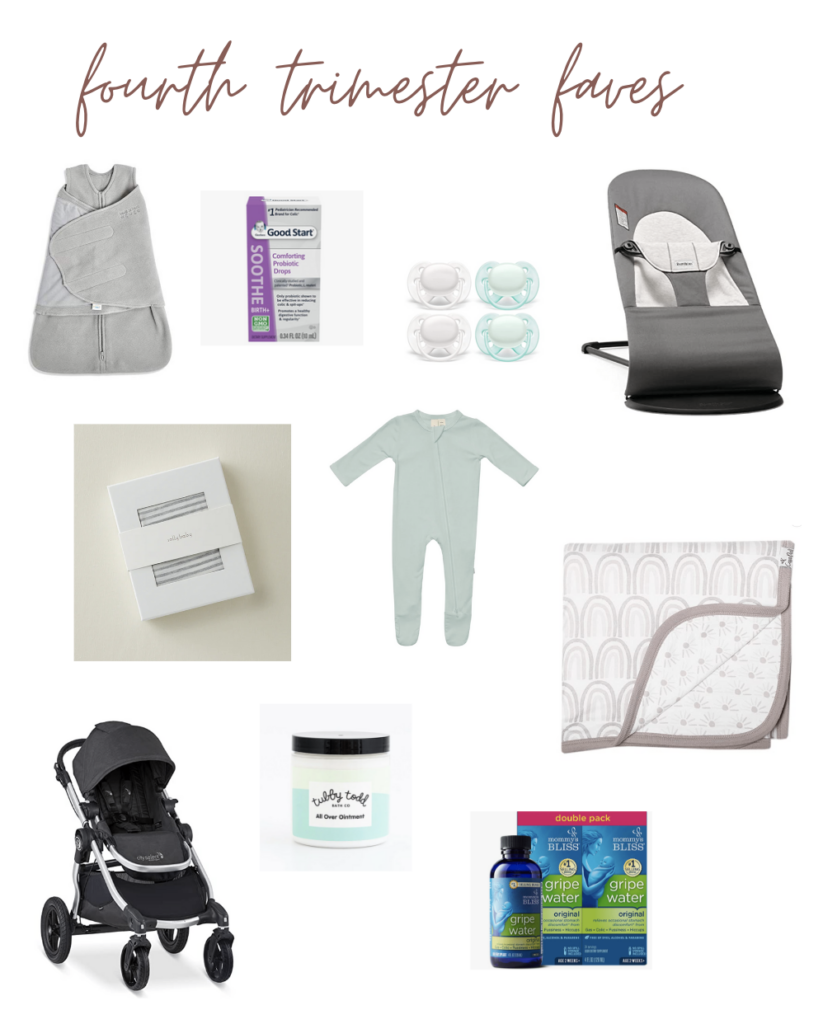 We are working our way through the "fourth trimester" as it's sometimes called – that first 12 weeks after baby is born – and while it's top of mind, I wanted to share some of my most loved products while they are top of mind

One thing I've noticed this time around is that what's considered "necessary" the fourth time is MUCH different than what is considered necessary the first two or even three times. I've gotten SO basic with what we deem necessary in the fourth trimester with a newborn baby. But the items on this list? Well, they are nothing short of gold.

Here's what I can't live without this time around….

1. Tubby Todd All Over Ointment
This is a miracle cream! It works for all sorts of purposes but I got it specifically because Hollace was dealing with a rash caused by cradle cap on his face. This has turned his rough and scaly skin back into newborn butter-soft skin.

2. Snuggle Me Organic Newborn Lounger
We LOVE this thing! It goes with us wherever we take Hollace when we are headed for an extended period of time. It's easy to toss in the car and makes a soft spot for baby to lounge or take a supervised nap on the go.
Note: This is not recommended for unsupervised sleep

3. BabyJogger City Select
We have had this stroller for a while now, but I've found it particularly helpful for this baby. I love that the seats can be backward or forward facing and Hollace loves lounging it in when we are in the yard, or walking up and down the street with our big kids. We have also taken it to the ball field because the sun shade makes for a perfect shaded spot having a summer baby.
4. Avent Ultra Soft Pacifiers
This time around Mr Hollace is happiest with these pacis. We used MAM pacis for Truett, but out of all the pacis we purchased this time, these are the winners!

5. Solly Baby Wrap
One of my favorites of all time! I have had this wrap for all four of my babies and it's held up wonderfully. It works as a blanket in a pinch and helps tremendously at soothing a fussy newborn or keeping baby close when you need to get things done.
6. Baby Bjorn Bouncer
The baby product that lives up to all the hype! I just love this bouncer SO much. It's compact and easy to travel with, and as babies get a bit bigger (right around the age Hollace is now at nearly 8 weeks) it becomes a baby product I truly adore. The laid-back sling type seat is perfect for little babies! I use it as a seat in the bathroom when I'm giving the other kids a bath, in the kitchen when I'm cooking and want Hollace close by, or out in the yard when the other kids are playing. 10/10 recommend
7. Halo Sleepsack Swaddle
We have owned so many swaddles but this continues to be the one our kiddos have loved the most!
8. Copper Pearl Quilt
This was a gift to us when Truett was born and I've now gifted it to other momma friends. I LOVE this quilt – it's the most amazing thick yet not too hot material that makes both a great baby blanket and a great blanket to lay baby on when out and about.
9. Kyte Baby Footies
These footie onesies are my new absolute favorite! SO soft and snuggly – perfect for all those newborn snuggles. This was the first outfit we put on Hollace and I'm happy to report they wash incredibly well!
10. Gerber Soothe Probiotic Drops
These are something we start right away! I think it goes a long way to helping soothe baby's tummies – which can be notoriously irritable in those early weeks.
11. Gripe Water
We use this for baby hiccups (works almost instantly!) and for relieving gas in little tummies.