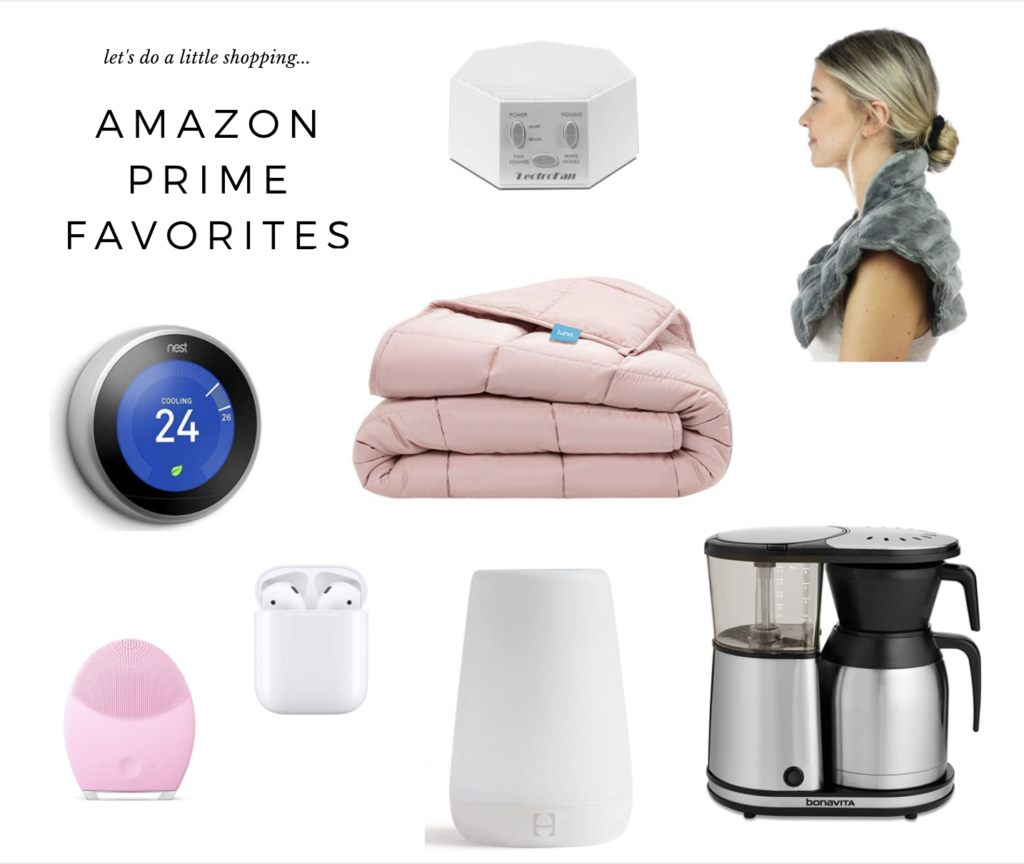 Full disclosure: I'm writing all of my Prime posts before I actually know what's up for grabs on Amazon Prime Day, but knowing that many of us will likely be shopping Amazon Prime over the next few days while they have their yearly Prime Days (June 21-22), I thought I would share some of my absolute favorite products in multiple categories. I have NO idea if they will be on sale for Prime Day, but this is a genuine product round-up of items our family uses and loves on the regular. Even if they aren't on sale for Prime Day, I still think they are worth grabbing!
LECTROFAN WHITE NOISE MACHINE
This has been our go-to sound machine for all our kiddos! We LOVE the look, durability and sound options form this machine which is great for kids and babies alike. I just purchased three more for the lake house!

FOREO LUNA CLEANSING BRUSH
I've talked about this time and time again! I LOVE my Foreo for getting my skin squeaky clean. I use it with my Beautycounter Cleansing Oil and it works like a dream.

APPLE AIR PODS
I have two sets of these and use them whenever I go on a run, need to talk on the phone or listen to a call while I'm doing other things (yay for being hands free to help kids!) or when I want to listen to a podcast while the girls are listening to something else.
BONAVITA COFFEE MAKER
Oh my love for this coffee maker runs deep! I've had it for two years and it works as well as ever. It makes coffee in a way that "blooms" it so it functions similar to a pour-over without the hassle of actually having to do a pour-over method. And the coffee tastes great!

NODPOD WEIGHTED EYE MASK
I look so silly when I go to bed every night wearing my weighted eye mask and sleeping with my weighted blanket but I sleep SOOO good that I don't care one bit. I love this weighted eye mask for sleep!
NEST THERMOSTAT
We got a Nest for the lake house and I've been so pleased with it! It helps with saving energy on home heating and cooling costs and learns your patterns over time to "smart" adjust. It can also be controlled via your phone – an added perk for us at the lake.
HUGGAROO HEATED NECK WRAP (UNSCENTED)
This is used daily at our house! In fact, it's used by both me AND Ainsley daily – so much that we have two of them now. I love using it at the end of the day to ease neck and shoulder tension. Ainsley loves going to bed with this on her, under the covers. We call it "the warm thing" at our house. 🙂
APPLE WATCH
Joe gifted me an Apple Watch for my birthday a few years ago and I love using it for times when I want to be able to be contacted via call or text but don't want to be distracted by the constant interruptions from my phone or the pull of social media. I also use it for tracking my runs and workouts!
HATCH REST
You could use this as a sound machine and OK to Wake clock. I personally prefer the Lectrofan better for a baby's white noise machine, but our girls both have these Hatch Rest clocks in their rooms which is a better + smarter OK to Wake clock. I love that it can be adjusted from your phone – meaning if your kids wake up a few minutes before their light is green, you have the ability to "adjust" the time as needed. That feature is also great when training little people to use an OK to wake clock as you can set it to turn green a few minutes after they wake up, helping them learn the concept better.

LUNA WEIGHTED BLANKET
Ok, in total transparency my FAVORITE weighted blanket comes from Bearaby. I have one at home and one at the lake house, but they are SO expensive. So when I went looking for another, less expensive alternative, I was really pleased with both the look and utility of this weighted blanket from Luna. The fun colors and patterns are an extra bonus!

GREENPAN NON STICK SKILLETS
If you're still using traditional non-stick cookware, let this be the moment you say goodbye to toxic nonstick cookware and switch to something better for you. I have had green pans for over two years and have been so impressed with them!