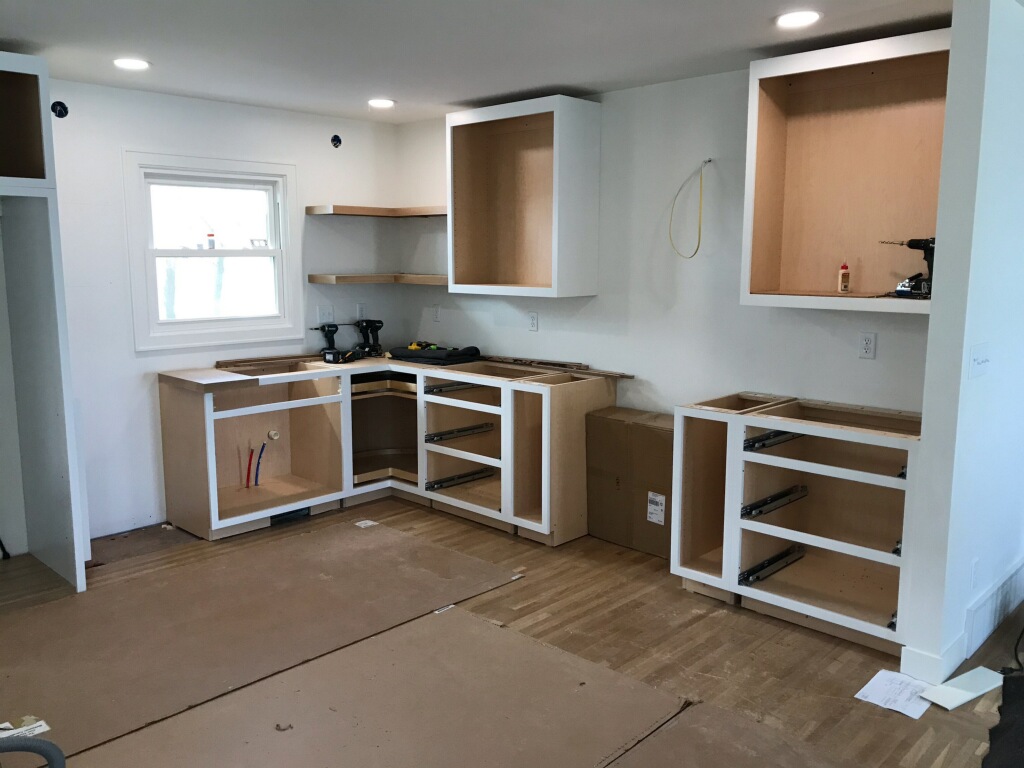 Writing to you all from the Lake House! I have some great progress photos to share with you all today and I'm SO excited about seeing it all come together. We are hoping to be DONE with the project sometime in mid to late May. The things we will be waiting on – countertops followed by appliance installation as soon as countertops are installed.
We had a slight hiccup last week when the wrong carpet was almost installed at the house – the warehouse sent the wrong color to the company we purchased from – so we are also waiting on new carpet to be installed in the bunk room and the downstairs bathroom.
Our electrician will also be coming back to install light fixtures once the cabinets are in and our contractor will need to do some odds and ends work to finish things up and after that we are DONE. And tta
I'm working on keeping a long-term mindset for this project, because while the inside of the house is nearly 100% remodeled and finished, we are not nearly done with all the projects we have on our to-do list. But many of them may take years to get completely finished because the funds are not unlimited!
Out outside to-do list includes:
-Landscaping (get a plan in place so we can work strategically)
-Paver patio on lake level (years down the road)
-Paint siding (short term fix this summer)
-New siding and replace some windows (long term plan)
-New roof over bunk room (includes increasing the pitch of the roof)
-Strengthen the deck with larger supports (this summer)
-New steps to the dock (later summer/early fall)
-Plan for detached garage (it's not in the greatest shape so we will likely tear it down someday and build something new)

So, without further delay, here is a little photo update of the progress at the house!