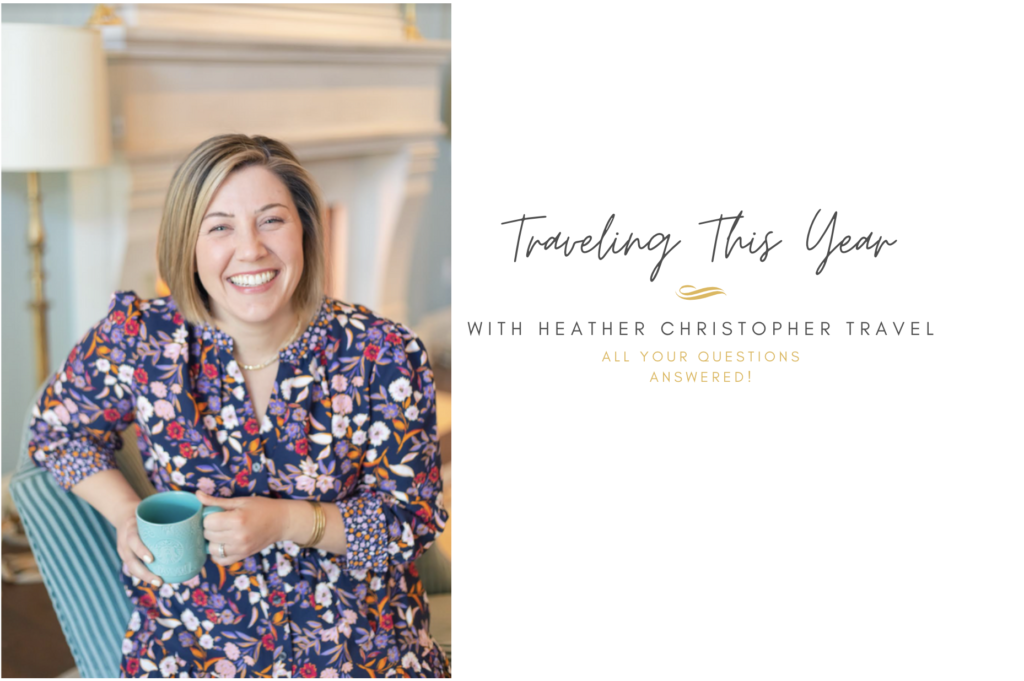 This post is not sponsored in any way. I simply adore Heather Christopher Travel and asked her if she would share with you all today! Read down to the bottom for a deal Heather graciously offered on her trip planning services!
I first "met" Heather of Heather Christopher Travel a couple years ago. She planned a few trips for internet friends of mine and reached out to me about her travel planning services when we were planning our trip to Iceland that was not meant to be.
As you can imagine, being a travel agent has been a wild ride over the last year as COVID changed the travel landscape. And as we look at 2021, I'm guessing travel is something most of us have on our list of things we hope to do. I sat down with Heather to talk all things trip planning in 2021.
She has a ton of great tips and advice, as well as some ins and outs of why you might want to consider hiring a travel agent to make your life easier this year. Trust me: I've used Heather before and I really can't imagine planning a trip without her help. While I was always a self-proclaimed "trip junkie" who loved to research and find the best places and restaurants, I just don't have the time I once did. So thankful for people like Heather who make life easier.

Heather, thanks so much for taking the time to sit down (virtually) with me and answer a few of my questions! I'm guessing that 2020 wasn't the best year to work in travel, but I know many people are itching to get back to visiting new places as we head into this new year. I've gathered a few questions that I've had as we look toward the new year, and I know many others likely have, and would love to hear your advice on how we can travel (safely) in 2021!
First, how are you guiding your clients when it comes to the uncertainty that still exists when planning trips in 2021? I know many are eager to travel but various different state regulations and requirements may have some people feeling uncertain.
It's information overload, isn't it? And you're not even sure what applies to you! If you're considering traveling in the next six months, know your parameters.
Talk to the people you're traveling with and decide where your comfort level is: are you okay with needing a negative Covid test to travel? Are you going to drive? or are you okay flying? Are you only comfortable within the US? Do you only prefer a stand alone accommodation or is a hotel room okay (I can't think of a single property that isn't taking Covid precautions)? Once you have this list together, it will make finding a destination that works much simpler.
This is also a great website to keep up to date on the restrictions and potential requirements wherever you're going! I wrote a blog post about planning in Covid times back in August, but it's still very relevant.
For those not quite ready to take to the skies yet, have you been seeing an increase in those looking for vacations within driving distance?
Goodness have we! This is a plus of Covid – I've been trying to get folks to Primland, Tides Inn, Montage Palmetto Bluff, Sorrel Ranch, Wild Dunes, White Barn Inn, and The Breakers for years and now they are getting to experience these fabulous places and hotels!
I know you're helping a friend of mine plan a National Parks focused trip, complete with an awesome Glamping experience. It seems like the PERFECT way to dive back into travel enjoying the great outdoors. Tell me a bit about some of the services you provide as it relates to more "off the beaten path" vacation experiences.
I am very fortunate to have a National Parks expert on my small, but mighty team!

Leah handles all of our over the top adventure and hyper outdoors focused itineraries. She's a National Park lover and has been to over 44 (some multiple times) and really shines when showing our clients how to see our beautiful parks without being overwhelmed.

That said, if National Parks aren't someone's 'thing' we can talk about what makes them feel adventurous and where it is in the world (or the US!) we can find that for them.
How can a travel agent like yourself during these crazy times a little (or a lot!) less stressful?
I don't think you want me to write a novel here 😉 so I'll try to do the most important things we can help with:

– Time savings. No more going down the Instagram, Facebook, Google rabbit hole when you want to search "How to visit Arches National Park" or "Best family beach vacation in South Carolina". We have made a career out of knowing or knowing where to find those answers. We are staying on top of the ever changing regulations for all of our clients, too!

– Marriage savings. There is nothing worse than fighting with your partner on a trip. We ensure you have all the details & information and try to fill in with suggestions on days that aren't pre planned so you can just peek at your app, chat about what sounds good and off you go!

– Cost savings. Clients have explained they went looking for a deal and then ended up with either something they didn't really want OR ended up not reserving anything. While we do charge a flat fee for our services, we help keep your budget in check based on your preferences, we know what is a true deal and what's not because we look at vacation pricing all day long from partners all over the world.

– Having a human you can trust. This was true pre-Covid, but now, when everything is beyond confusing and constantly changing. Having a relationship with a human (whether it's myself or one of the 100+ colleagues I know) can really make a vacation feel like a vacation. And don't we all need that!
What is your best piece of advice for those that feel a little rusty when it comes to travel?
Breathe. Everything is figureoutable or chargeable to the AMEX 😉
While I always encourage doing some research, don't over do it and don't ask every single one of your friends! I'm always so sad when an itinerary is so jam packed every hour that there's no space to just let whatever should happen, happen and always encourage some slow travel.
When do you think traveling internationally will become more available to people again?
I'm praying by September! I do still have a few Europe trips on the books with spring + summer departure dates that we are holding on to in case it does open, but otherwise I'm not planning anything new for departure before 1 September.
What are you most excited about and hopeful for as we look at 2021?
When my first Euro-bound client's plane touches the ground! 😉 In a more general sense, hugging freely and seeing smiles again!
Thank you for having me here! We're happy to extend $75 off our planning services for anyone who wants to travel in '21. They can get started here.