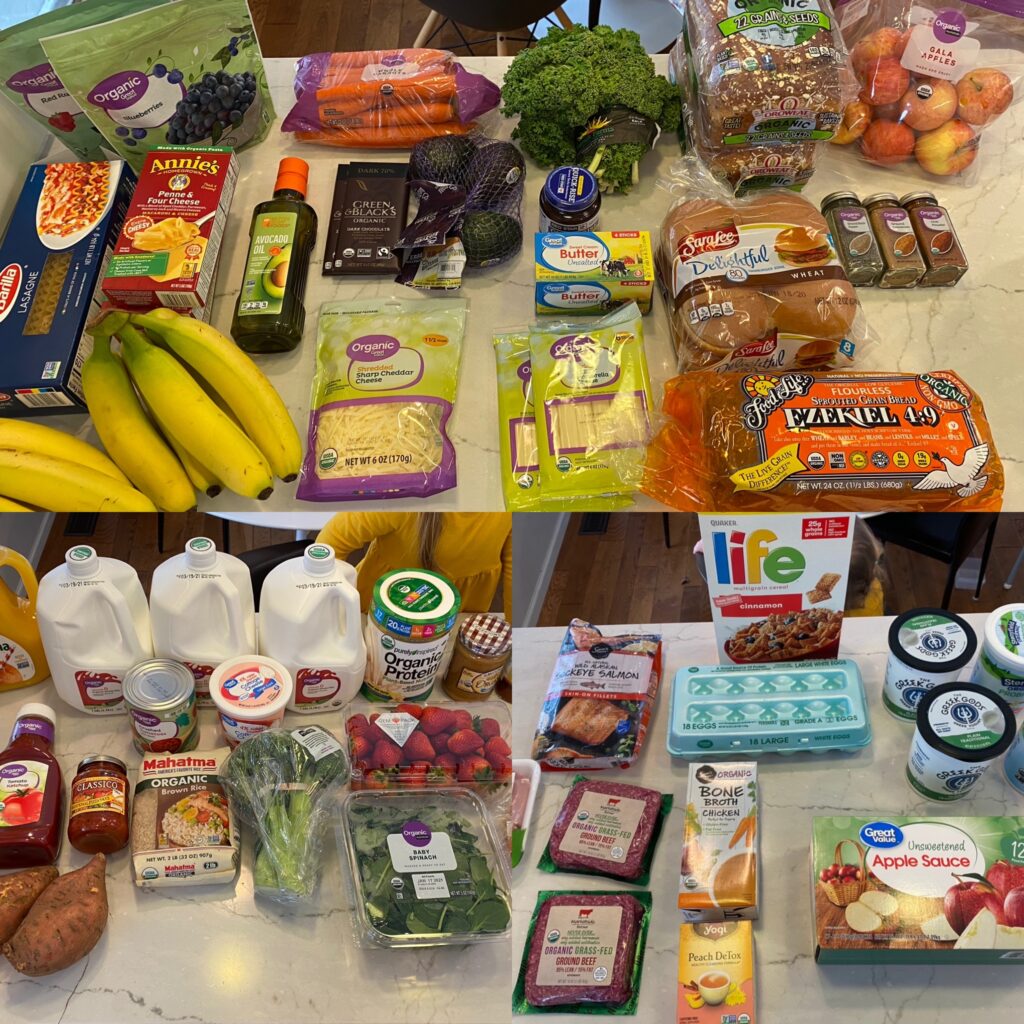 Hi Friends! I hope you had a great weekend. I'm sitting down to sketch out our family's meal plan for the week and wanted to share our weekly Walmart haul with you all. We are aiming to swap out as many conventional products with organic alternatives this year, in an attempt to lessen our toxic load and continue to evolve our family's wellness journey.
Many of you know that we live in an area with only a handful of options in terms of grocery stores, and based on our local options I tend to prefer shopping at Walmart both for it's prices as well as options. Additionally, I feel like the grocery turnover at our local Walmart is fairly high, so things tend to be pretty fresh. I know Walmart isn't everyone's favorite place to shop, but I've been SO impressed with the growth of their own brand name organic options and the variety they have.
Above is what I got yesterday for our week! The total, for those who want to know, was $220. Earlier this month, I also got a shipment from Thrive Market which included at least a month's worth of dry pasta, pasta sauce, tortilla chips, coffee, snacks/bars, and some canned goods.
Our Weekly Meal Plan

Sunday // Chili + Cheese + Tortilla Chips

Monday // Roast + Potatoes + Carrots (slow cooker – I think I'm going to try this recipe!)

Tuesday // Slow Cooker Barbecue Chicken Thighs + Mac and Cheese + Steamed Broccoli

Wednesday // Homemade Lasagna with Sautéed Kale

Thursday // Ina Garten's Easy Parmesan Risotto + Add Bacon (this recipe is SO easy!)

Friday // Homemade Pizza Night!

Saturday // Grilled Cheese + Spinach Salads
Lunches
Joe will likely eat leftovers for lunch from the meals above. Ainsley will likely eat a few meals at school and I'll make a few. Usually "snack-y" mix and match meals do best with her, with a lot of individual items and variety, such as cheese sticks, crackers, fruit, carrots, etc. Nothing too fancy! Collins + Truett and I typically are low key for lunch. Smoothies, sandwiches, leftovers, snack type lunches, etc.
Note on Meal Planning
Note that I tend to do a "reverse meal plan" strategy. It usually works pretty well, but sometimes it totally backfires. It works best for me to have a general idea of basics I need (salsa, sauces, proteins, veggies, broth, etc.) in my mind before I head to the grocery store and do an inventory of my pantry. It also works much better if you sit down, like I am tonight, and think through/sketch out what you plan to have each night rather than try to wing it each night.
I hope this is helpful as you plan your week and think about your meals. I think we can all say that meal planning has a tendency to be a pain point if a little thought and intention isn't put behind it! But with a little planning and effort, it reduces our family's stress at mealtime tremendously!