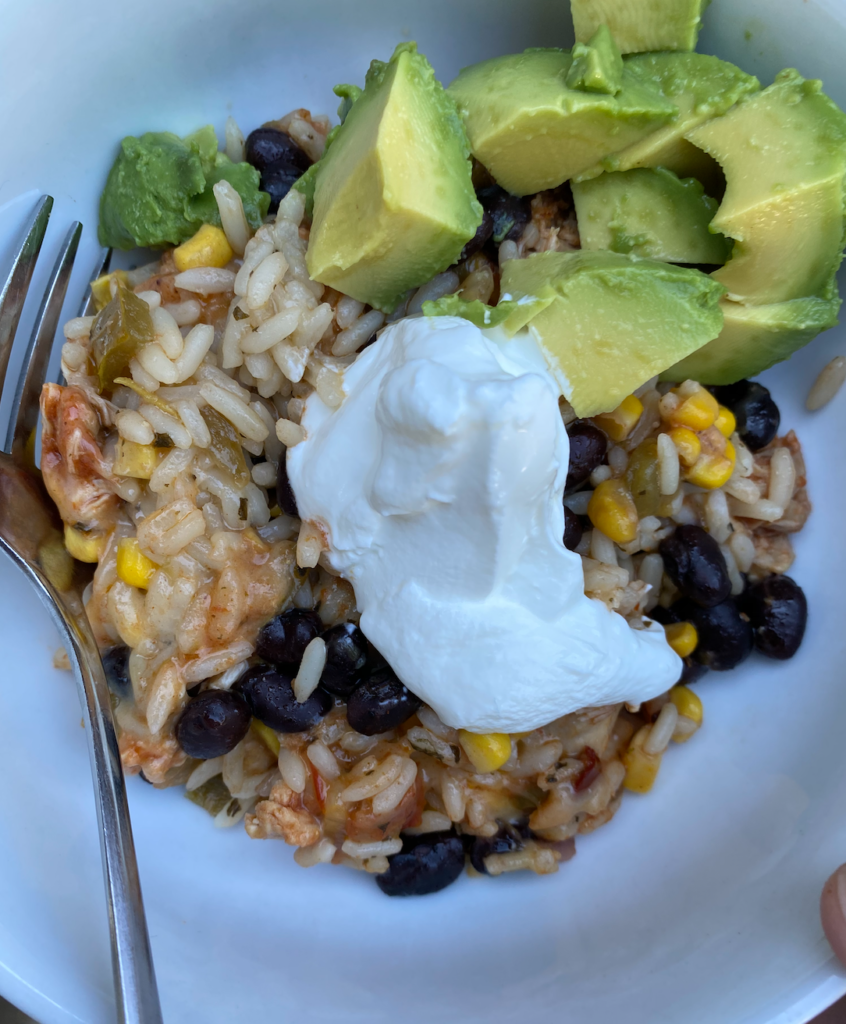 To say our family has been in a dinner rut would be an understatement. Anyone else feel a little "blah" about meal time lately? With "back to school" fast approaching, I'm feeling the pull to refresh our family dinner round-up. But since Joe is also coaching football and busier than ever, dinner is best in our house if it's easy to pull together and can be prepared in advance.
This recipe was a hit with our family – well, all besides Ainsley – and we had plenty of leftovers for Joe's lunches during the week. It was much easier than making separate components and assembling right at meal time and tasted great.
I'll cut through all the talking and get straight to the recipe, because heavens knows that busy moms really only have time for that anyway, right? Here you go!
Chicken Burrito Bowl Bake
INGREDIENTS
Slow Cooker Chicken Thighs
1 1/2 lbs. boneless, skinless chicken thighs
1 jar (16 oz.) salsa
1 1/2 cups water
2 tablespoons taco seasoning (I like Spice Island from Costco)

Burrito Bowl Bake
2 packages Uncle Ben's Ready Rice – Cilantro Lime
1 can (15 oz.) black beans, rinsed and drained
1 can (15 oz.) sweet corn, rinsed and drained
1 can (4.5 oz.) diced green chiles
2 tablespoons olive oil
Salt to taste
1 1/2 cups shredded Mexican cheese blend
Sour cream, avocado and tortilla chips for serving

DIRECTIONS
In a slow cooker, combine chicken thighs, salsa, water and taco seasoning. Cook on HIGH 3 to 4 hours or until chicken shreds easily when tested with a fork. Remove chicken thighs from slow cooker and shred with two forks. Set aside.
Microwave rice according to package directions. Transfer to a bowl along with the black beans, corn, green chiles, oil and salt to taste. Stir until combined. Pour mixture into a 13×9-inch baking dish. Top with the shredded chicken thighs. Spoon some of the remaining salsa mixture in slow cooker over top of the chicken. Top with the cheese.
Cover baking dish with aluminum foil. Bake at 350°F for 20-25 minutes or until heated through and cheese is melted and slightly bubbly. Cool 5 minutes. Scoop into bowls and top with desired toppings, such as avocado, sour cream and/or tortilla chips.