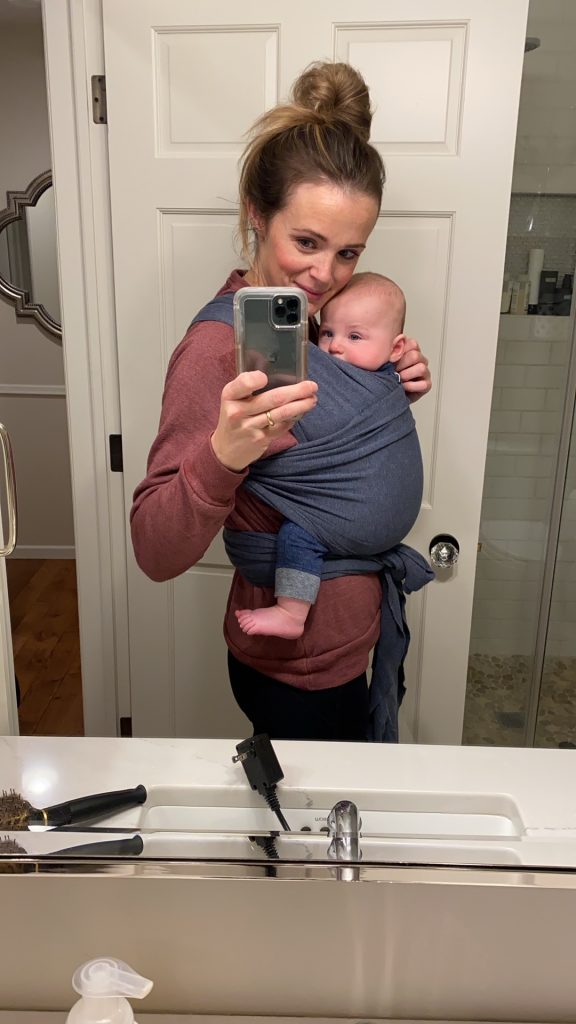 Hi, friends! I'm back after a little hiatus over the Christmas holiday to share with you some of the baby products we are loving lately. As I've looked back on our baby favorites over the years one thing sticks out to me – quality always wins! The baby products that I have loved the longest and had the best success have nearly always been the higher quality items that are smartly designed and look + feel like items that belong in our home.
As we are in the thick of the 4-6 month age with Truett, here is my list of the most beloved baby products for this age!
Ikea Antilop High Chair //
We busted this favorite out recently as Truett is getting close to the age of introducing solid foods! I LOVE this high chair, first because the price can't be beat ($20) and second because it's got a sleek, small footprint. It's lasted us through two and now three kids! This time around, I plan to buy some accessories made just for this chair from the cute little shop Yeah Baby Goods on Etsy!
Skip Hop Activity Center //
This was a new purchase for Truett, after I decided I couldn't look at our old, hand-me-down multi-colored baby activity center one more time. This is adorable and pleasing to the eye, PLUS it transitions to a kid's table once your baby has outgrown it. So smart!
Moby Classic Baby Wrap //
I have used both the Moby and the Solly and prefer the Moby! It's fabric is more forgiving for getting a good, tight wrap and seems to be more comfortable for Truett. Don't get me wrong, I use and like both, but if I had to pick just one it would be this one!
Ergo 360 Baby Carrier //
Once your baby is too big for a wrap, this is the next baby carrier we use. Of course you can use it much sooner than that, but I tend to prefer the softer cloth wraps for smaller kiddos (and ease when putting in a purse) and the sturdier Ergo wrap for babies as they get older. This has many ways to carry a baby and is SO great for being out and about/on the go!
BabyJogger Summit X3 and Summit X3 Double //
We have a few different strollers but this is hands-down our favorite! It's great for long walks and runs. We have both the single and double versions and have logged so so many miles on both of them. Highly recommend!
Itzy Ritzy Teething Rattle //
This is a much smaller dollar item product that we have loved! It's great for this age baby as it's easy to hold and grasp and soft for chewing on. We have so many little rattles and tethers and this is the one we reach for time and time again!
Zipadee Zip Sleep Sack //
We have the original Zipadee Zip and have used it with both Collins and Truett. It's a great transition piece out of a swaddle and is safe for use once baby can roll to their tummy. We have Truett in a fleece one right now for winter and I love that it keeps their little hands warm!
I think that's it! At least these are the items that come to mind first and foremost, which I think means these are the items that we use and love the most!
Madison