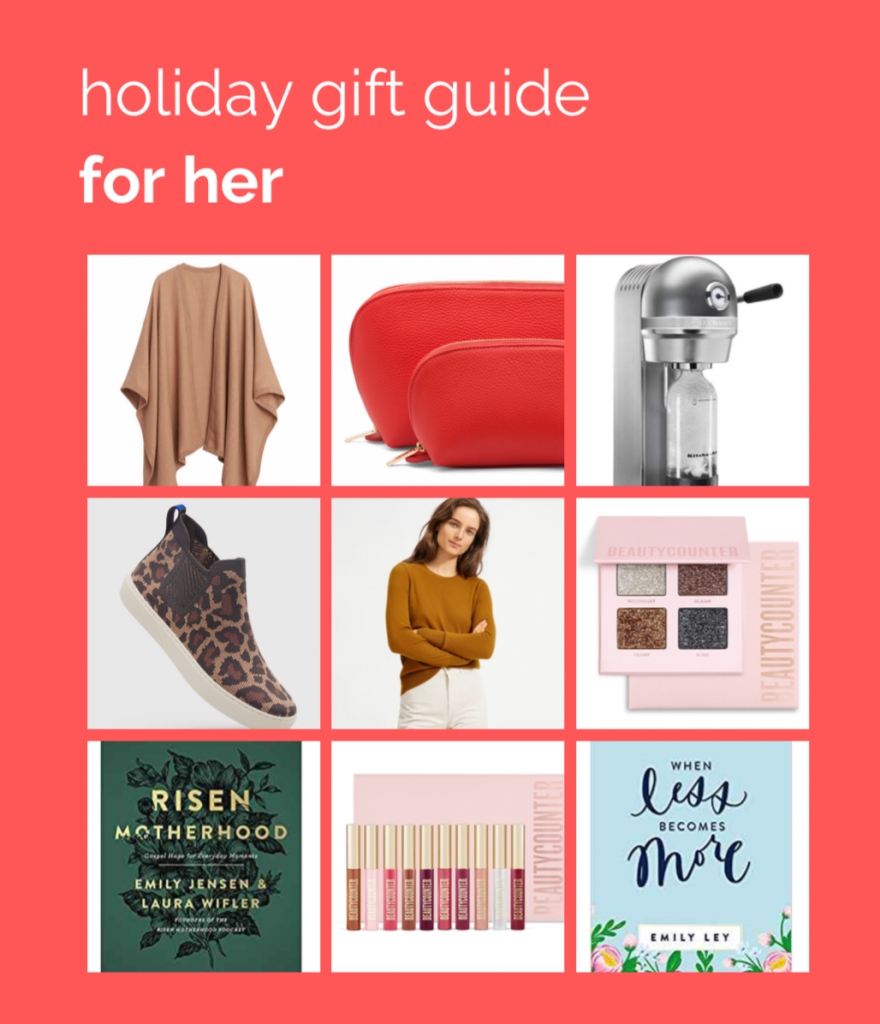 I'm getting ahead of the game this year and doing my holiday shopping early. And while I'm doing that shopping, I wanted to make sure to get ahead of the gift guides and provide you with some of my favorite gifts for different people in your life.

First up? My gift guide for the woman in your life – be it a friend, your mom, sister, mother-in-law, etc. Basically the list below is me rounding up my favorite of favorite items in the last year and recommending them to you. You can rest assured that I've put my hands on every single item listed below and use + love each item on the regular.
Cuyana Baby Alpaca Square Edged Cape
I was gifted this beautiful cape/wrap on a Beautycounter trip in January and it's completely dreamy! Soft, high quality, and so versatile. My mom has been hinting that she wants one for herself.
Cuyana Leather Travel Case Set
I don't personally own a set of these – but I've gifted at least a dozen of them to people both on my Beautycounter team and for previous holidays. I gave a set to my mom last year and she loves them. Bonus? You can personalize them and high end cosmetics travel cases are something I think most people are reluctant to buy for themselves.
KitchenAid Sparkling Beverage Maker
Joe gifted this to me last Christmas and I use it every single day! I LOVE sparkling water and my habit of buying cans of sparkling water was getting expensive. This is a more eco and budget-friendly way of enjoying sparkling water at home. The canisters of CO2 can be exchanged at Walmart, Target and other retailers for a fraction of the cost.
Mini Lip Gloss Vault
For the makeup lover in your life! The colors in this lip gloss vault are to die for, and nearly all of them are universally flattering. I was shocked at how many of the colors I ended up loving – which is saying something for a neutral lip color gal like myself.
Rothy's Chelsea Bootie
These have quickly become my go-to mom shoes. I slip them on nearly every day for preschool drop-off and pick-up. They are SO comfortable and versatile and I'm already eyeing another pair.
Everlane Cashmere Crew
The most classic Christmas gift choice around is a cashmere sweater, right? I love this sweater from Everlane. I've had a couple of their cashmere crews over the last few years in different colors.
Everlane Link Stitch Pullover
I recently purchased this and love it! I sized up to a medium for a more roomy fit and it's quickly become the sweater I reach for most often.
Eye Sparklers Palette
The holidays are the perfect time to add a hint of sparkle to your eye makeup, and this little 4-pan palette is a fun way to to do so. It would make a fantastic stocking stuffer!
When Less Becomes More by Emily Ley
Full disclosure: I haven't actually read this book yet, but I've read Emily's other books and loved them and am equally excited to read this one. I think her books would all make fantastic gifts to any time-crunched momma trying to prioritize what matters.
Risen Motherhood (book) by Laura Wifler and Emily Jensen
I love my friends at Risen Motherhood and am so encouraged by their recently-released book named after their popular podcast. I can't think of a better encouragement and gift to mommas in your life than to help bring them closer to the heart of Jesus as they mother their kiddos.
Fawn Design Original Diaper Bag
I have this diaper bag and got it before Collins was born. It's my absolute FAVORITE. It's roomy enough to tote around all the things you need for baby + toddler + other kiddos but it's cute enough that it doesn't scream "diaper bag!" Meaning that when I travel for work I still take this bag with me because I love it that much.