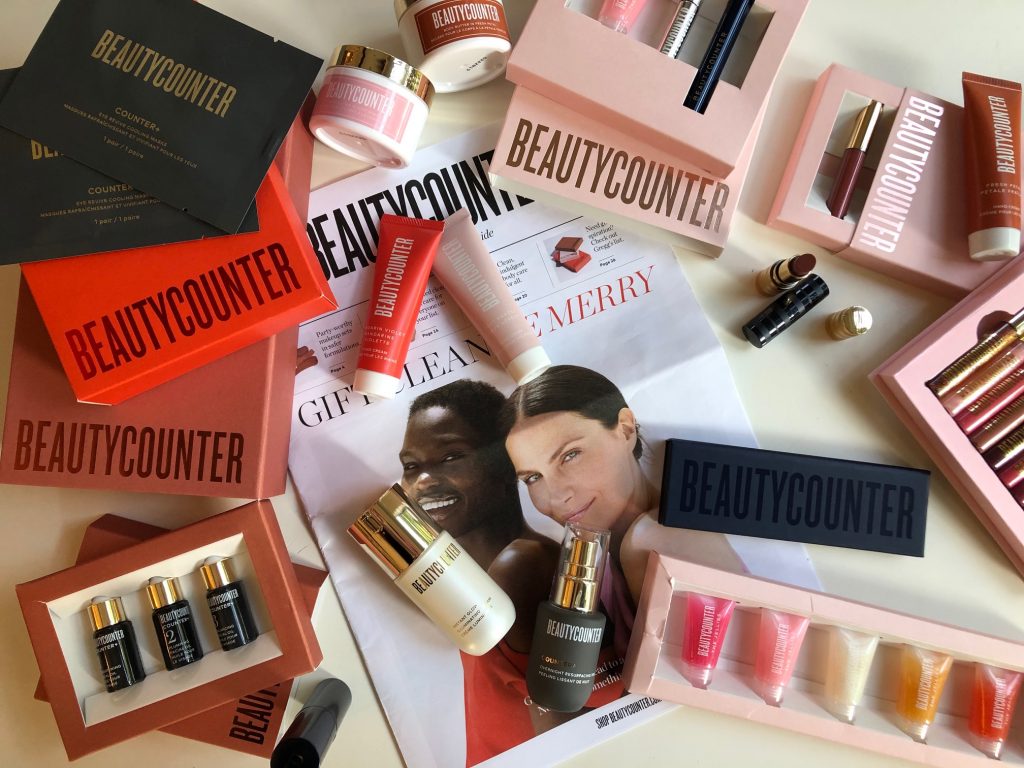 Friends! I'm checking in today with a FUN post filled with clean beauty goodies. For those of you who share either my love of clean beauty OR my love for great makeup and fun ways to pamper yourself (or both?!) this post is for you.
I've been waiting for a few weeks to officially unveil the 2019 Beautycounter Holiday Collection and this week is the week I can finally do so! Each year, Beautycounter launches a host of new/exclusive products and collections designed specifically for gift-giving. And while most of us are probably not quite ready to do our holiday shopping, I wanted to give you the jump on snagging your favorite items both for yourself and those you love. So, let's get to it!

MAKEUP COLLECTIONS //

Mini Lip Gloss Vault ($89)
This is a repeat of last year, with different colors! Ten different colors in mini lip gloss tubes, including nine brand-new colors. Personally, I'm thinking of gifting the set to my younger sister, but I may also buy another set to break up and use as hostess gifts and little goodies for friends throughout the year.
Rosewood Lip Trio ($49)
Rosewood is HANDS DOWN my favorite lip gloss color, and now it is packaged in a trio: Rosewood Lip Gloss, Rosewood Lip Sheer and Rosewood Lip Intense. In my opinion, Rosewood is THE best fall color for nearly any complexion!
Fresh-Faced Trio ($45)
A little makeup starter kit! Our amazing Lengthening Mascara, a Clear Brow Gel and Jelly Lip Gloss in Sorbet. I can see this being a particularly great gift for teens/tweens and those makeup minimalists out there!
The Jellies ($39)
Oh my 90's loving heart be still! These are the clean beauty version of the old Lancome Juicy Tubes! Anyone else remember those? They smell amazing and are lightly sweetened with stevia for a sweet taste.
Starlight Eye Shadow Palette ($36)
I know many of you have been asking for a smaller sized eye shadow palette and now I have one for you! This is a 5-color palette rather than our typical 9-color palettes in shades perfect for the holidays!
SKINCARE COLLECTIONS //

Counter+ Skin Care Favorites ($89)
Some of our best-selling products from our Counter+ line, packaged together at a stellar price point! This contains the Lotus Glow Cleansing Stick, Overnight Resurfacing Peel, Brightening Face Oil and Charcoal Face Mask. It's a great "treatment" set so you're set for a spa night at home any night!
Glow Getters Trio ($89)
Gah! I love this set. It contains our super-popular Illuminating Glow Cream from last year – which is a moisturizer that has a little shimmer in it to leave your skin looking radiant – paired with our best-selling Overnight Resurfacing Peel and Rose Glow Highlighter Stick.
Bright Eyes Treatment Set ($89)
The Eye Revive Cooling Masks from last year's holiday collections are BACK! They were such a hit and I'm so excited they're making a comeback. These single-use eye patches are paired with our amazing Countertime Ultra Renewal Eye Cream. This is my ultimate tired-momma gift! In fact, I may buy a few extras to have on hand to gift to new mommas in my life!
Hand Cream Trio ($34)
Every year Beautycounter has hand creams in limited edition scents. Every single year they are one of the first things to sell out. How CUTE are this year's hand creams? And they smell amazing, too! Perfectly sized for keeping in your car or purse!
Body Butter Trio ($49)
The same scents as the hand creams, this trio of body butters is adorable. I plan on buying a few sets of hand creams and body butters and breaking up the sets to gift teachers a hand cream + body butter + gift card. So fun, right?
Beautycounter Travel Companion ($35)
Travel sizes of some of my favorite Beautycounter basics! Shampoo + Conditioner + Body Wash + Body Lotion!
Counterman Carry-On ($45)
For the man in your life! Honestly, I'm going to buy a set for Joe just to have on hand and may also gift my dad a set, too, since he travels so much. Even if it's not a gift for the man in your life, it would be a great way to have your man dip his toes into the clean beauty world at a great price point!