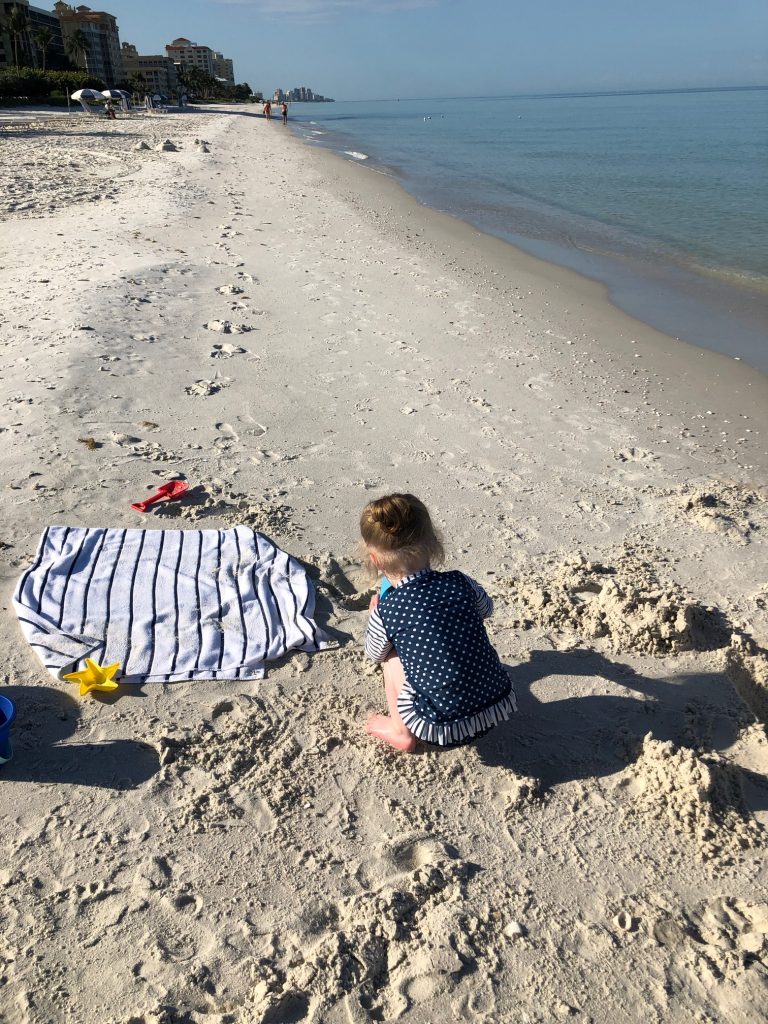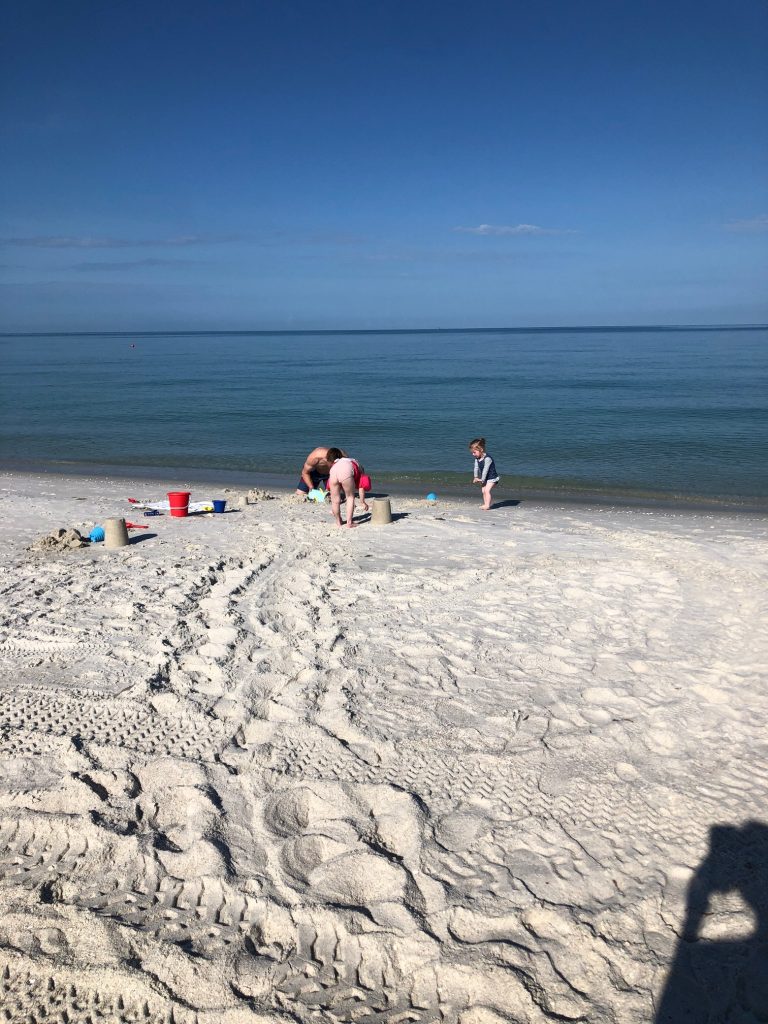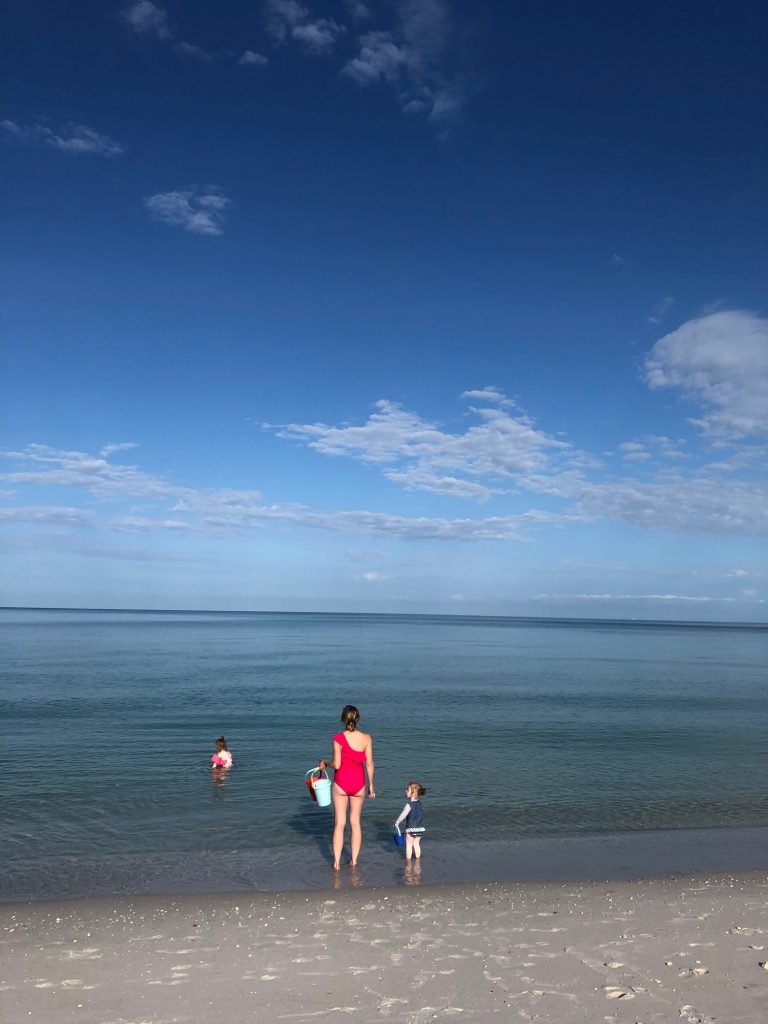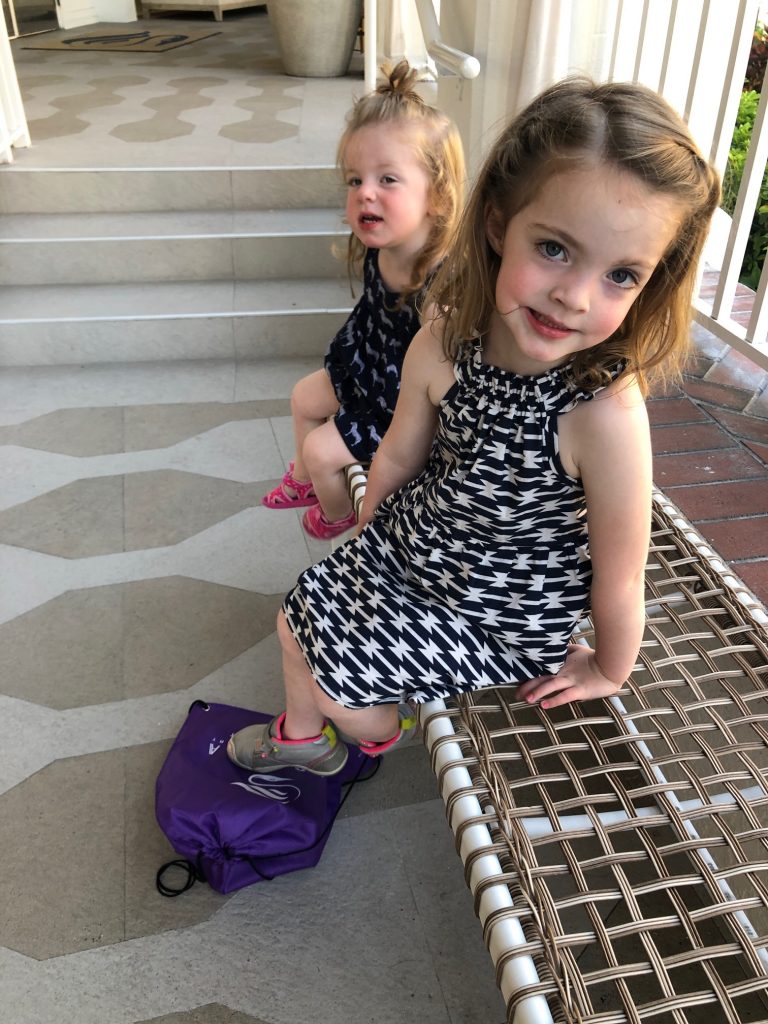 We just returned from the most wonderful four days in Naples, Florida, where we stayed at La Playa Beach & Golf Resort and took in some much-needed SUN as well as rest and relaxation. In light of our need to cancel our trip to Iceland for Ainsley's ear surgery we decided to squeeze in a really quick four day vacation while we could. Our days as a family of four are seeming more and more numbered, and with the girls at such relatively easy ages for travel, we wanted to take advantage while we could!
We picked Naples, Florida, because we knew we wanted to park ourselves at a beach and enjoy some sunshine. And once we settled on the beach + sunshine we decided to head to Naples to see Joe's sister, Amber, and her family while we were there!
One of the biggest lessons I've learned over the years traveling and going to the beach is that staying right ON the beach is worth every penny you pay. Especially when you're traveling with young kiddos (who frequently need snacks + potty breaks + etc.) and not being within driving distance (aka we didn't travel with things like beach chairs, towels, a cooler, etc.) being on the beach made our trip so fun and relaxing.
La Playa Beach & Golf Resort came recommended by a friend who is from the area and I'm SO glad we decided to stay there. While this isn't sponsored in any way and we paid a hefty price tag for our stay there, I had to rave about the resort and share a few details about our experience since I got a lot of questions on Instagram about where we stayed!
As I mentioned, the price tag was hefty (even more so because we stayed on a ground-floor Lanai suite that walked straight out onto a patio that was just feet from the beach) but the amenities and convenience made it worth it. We stayed for three nights and four days, the perfect amount of time to feel recharged and refreshed yet ready to head back home.
Some of our favorite perks of the hotel:
1. Each day they have complimentary chair/umbrella/beach towel service and someone from the resort will set up as many chairs, tables and umbrellas as you need. This was awesome since, as I mentioned, we didn't travel with any of our beach gear.
2. Beachside drink/food service was available each day as well. We didn't eat our meals out at the beach (the girls were ready for a lunch break and nap time each day) but having the option was really nice.
3. FIVE swimming pools! Although pre-kids I wouldn't have said this was necessary when you go to the beach, having the pools available was great. We spent most mornings at the beach, then came inside and cleaned up for lunch/nap time. Joe and I read on the patio while the girls napped, then we headed to the pool for the afternoon. It was amazing how quickly our days flew by with this schedule.
4. Great on-site restaurants. We enjoyed a lovely outdoor breakfast each morning, and since there weren't a ton of families with kiddos there, we enjoyed having the restaurant nearly to ourselves at 7:30 am when our kids were already awake and ready to eat!
5. Friendly and Helpful Staff. While I can't say the resort was "kid focused" by any means, it was definitely still kid-friendly. The staff welcomed the girls with their own little backpacks filled with a coloring book and a stuffed animal turtle, and they were all so friendly to the girls. The Pack and Play was already set up in our room when we arrived (why is this such a perk to me?! But it is! Mainly because I've had so many times where I have a kiddo ready for a nap and it takes a dozen calls to get a crib to the room) and there were small fridges in the room and really effective blackout shades (great for mid-day naps and keeping milk cold in the fridge).
Aside from the resort itself, we didn't do a whole lot aside from going between the beach and the pool and back to the beach. It was so so recharging to travel with the girls at these ages and really take it slow/easy without much of an agenda for our time in Naples. We also managed to travel SUPER light this time around by doing the following:
1. We packed entirely in carry-on suitcases this time. Joe and I each took a carry-on and we each put the stuff needed for one of the girls in our respective suitcases. Since Collins is now potty trained and only needs diapers at night, it was nice to not take up half a suitcase with diapers. The hotel provided a pack and play, we bought beach toys at Target when we arrived, we rented car seats from our car rental service (Hertz) and only took a small umbrella stroller.
2. Ainsley was allowed to pack a backpack of things she wanted to take, including some toys and games for the plane, snacks, stuffed animals, etc. Joe and I also each took one backpack and that was it! It was SO nice not to be loaded down with stuff, and when we ended up delayed in the St. Louis airport for nearly even hours it was really nice to have all of our stuff with us both for travel plan changes AND to keep everyone clothed/happy/occupied while we waited.
One Last Note:

Joe and I talked multiple times over our trip about how GOOD it was to be reminded of the value of taking our girls outside of their comfort zone and making it a priority to travel with them at young ages. Even at the ages of 2 and 4 they are both experienced fliers and generally good travelers. BUT! That doesn't mean that we don't have our fair share of times when we wonder if it's all worth it. Because the meltdowns happen, and the effort it takes to travel with little people is REAL. It's work for us as parents, but it's something we are committed to because we see the value in exposing the girls to new places, things and testing their flexibility muscles.

Even over the course of our short trip, I saw how much growth had happened in terms of them getting better about sitting still through restaurant meals. And on the flight home when faced with a seven hour delay in the St. Louis airport, a tornado warning that forced us to seek shelter in the bathroom for an hour, and getting home at 2 am, they were so flexible and adaptable. Much more than I had given them credit for previously.

So take the trips, make the memories, and know that your little ones will be better off because of it! 🙂
Madison