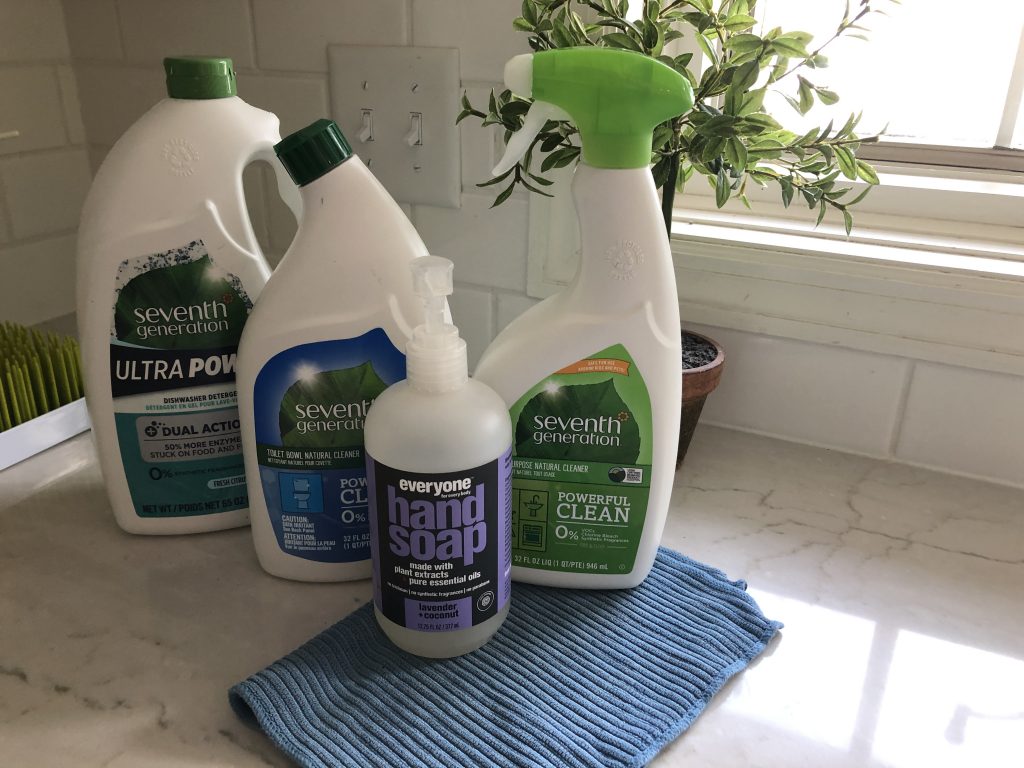 When you think about green cleaning and removing toxic products from your home cleaning routine, do you get a headache just thinking about it? Because it's been a SLOW process for our family as we've attempted to clean up the products we use at the Hofmeyer house.

Note: While this might not be the case in all homes, my husband is our dedicated bathroom cleaner and because of that, he gets a big say in the products we use and if they cut-it in terms of cleaning power. 😉

One of my favorite brands for safer cleaning products is Seventh Generation. While I'm sure there are "cleaner" options available (and I've tried some of them) when looking for the best mix of safety and efficacy, Seventh Generation meets my standards for both.

It's important to note that not all Seventh Generation products are created equal. Even the same product but in a different scent can have a different formulation and hence, safety rating. I've put the EWG score (A being the safest) behind each of the products I mention, if available.

Ultimately, the best green cleaning products are those you are actually going to use, vs. being tempted to go back to your conventional favorites. So even if you aren't using the cleanest products possible, I'm in favor of progress not perfection and taking baby steps to getting where you want to go.
Seventh Generation Chlorine-Free Bleach (EWG Rating: A)

Seventh Generation Disinfecting Multi-Purpose Cleaner in Lemongrass Citrus (EWG Rating: A)

Seventh Generation Toilet Bowl Cleaner (EWG Rating: A)
Everyone Hand Soap (EWG Rating: 2)
-This is more personal care than cleaning, but I'm putting it in the cleaning category since it sits in our kitchen and bathrooms as a cleaning agent. This is a super affordable and EWG verified hand soap I find at our local Walmart.

Seventh Generation Liquid Dish Soap (EWG Rating: C)
-This doesn't get as good of a rating as the dishwasher packs, but our dishwasher doesn't work well with the packs. When researching, I found their powder gets an "A" rating so we will most likely switch to that next.

Seventh Generation Lavender Laundry Detergent (EWG Rating: C)
-I also noticed that the Seventh Generation Powder Laundry Detergent gets an A rating, vs. this liquid version that gets a C. So we'll likely switch over after we run out of our current supply.

Seventh Generation Natural Laundry Stain Remover(EWG Rating: C)
-Not the cleanest option and when I was researching, I realized that my Oxy Clean was actually rated just as well as this. So, a learning process for me because this is greenwashing at it's finest and a great reminder to research each product even within a brand. (Safer alternatives: Biokleen Stain + Odor Remover, FIT Organic Laundry + Carpet Stain Remover – though I can't vouch for the efficacy of either of these products)

Norwex Floor Mop System (large size)

Norwex Kitchen Cloths

So, as you can see, it's not perfect! We're definitely a work in progress, but as people who used to have items that were the worst of the worst, we're making progress and I'm excited about continuing the process as it evolves!
Madison