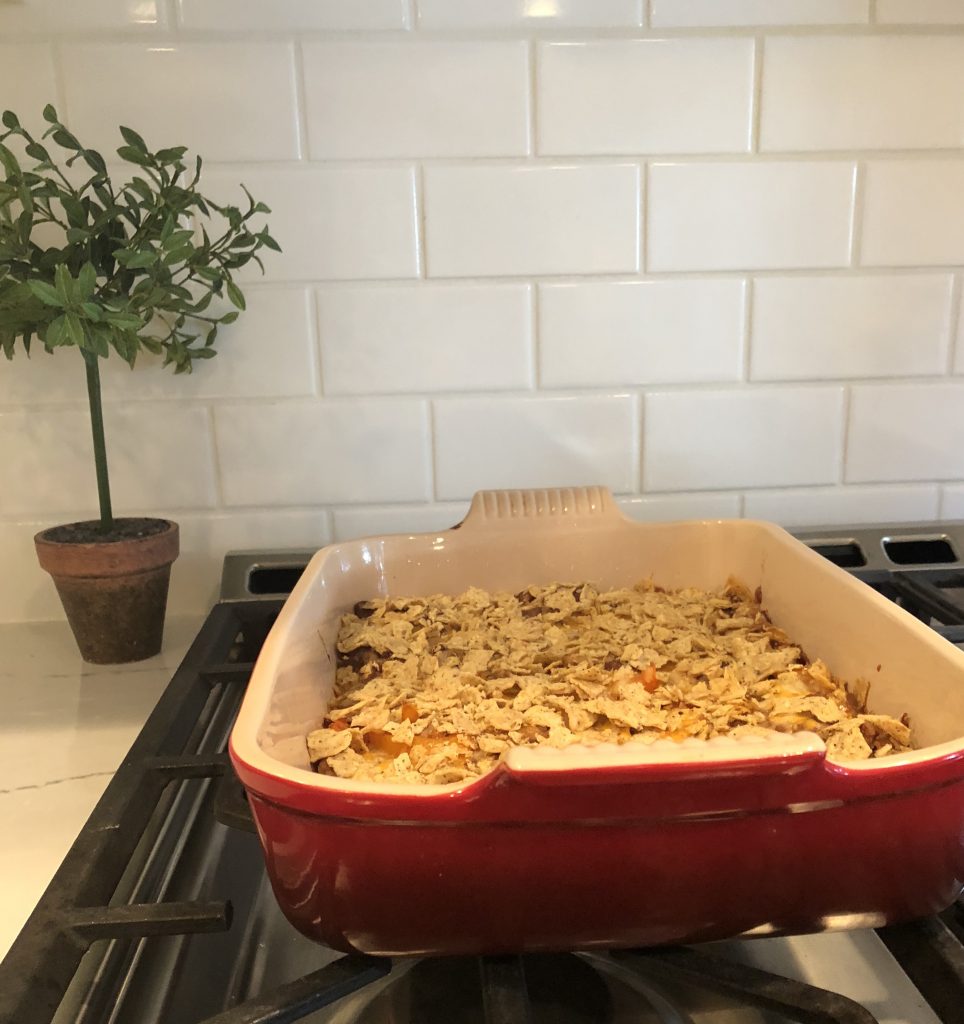 Happy Sunday, friends! I'm doing a little slow Sunday morning meal prep and planning for my weekly meal planning newsletter and this is one of the recipes that will go out in a bit! If you aren't signed up yet, each Sunday I send out our family's meal plan to serve as inspiration for you in your meal planning efforts. It's nothing fancy, but I hope it's helpful, and it certainly keeps me on track! You can sign up HERE if you're interested in getting a meal plan sent to your inbox each week.
I'm always looking for more family-friendly recipes that aren't terribly difficult to make and are pleasing for little kiddos. This recipe is just that – easy to make, pleasing for nearly everyone, filling yet healthy. If you are looking for a new casserole recipe to add into your rotation this fall as temperatures drop, I highly recommend adding this into your rotation.
This week I divided up the recipe into five lunch containers for Joe's lunches this week. I'm also including some lettuce and sour cream on the side so he can top this with some traditional taco toppings before eating. While I doubt the chips will stay good and crunchy throughout the week, I'm hopeful it still tastes great!

Healthy Taco Casserole
Author:
Espresso and Cream
Ingredients
1 tablespoon olive oil
1 medium yellow onion, thinly sliced
1 medium orange, red or yellow sweet pepper, seeded and thinly sliced
1 lb. lean (at least 80%) ground beef
1 packet taco seasoning mix
½ cup water
2 cups hot-cooked brown rice (I like Trader Joe's frozen brown rice bags)
1 cup mild or medium salsa
1½ cups shredded Mexican cheese blend (not the "taco" cheese with seasoning)
1 cup crushed whole grain tortilla chips
Lettuce, guacamole, and sour cream for serving, if desired
Instructions
Heat oven to 350°F. Lightly grease a 13x9-inch baking dish. Set aside.
Heat olive oil in a large skillet over medium heat. Add in the peppers and onion and cook, stirring occasionally, 10 to 12 minutes or until onions are browned and peppers are tender.
Meanwhile, brown ground beef; drain. Return beef to skillet and add in ½ cup water and the taco seasoning mix. Simmer 1 to 2 minutes, then remove from heat. Stir in the brown rice and the sauteed peppers and onions, along with the salsa and 1 cup of the cheese.
Transfer mixture to prepared baking dish. Top with the remaining ½ cup of the cheese and the crushed tortilla chips. Bake 25 to 30 minutes, until mixture is bubbly and hot. Cool 10 minutes before serving. Serve with desired toppings.