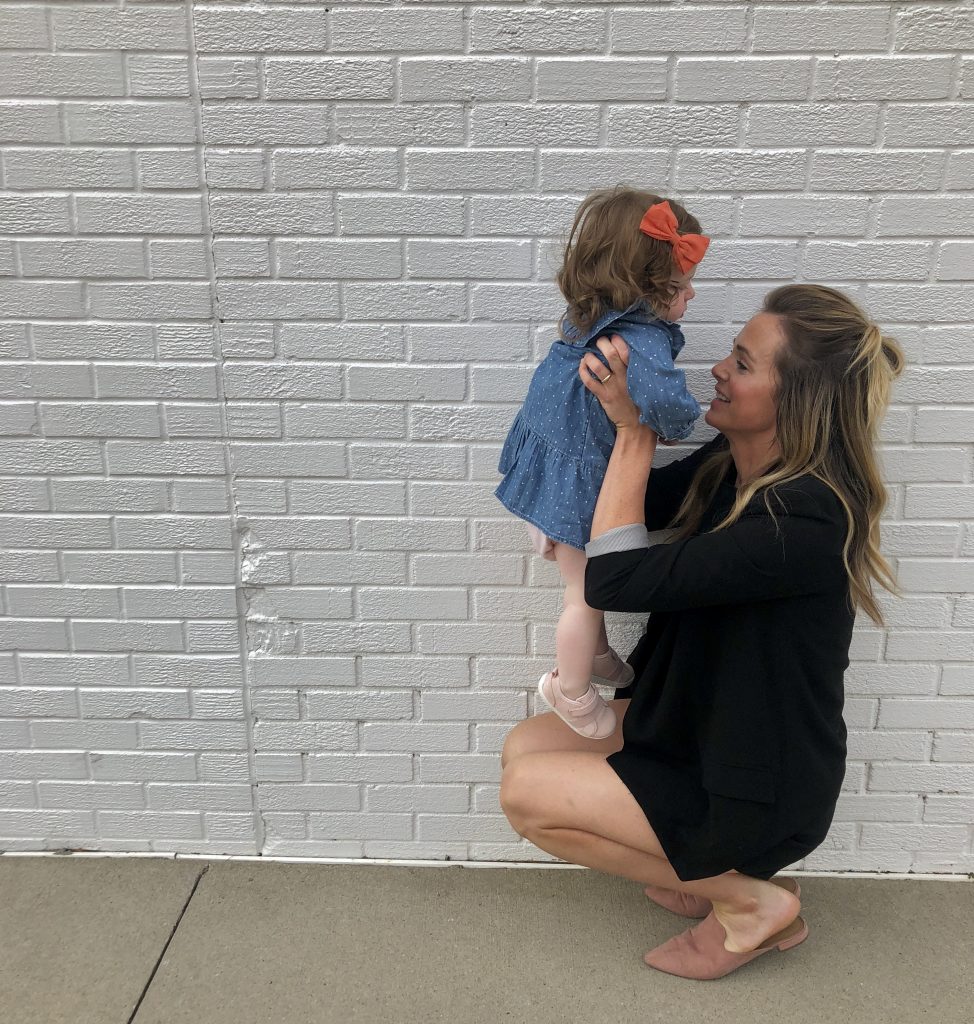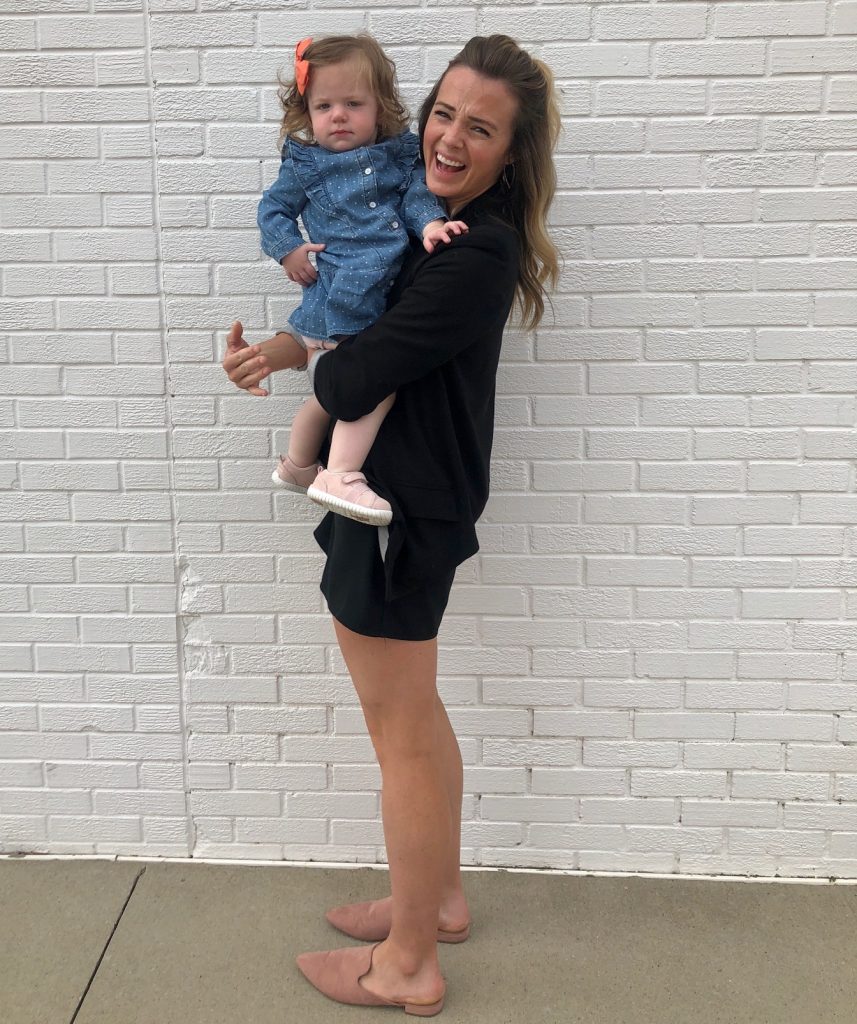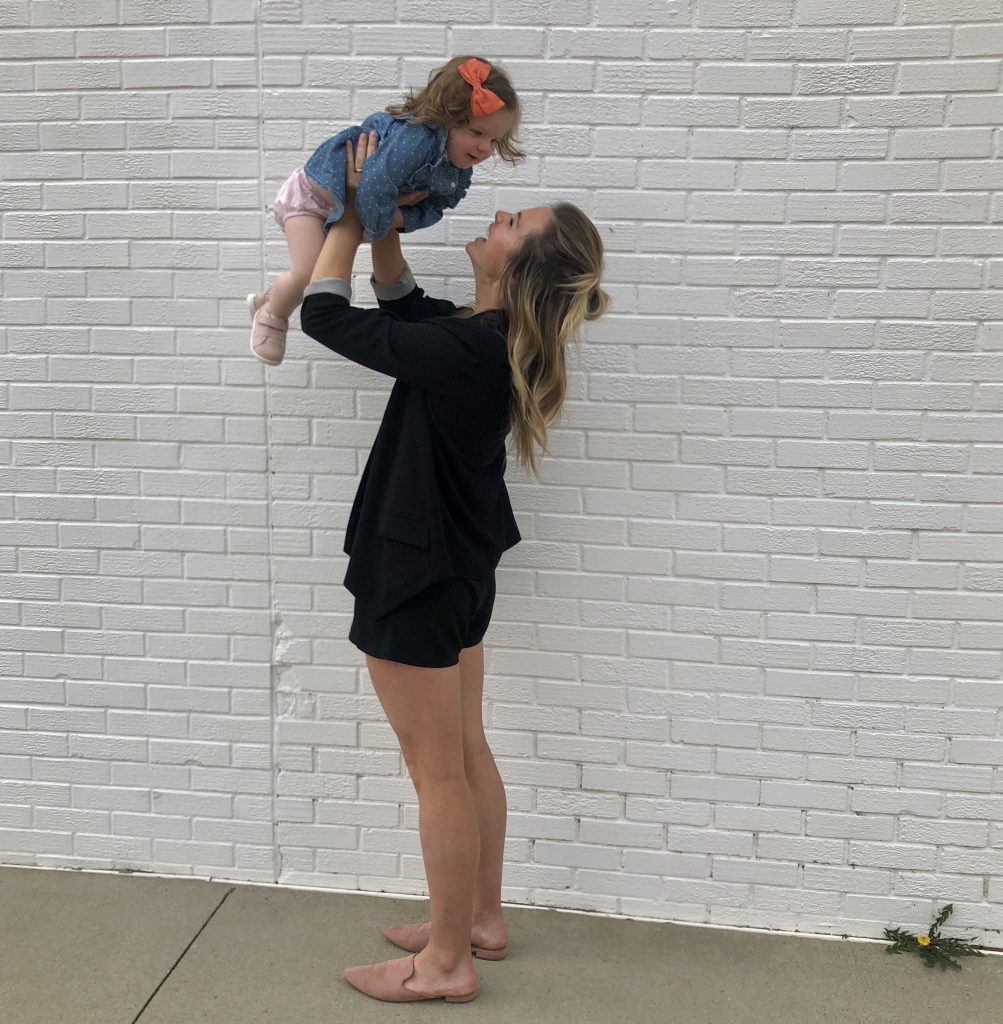 Cornerstone Blazer from Anthropologie // Velma Slip On Mules from Target //
A New Day Women's Crepe Romper (sold out at Target) 
Let's talk mom style! Finding clothing that both fits you body and lifestyle as a mom without feeling frumpy or like you're in a constant rotation of workout gear is tough, isn't it? I found after I became a mom that I needed to edit my closet and invest in some new clothing that was a bit more appropriate for this stage in life. Another factor? I work at home and no longer report to an office. That doesn't mean I don't want to get dressed up to "go to work" in my office or the coffee shop. Most of the days I'm working at home I try to wear casual professional clothes to help boost my productivity. There are still days where I wear yoga pants to the "office" but I do still get dressed and ready most work days, though not nearly as dressy as I did when I worked in a real office environment.
Church also offers a fun occasion to get dressed up, along with a few Beautycounter events throughout the year. Outside of those occasions, my attire is pretty casual and comfortable. I'm hoping to continue to share a few favorite new pieces and outfits in the weeks and months to come. Because while I may not be a fashionista by any means, I do feel like I'm getting a good handle on my personal style and dressing for both casual work life and mom life.
This romper has been worn so so many times this spring and summer. I found it at Target (A New Day brand) for around $25 and it's the best money I spent all summer. I wish I had a link to share with you, but I couldn't find it on their site any longer. Perhaps scouring the sale racks at your local Target would be a way to track one down? Because it's completely worth the effort! The casual slip-on mules are one of Joe's least favorite items in my wardrobe, but they are super casual/comfortable with a pointy toe that makes them look a tad bit dressier.
And the blazer! I went far too long before adding in a classic black blazer into my closet. I had one a long time ago that I absolutely loved and wore into the ground, and after it was time to retire that blazer I never found another one that I loved. Since I have broad shoulders, I was looking for something that wasn't super structured and softer/more casual than a traditional suit blazer. This one is a keeper. I look forward to wearing it and would wear it every day if I could. It's part of the reason I'm so excited for fall weather! 😉
Madison