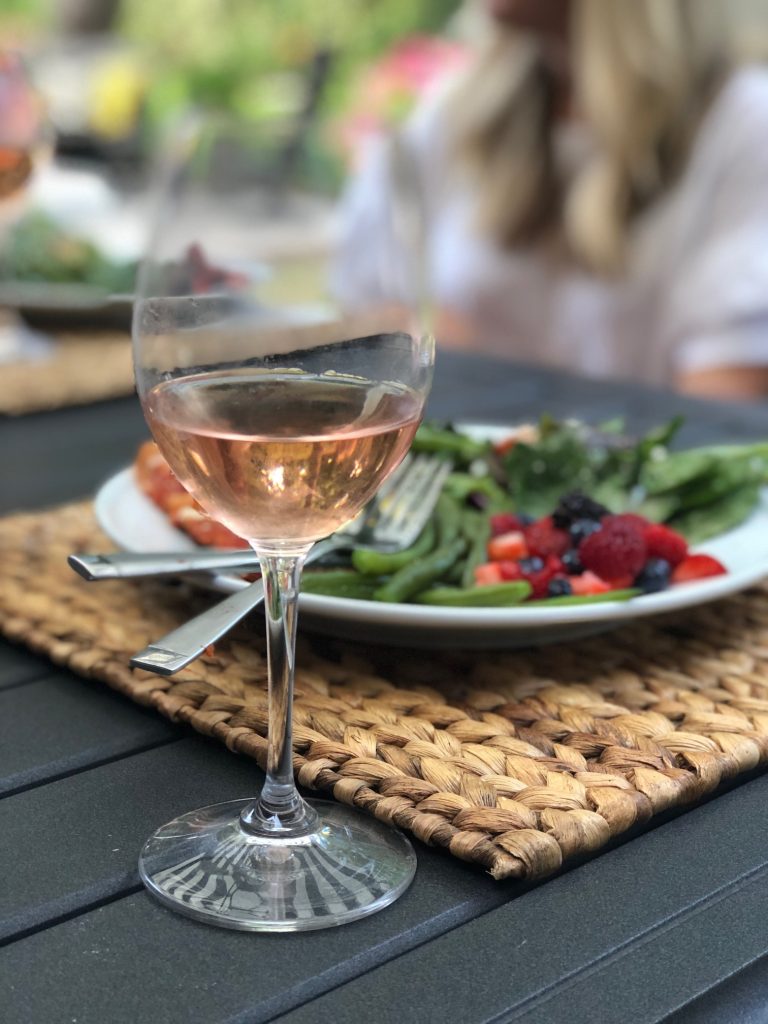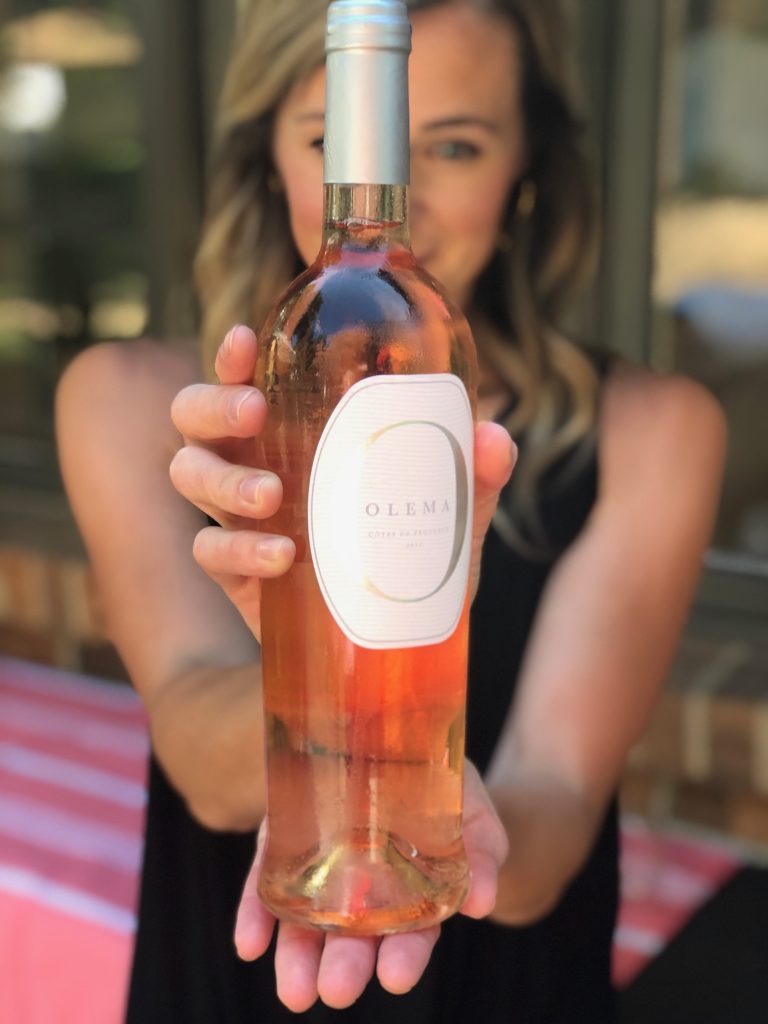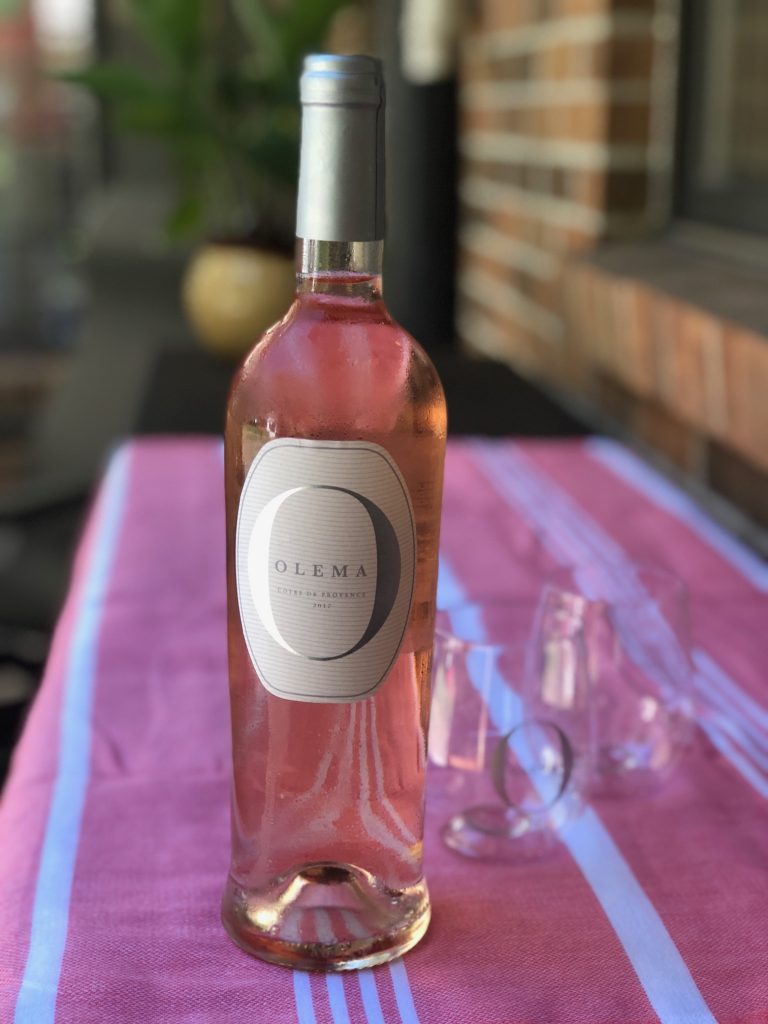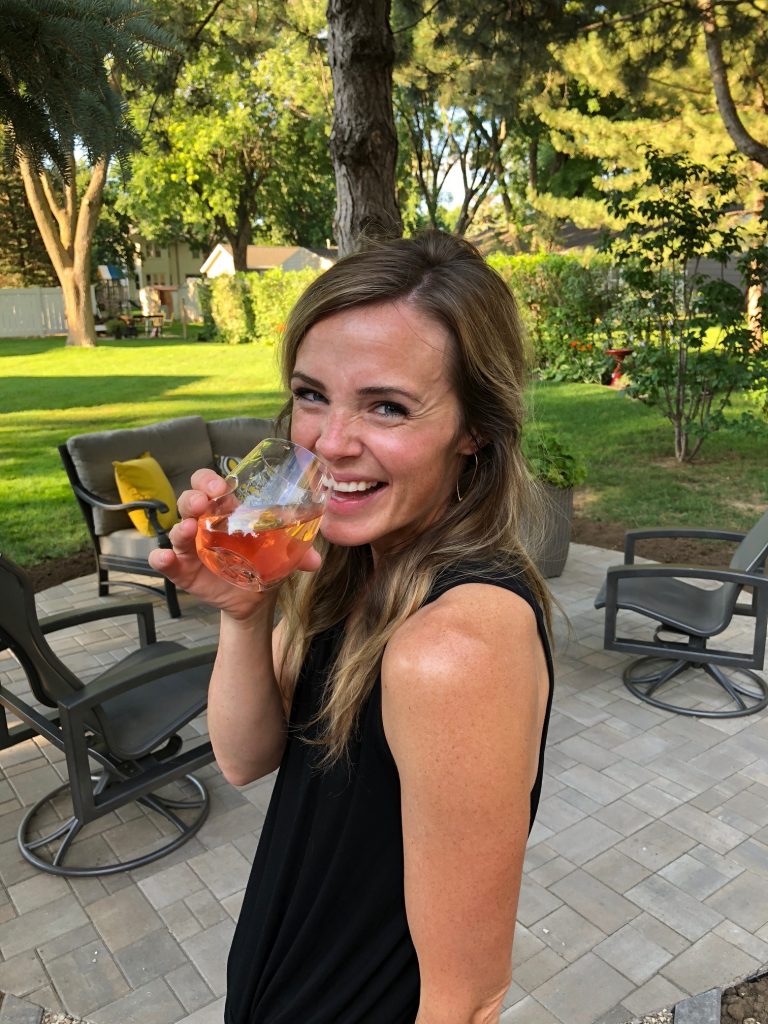 This post is sponsored by Olema Wines. Well, they didn't pay me to write the post, but they did send me some yummy wine in hopes that I would love it enough to talk about it and guess what? It was awesome, so I'm sharing it with you today! Thanks for supporting the brands that support Espresso and Cream! 
Summer has gone so quickly this year! Anyone else? I think it's due in large part to the fact that we have been working on our patio project ALL summer long and this weekend we finally got it finished! I guess saying "finished" is a little misleading because now our yard looks like a hot mess filled with dirt and piles of rock and we haven't even started the landscaping around the patio, but the actual patio is finished and I am SO proud of Joe for all the hard work he put into making this possible. He worked alongside a friend who had some landscaping experience and helped with the technical parts of the patio, but the amount of dirt-moving and manual labor that Joe put into this patio is crazy. It also helped us save a LOT of money doing so much work ourselves. A full patio project recap is now in the works, but in the meantime., I'm going to talk about pizza and wine, mmmkay?
We christened our new patio by having a few friends over for grilled pizza + wine and every time I make grilled pizzas for a group I'm reminded why we need to do so more often. We've been grilling pizzas for years, and while it's a little more hands-on than, say, grilling meat, it's definitely fun to do something different outside of the typical burgers + brats + chicken, etc on the grill. By the end of the summer, we are ready for something fresh. Sitting under our patio table umbrella, drinking some really great rosé wine from Olema Wines, and eating grilled pizza, salad, fresh green beans and mixed berries felt almost like we were transported somewhere much fancier than our house, minus the giant dirt piles and general disarray of our yard. Ha!
While I'm typically a red wine drinker, the hottest months of the summer really do make chilled white and rosé wine my go-to when entertaining. Actually, I tend to think a rosé on the drier side, like this 2017 Olema Rosé, really are the perfect wines to serve at a party since they tend to be crowd-pleasing and ultra refreshing. Plus, the price point ($16/bottle) is about what Joe and I tend to spend on a bottle of wine – bridging the gap between price consciousness and the quality that we expect when drinking wine. I'm not the most knowledgable wine drinker but I do know what I like! 🙂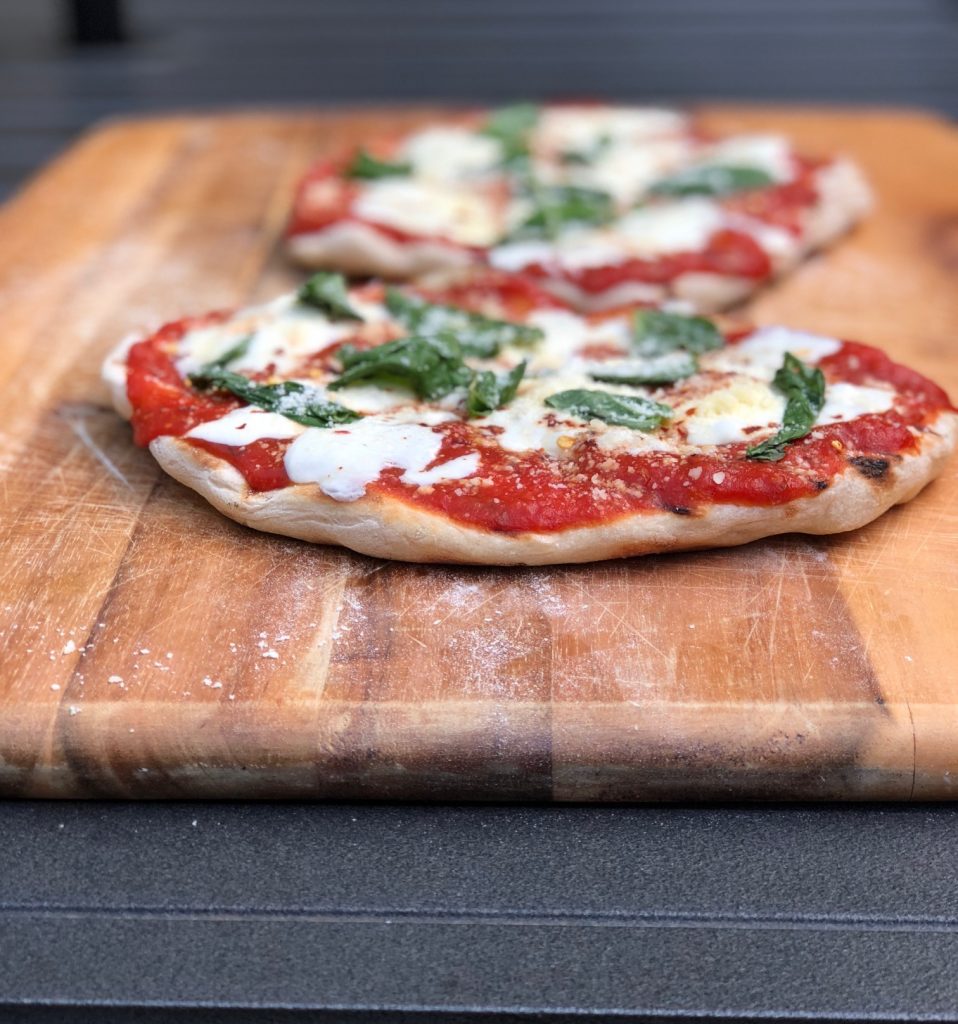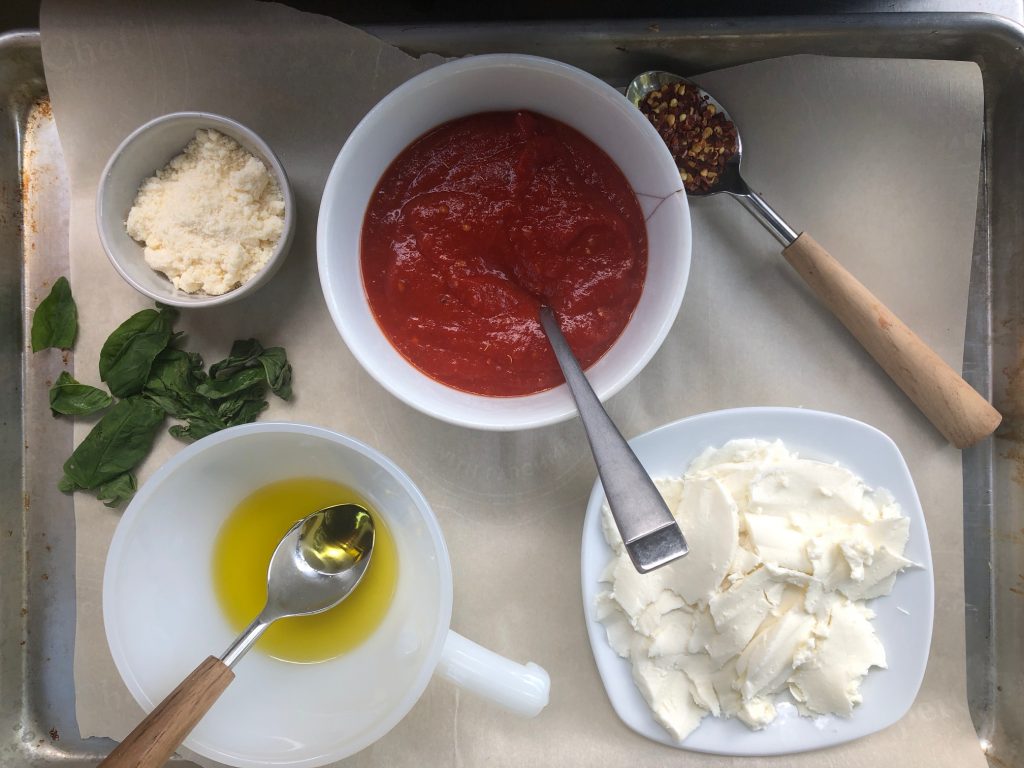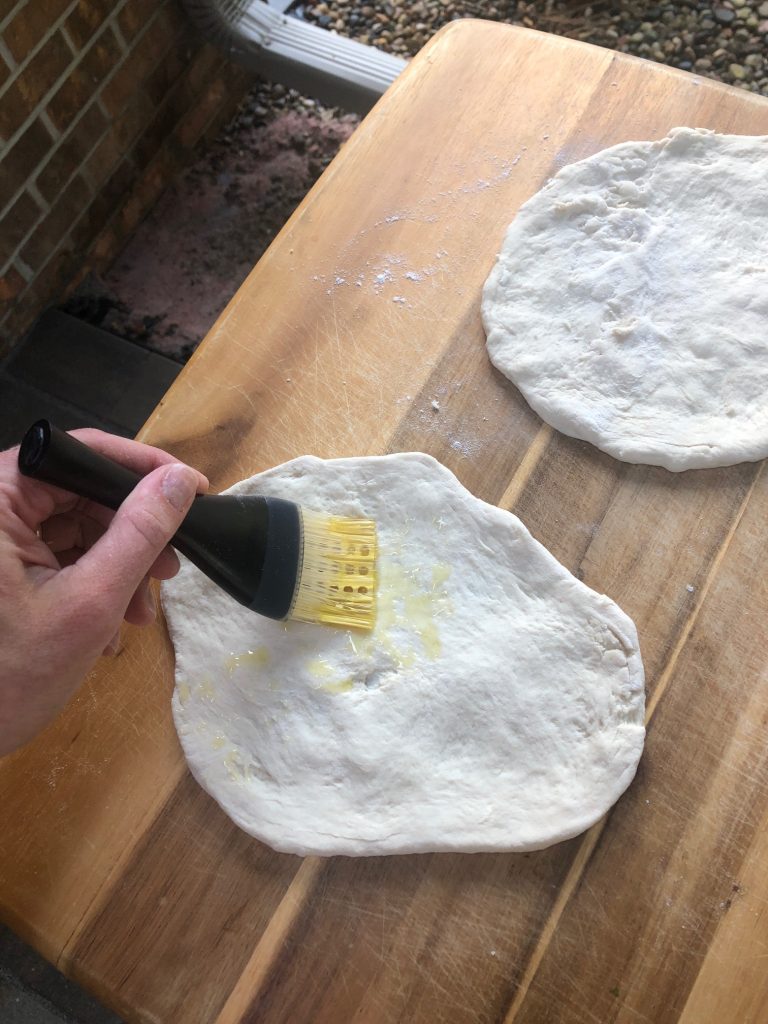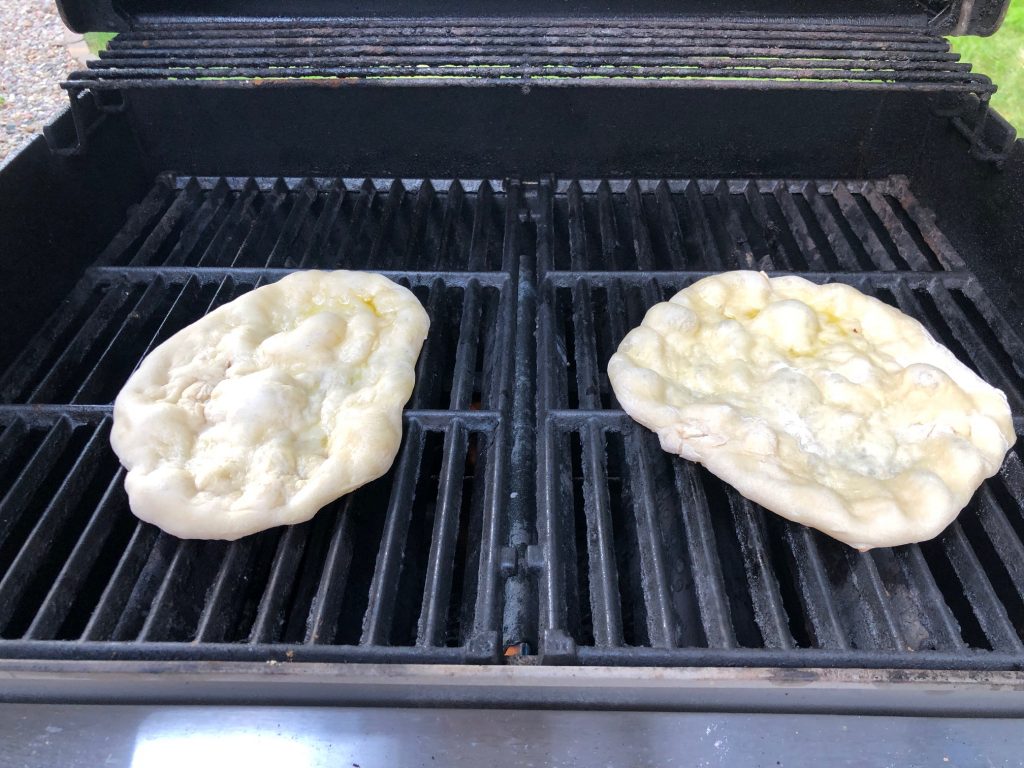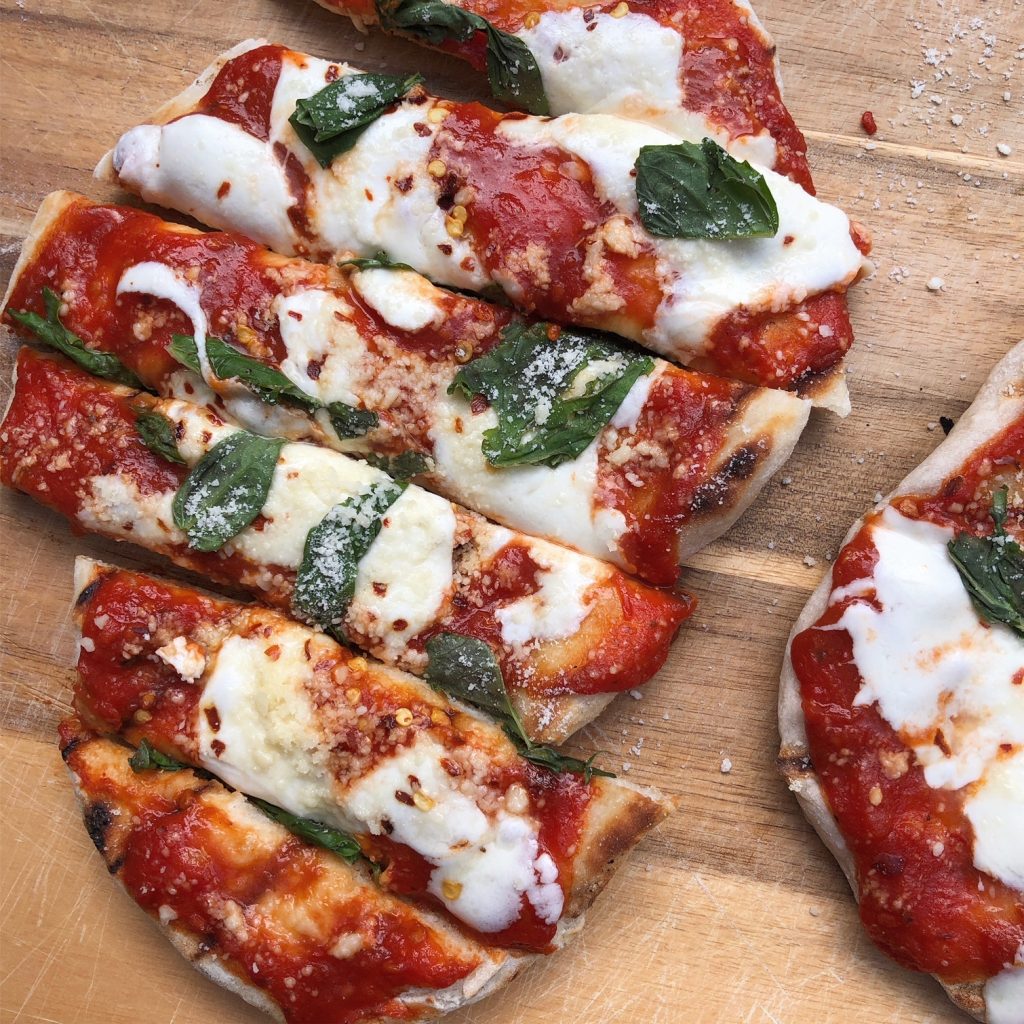 I will say that I have *no* idea if rosé wine is a good pairing with grilled pizza from an expert's perspective, but I thought the entire meal was delicious! So let's talk a bit about grilling pizza, shall we?
A few tips I've learned to help make grilling pizzas better + easier + tastier:
Make sure your grill is HOT. Like 450°F – 500°F hot and that your grill grates are clean. Sometimes I'll get the grill really hot first and then give the grates one more cleaning with a grill brush to make sure they are super clean. Dirty grill grates will stick to the pizza dough and leave you with a mess.
Put together a "toppings tray" ahead of time. We're talking everything you need to top your pizzas, including olive oil + pastry brush, pizza sauce, cheese + fresh basil and whatever else you want to use for pizza toppings. Grilling pizza at a high temp on the grill goes FAST so you need to be ready to top the pizzas quickly.
Don't top the pizzas too heavily. The thin dough doesn't need a lot of sauce and toppings. In fact, it's better if you use a light hand when topping with sauce, cheese and toppings as to not overwhelm the dough.
Be sure to stretch the dough thin enough. You want to stretch it out as thin as you comfortably can without ripping holes in the dough. The grill is HOT meaning you can't leave the dough on too long before it burns. A little char is good, too much isn't, so you want the dough thin enough that it cooks through before you need to remove the pizza from the grill.
Perfect Grilled Pizza Dough
Serves:
4 personal pizzas
Ingredients
1 cup warm water
½ teaspoon instant dry yeast
1 teaspoon salt
3 cups all-purpose flour
Instructions
Place warm water in a large mixing bowl. Sprinkle with the yeast and allow the yeast to dissolve for a minute. Whisk together to combine. (Important Note: You should see some bubbles in the water, which means that the yeast is active, if you don't see any bubbles you may have old yeast or the water was too warm and it killed the yeast.)
Add the salt and 2½ cups of the all-purpose flour to the water mixture and use a rubber spatula to combine. Transfer mixture to a lightly-floured surface and gradually kneed in the remaining ½ cup flour over the course of a couple minutes, adding a little at a time. The dough should be smooth and elastic, and just the tiniest bit sticky but not so sticky that it easily sticks to your hands. Add additional flour if necessary, a tiny bit at a time.
Transfer dough to a lightly greased mixing bowl and cover with a towel. Allow to sit in a draft-free location to rise for 2 to 3 hours, until dough is doubled in size.
Punch down dough and cut into four pieces. Form each piece into a round. Stretch each round into a thin disc (see note above in the tips) using extra flour if you need to prevent sticking.
To Grill:
Heat grill to the hottest it will go - around 450°F to 500°F. Once grill grates are good and hot, brush dough lightly with olive oil. Place the oiled side on grill grates. Cover and cook 2 to 3 minutes until dough is charred and bubbly. Brush uncooked side of dough with olive oil and flip. Quickly top with sauce, cheese and desired toppings. Cover and cook 2 to 4 minutes more until cheese is melted and dough is cooked through. Transfer to a cutting board and top with fresh basil, grated Parmesan cheese and crushed red pepper, if desired. Cut into strips to serve.
Madison