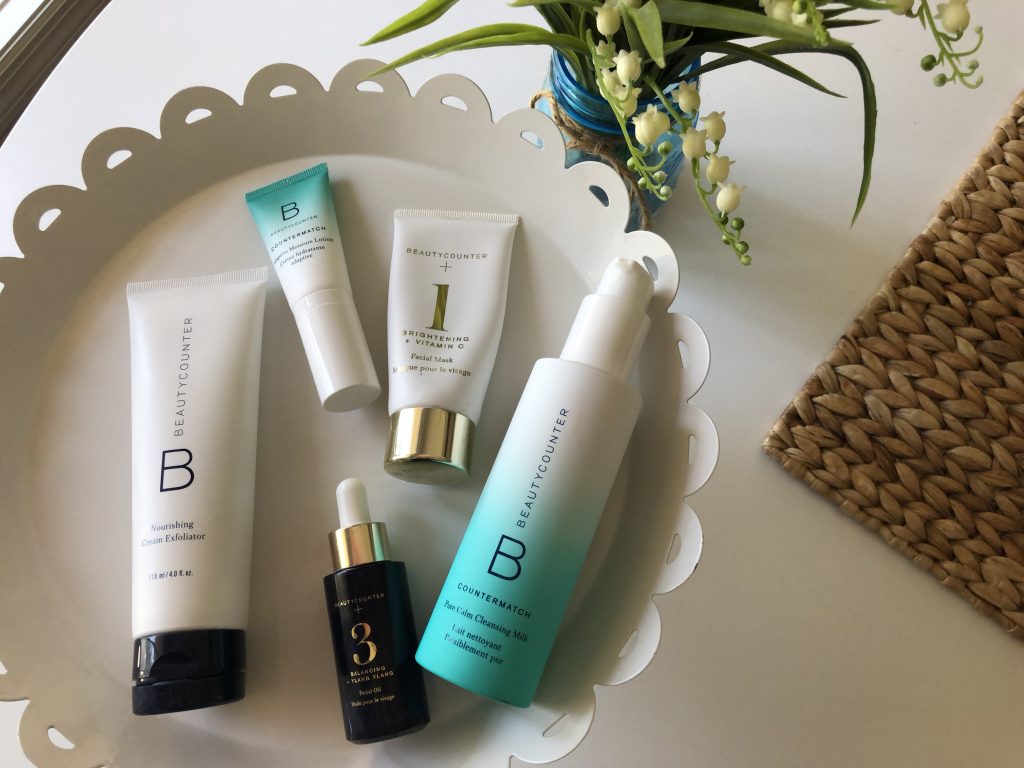 The weather is slowly transitioning to spring around these parts, which means I've been switching up my skincare and makeup routine a bit as the temperatures change. Sometimes (most of the time?) what works for your skin in the winter months needs tweaking as the summer comes around, so it's important to continue to evaluate what is and what is not working for your skin as the seasons change. Additionally, since I have a lot of mommas who read this blog, I would be remiss if I didn't mention that postpartum skin can require constant re-evaluation. Other milestones outside of having the baby (such as weight loss, weaning, sleep regressions and lack of sleep for mom, hormonal shifts, etc.) can mean that a product which once worked for your skin no longer does the trick like it used to. Hint hint: That's what I'm here for!
Nourishing Cream Exfoliator 
I've said it before, and I'll say it again, I think that a lot of skincare issues come back to inadequate exfoliation and inadequate (or incorrect) moisturizing. My skin tends to be on the drier side, and in order for my skincare products to penetrate the skin it's important to exfoliate the top layer of dead skin cells. I use the Nourishing Cream Exfoliator a couple times per week, especially in the summer when sweat and sunscreen tend to be a part of everyday life.
Countermatch Pure Calm Cleansing Milk 
This is a new product to my routine (and a new product this month to BC's line-up) and, in my opinion, a total must-have item if you struggle with dry and/or sensitive skin. The milk-based cleanser adds moisture and hydration to the skin while dissolving away grease, grime and makeup.
Countermatch Adaptive Moisture Lotion
This has been my go-to moisturizer since it launched over a year ago. It adapts to your skin's unique hydration needs and is great for dry skin. Note: Countermatch is not great for those with acne-prone skin.
No. 3 Balancing Face Oil 
Sometimes in the warmer months I can get away without using a face oil, but I LOVE these face oils more than any other product in my skincare routine. The face oils are so great for adding hydration to the skin, improving overall appearance, and combating specific skin issues such as breakouts, unevenness, dry skin and more. I use the balancing oil to keep breakouts at bay and keep my skin hydrated without feeling greasy.
No. 1 Brightening Face Mask
I use a face mask a couple times per week – more often in the summer when my skin is exposed to the sun – to treat specific skin issues. For me, brightness and evenness in my skin tone is a primary concern that I use this mask to treat.
Dew Skin Tinted Moisturizer (No. 2)
Sun protection + moisturizer + a product that evens out skin tone without feeling like you're wearing makeup? Check! I wear Dew Skin at least four or five days out of the week, even more so in the warmer months when I'm out in the sun. It contains SPF 20 from non-nano zinc oxide and covers just enough to make me feel and look put together.
In the picture above, I'm only wearing the following makeup because my skin is glowing and my new routine is working well right now:
Volumizing Mascara
It's hard to say whether Volumizing Mascara or Lengthening Mascara is my favorite. I rotate the two and sometimes even layer the two for both lengthening and volumizing impact. I really love both and use them interchangeably, so it's really a matter of preference more than performance.
Brow Pencil in Medium 
Beautycounter's Brow Pencil is one of the handful of makeup products I can't live without. I have brows that need a little filling in from years of over-plucking so I use the pencil, along with the brush on the other end which is great for blending, for a natural yet put-together look.
Whisper/Tawny Blush Duo 
This duo is my favorite of all three color duo options for it's natural look that bridges the gap between blush and bronzer. It's versatile for many seasons, including springtime!