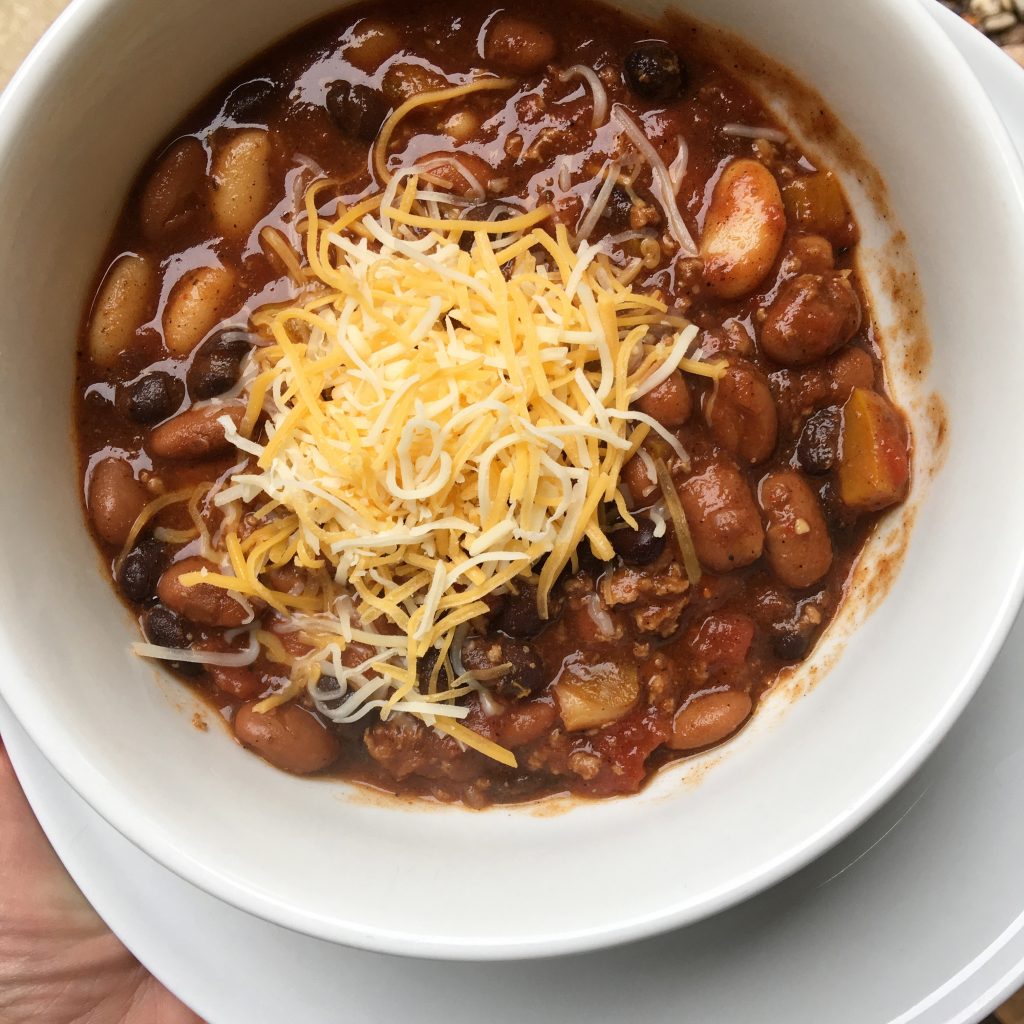 Happy Monday, friends! I'm checking in today with the second recipe from the "Week of Recipes" on Espresso and Cream. This is the second recipe as part of a week long meal plan full of easy, tasty, family-friendly weeknight meals. For the full meal plan and recipe, head on over to THIS post and stay tuned throughout the week for the rest of the week's recipes.
Since it's starting to cool off in my neck of the woods I've been all about making big batches of chili. One of the biggest issues I've had with chili in the past is that we end up having SO much leftover because it's just me at Joe and Ainsley doesn't eat all that much. And while I do love leftovers, eating chili all week isn't exactly anyone's idea of a good time. So this recipe is going to get refashioned into a new recipe tomorrow. Stay tuned for the recipe!
PS: If you have vegetarians in your family see the recipe directions for an easy way to please vegetarians and meat eaters alike!

Three Bean Chili with Beef and Kale
Author:
Espresso and Cream
Ingredients
1 lb. lean (at least 80%) ground beef
1 tablespoon extra virgin olive oil or grape seed oil
1 medium red, yellow, or orange sweet pepper, chopped
2 cloves garlic, minced (I like the pre minced jarred garlic for weeknight ease)
1 can (28 oz.) crushed tomatoes
2 cans (15 oz. each) chili beans in sauce (I like Mrs. Grimes)
1 can (15 oz.) black beans, drained but not rinsed
1 can (15 oz.) white beans, drained but not rinsed
3 tablespoons chili powder
2 teaspoons cumin
1 tablespoon brown sugar
½ teaspoon smoked paprika
½ teaspoon onion powder
¼ teaspoon cayenne pepper (optional)
1 bunch kale, stems removed and chopped
1 tablespoon olive oil
Pinch of salt
Sour cream, shredded cheese, whole grain scoop-style tortilla chips for serving
Instructions
In a large stock pot or Dutch oven, brown ground beef; drain and set ground beef aside. Add oil to stock pot along with the chopped pepper and cook over medium high heat 4 to 6 minutes or until peppers are tender, adding in the garlic the last minute of cooking.
Add in the tomatoes, chili beans, black beans, white beans, ground beef and remaining spices. Stir until well combined. Reduce heat to low and simmer, stirring occasionally, 30 minutes to blend the flavors together.
If desired, this mixture can be kept in the slow cooker instead of the stovetop.
Just before serving, massage the 1 tablespoon oil into the kale and sprinkle lightly with salt. Sautee kale in a medium skillet over medium high heat, stirring frequently, until kale is slightly crispy and tender.
Spoon kale into bowls. Top with the chili, followed by the cheese, sour cream and whole grain tortilla chips.
*If you want to make a vegetarian option for this meal, prepared chili as directed but add the ground beef at the end, portioning out desired vegetarian chili servings before adding in the ground beef.