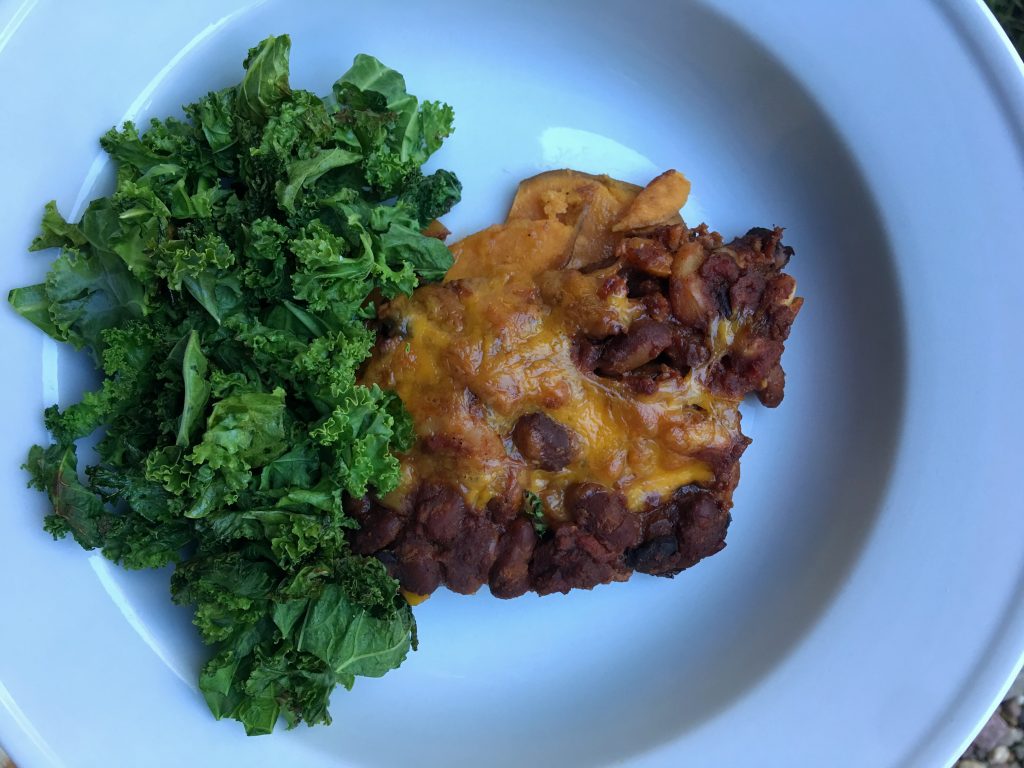 Next up in our Week of Recipes on Espresso and Cream is a fun way to remix your chili leftovers. Originally, I was going to take baked potatoes and top them with the chili, plus a few other toppings, but after thinking it through I decided that putting together something in casserole form might be easier for the busy moms out there who want to prep their meals before work or other activities. Then all that is left to do is toss the dish in the oven and let it bake until the potatoes are tender!
Using the sweet potatoes as a stretch food for the remaining chili yielded LOTS of leftovers for lunches, and I could see you easily freezing some of the leftover portions to reheat down the road if you are into that type of thing. 🙂

Sweet Potato Chili Bake + Kale
Author:
Espresso and Cream
Ingredients
3 medium sweet potatoes, sliced ¼-inch thick
1 tablespoon olive oil or grapeseed oil
½ teaspoon salt
¼ teaspoon pepper
2½ cups leftover Three Bean Chili with Beef
1 cup shredded Mexican blend cheese or cheddar cheese
1 bunch kale, stems removed and chopped
½ tablespoon olive oil
¼ teaspoon salt
Instructions
Heat oven to 350°F. Spray a 13x9-inch baking pan with cooking spray or brush with oil.
Toss sweet potatoes with the 1 tablespoon oil, ½ teaspoon salt, and ¼ teaspoon pepper. Layer potatoes into prepared baking dish. Spread leftover chili evenly over potatoes. Top with the shredded cheese.
Bake 30 to 40 minutes or until potatoes are tender.
Just before serving, massage chopped kale with olive oil and salt. Transfer to a skillet and sautee 3 to 5 minutes over medium heat until kale is tender and slightly crispy. Serve with sweet potato bake.