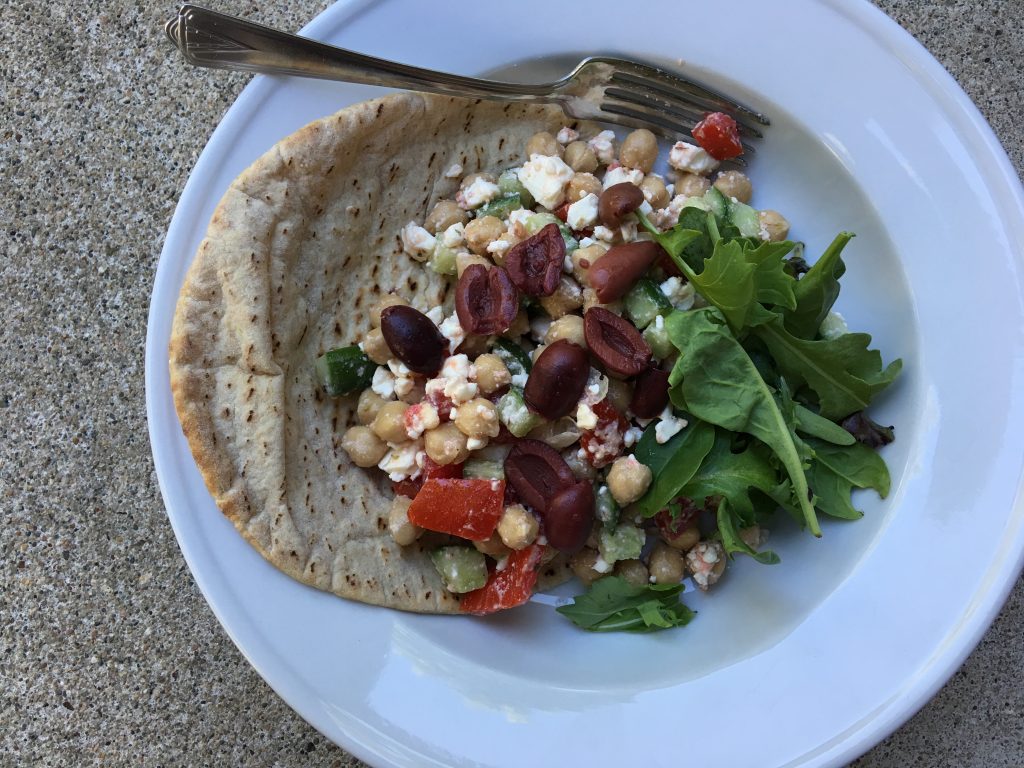 We don't eat many vegetarian meals as a family, but once or twice per week I like to serve up something that is vegetarian both as a cost saving measure and for the health benefits. The only requirements I have for vegetarian meals is that they are filling and contain a good amount of vegetarian protein from beans, lentils, etc.
This recipe is ultra easy to throw together. All you have to do is chop a few tomatoes and cucumbers, then toss everything together and serve! Seriously, I think it took a total of 5 minutes to make this dinner, which is the ultimate win in my book. As an added bonus, this makes great leftovers the next day for lunch.

Greek Chickpea Salad with Pita
Author:
Espresso and Cream
Ingredients
1 can (15 oz.) chickpeas (garbanzo beans), rinsed and drained
1 cup chopped tomatoes
½ of a medium English cucumber, chopped
6 oz. crumbled feta cheese
1 tablespoon olive oil
Juice from ½ of a lemon
¼ teaspoon salt
¼ teaspoon dried oregano
⅛ teaspoon ground black pepper
⅓ cup pitted and halved Kalamata olives
4 whole wheat pita bread rounds (I like Joseph's brand)
Mixed greens (optional)
Instructions
In a large bowl, stir together the chickpeas, tomatoes, cucumber and feta. Drizzle with the olive oil and lemon juice and sprinkle with the salt, pepper and oregano. Stir gently to evenly combine. Spoon mixture into bowls. Top each bowl with some of the olives. Serve with whole wheat pita bread rounds and mixed greens, if desired.
*This recipe can be made in advance and stored in the refrigerator until ready to serve.