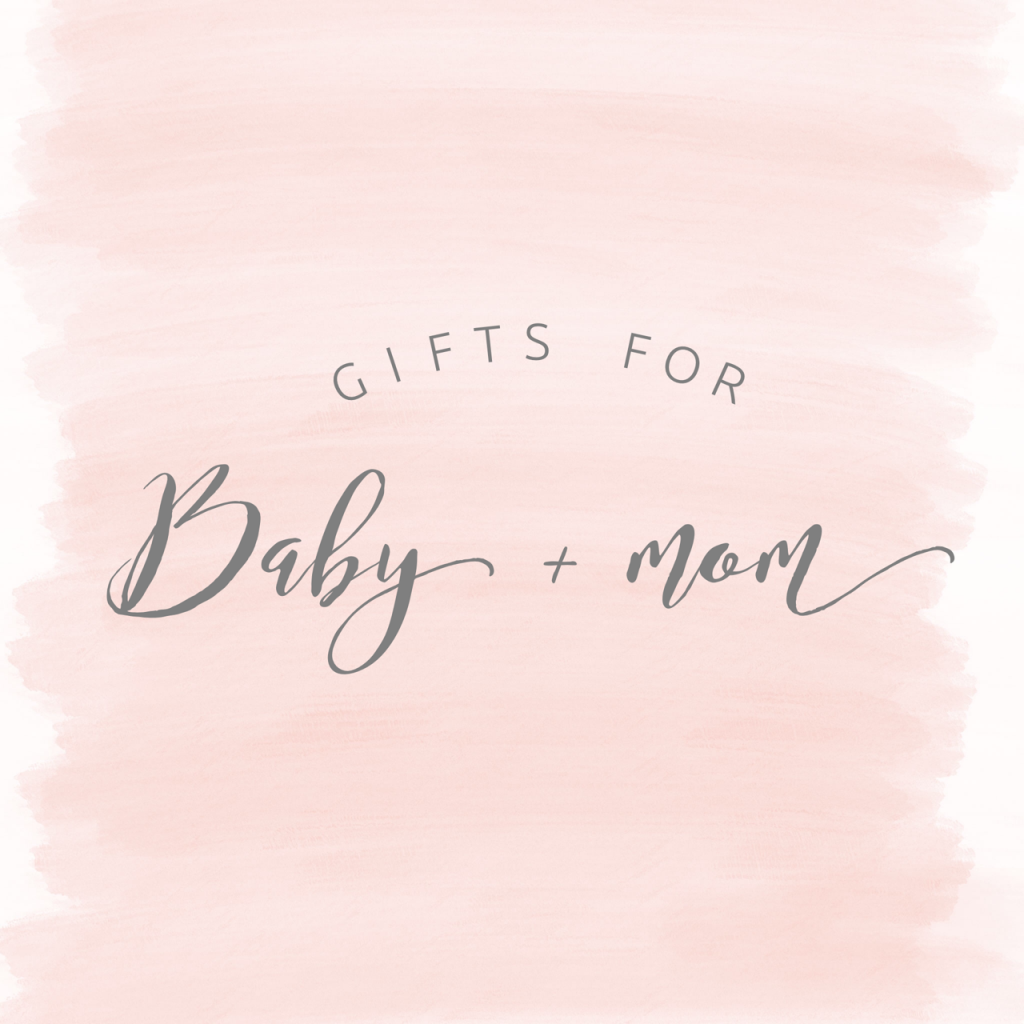 Let's talk baby gifts, shall we? I want to be a better gift giver, and slowly but surely I'm learning how to be thanks to my mom friends who are great gift-givers themselves. A few of my close friends come to mind, the ones who always have the most unique, pretty and fun gift ideas. Not necessarily extravagant, per se, just spot-on and thoughtful. After having a second baby, and having a ton of friends and family having babies, gift giving has been on my mind. Here are a few of my favorite gifts for babies and new-moms. Not necessarily must-have products but gifts mom will be happy to receive.
1. Comfy Clothes or Gift Card
This is my #1 gift for a new mom. Because chances are she isn't about to spend money on clothes when her body is in such a time of transition, but a few new items of clothing do wonders for the self-esteem when you're in such a strange time with your body and living in sweat pants and t-shirts and workout gear. Gift cards to Old Navy have been a go-to for me because you can get a lot of bang for your buck, as well as cute mom-focused t-shirts from The Be Brand, my new favorite mom-gear shop online.
2. Solly Baby Swaddles
I've been given these and gifted these quite a few times in the last couple months. I LOVE how soft and stretchy they are – so much better than the muslin swaddles that everyone gifts. They work as burp cloths, swaddles, blankets, sun shades, etc. They are so super soft and stretchy and something I wouldn't have splurged on for myself but SO appreciate being gifted.
3. A Box of Bows Subscription 
We LOVE A Little Lady Shop hair bows in our house for the girls and they have a cute little "Box of Bows" monthly subscription that you can gift. How fun, right? I love gifting the bow subscription to new girl mommas, especially if its their first girl!
4. Unique Art
I realize that art is really personal, but I think that gifting a print from a place like Minted is so super sweet and thoughtful if you know what baby's room looks like and mom's personal style.
5. Baby Play Mat 
I love this Polar Bear Baby Play Mat from Land of Nod. I was gifted something similar from Pottery Barn when Ainsley was born. It was totally something I would never have purchased on my own but I love that it's designed for baby yet looks cute in your home. Win-win, right?
6. The Gift of Time
When you have a new baby, everyone says "If you need anything, let me know!" But that is so open-ended and most people I know are hesitant to reach out and actually take you up on the offer. I would suggest being more specific, gifting a card along with some time slots that work for you to stop by and help. Saying "I have Tuesday mornings from 9-11:30 available and would love to gift two mornings of my time to you to help out around the house." or "I would love to take your toddler off your hands for three mornings in the next couple months as a gift to you. Monday or Wednesday mornings work for me!" is the kind of specificity that most moms need to take you up on your offer.
7. The Gift of a Clean Home
When Collins was born, my Beautycounter team gifted me a clean house! Okay, they pre-paid the gal who cleans our house for 9 cleaning sessions. What a luxury! A dirty house stresses me out to no end, so having a clean house during a time of transition and chaos was the most wonderful gift I could have been given.
8. Food Gift Cards
People tend to bring meals during the first two or three weeks after baby is born, but really, I found that I needed the meals and help more as baby girl got older and fussier. The first two weeks were total bliss. Collins slept all the time, she was very easygoing and chill, and life was good. And then the third week rolled around and she woke up, got fussier and gassier, and was generally just a bit more difficult for a few weeks. I felt totally overwhelmed and those that brought meals a little later were much appreciated! That said, gift cards would have been equally welcome!