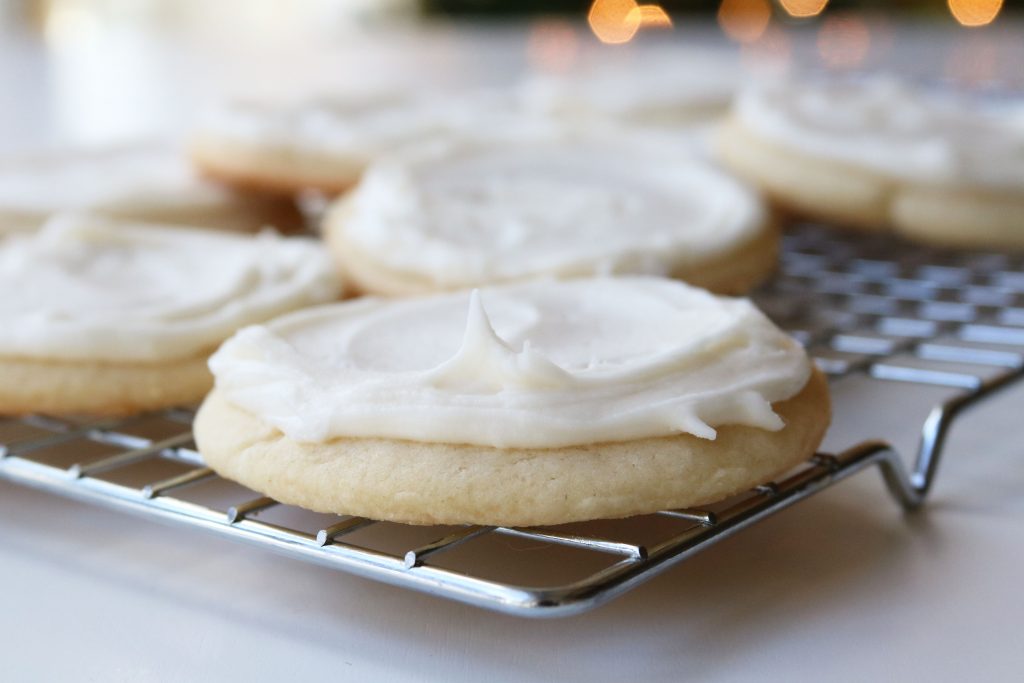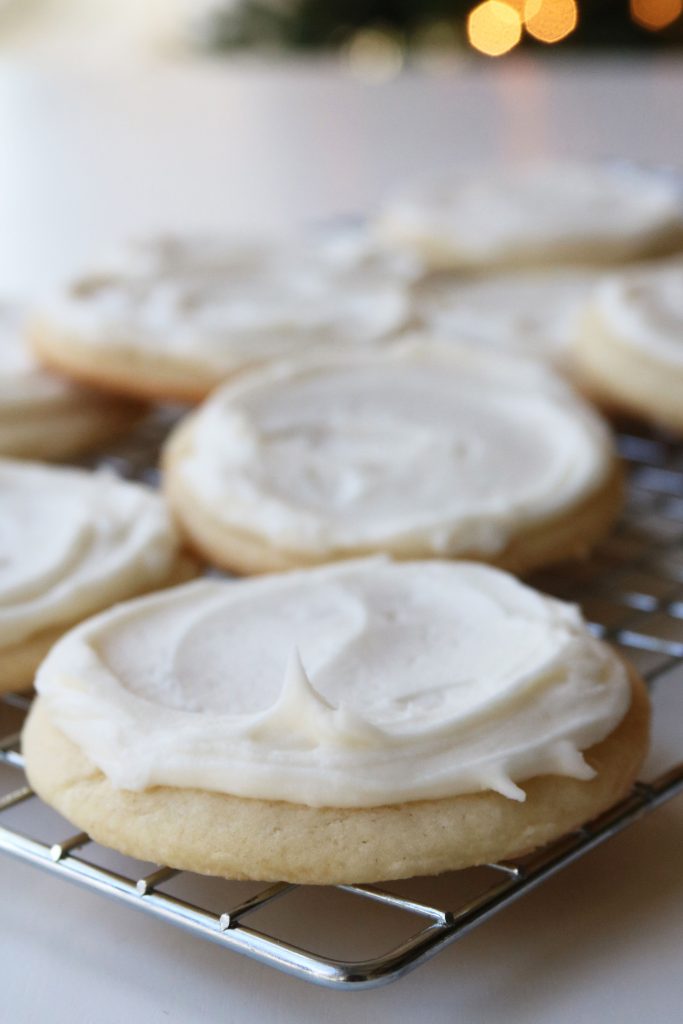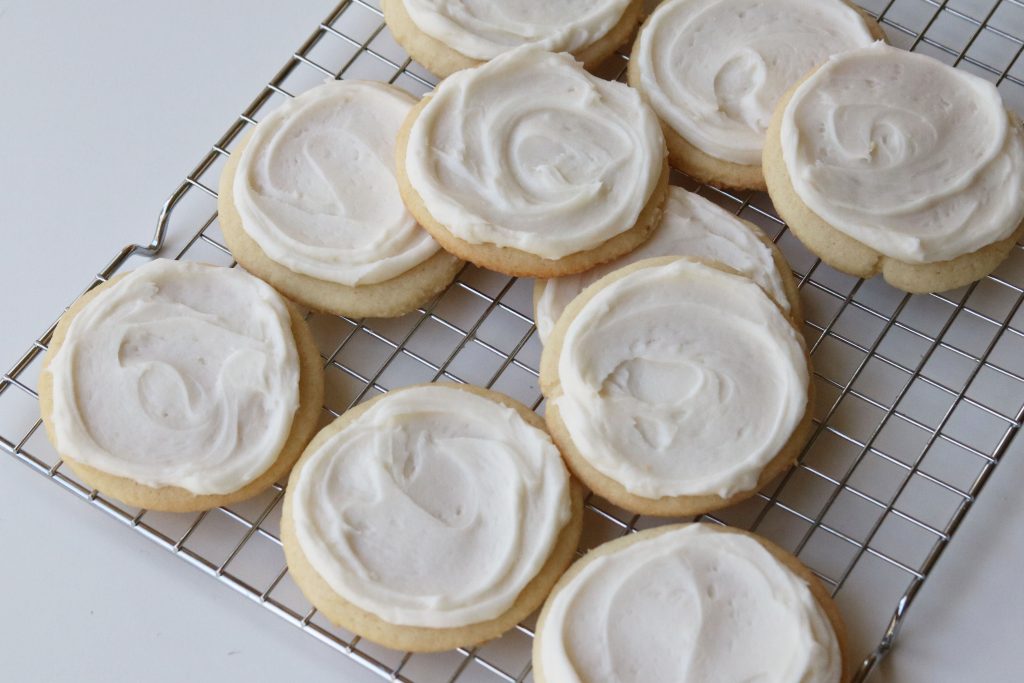 First, I need to say a big thank you to everyone who hung with me these last few weeks. I know that service on Espresso and Cream has been very spotty and the site completely crashed in the days leading up to Thanksgiving. But I'm happy to report that the site is now up and running on a brand new server that should be large enough to accommodate Espresso and Cream readers for a long time to come. Whew! 
One of my favorite Christmas traditions is cookie baking. I know that there is an abundance of desserts this time of year, and baking goodies at home is hardly necessary, but I couldn't make it through the month of December without doing at least a bit of baking.
This year Ainsley helped with her first Christmas cookie baking and it was SO fun! I mean, she mainly stuffed frosting into her mouth by the spoonful and only frosted a couple cookies before declaring that she was done, but seeing her participate in a tradition that will no doubt continue to happen for years on end was the sweetest.
The other day I was talking to a friend of mine about sugar cookies. Specifically how they can be so disappointing in flavor and texture. Some of the prettiest sugar cookies I've seen have been the most tasteless and some of the ugliest have been the yummiest. Isn't there a happy middle ground? Yes, yes there is. These cookies, I like to think, strike a wonderful balance between downright tasty and pretty/cute/fun to decorate, too. Although Royal Icing always gets the best results in terms of looks, I find that it's just plain gross to eat. And while the powdered sugar and milk combination might be temping because it's so easy, I think we can all upgrade our game a little bit this year to something that requires just a tiny bit more effort.
The sugar cookies themselves don't stand well on their own. They are from an old, old Southern Living Christmas cookie book that my mom and I both use every year. If I were making plain old sugar cookies I wouldn't make these, but once they are topped with buttercream they have the perfect taste and consistency to pull the whole thing off. One tip: I always suggest erring on the side of under baking rather than over baking because I love a soft, chewy sugar cookie, so keep a close eye on these cookies while they bake as oven temps can vary!

Cut-Out Sugar Cookies with Buttercream Frosting
The cookie recipe is "Old Fashioned Christmas Cookies" from the Southern Living Cookie Book. I couldn't find this old recipe anywhere online to link to, so I'm sharing it below!
Ingredients
1 cup butter, softened
2 cups sugar
¼ cup firmly packed brown sugar
2 eggs
6 tablespoons milk
2 teaspoons vanilla extract
4 cups all-purpose flour
2 teaspoons baking powder
½ teaspoon salt
Frosting
½ cup (1 stick) unsalted butter, softened
¼ teaspoon salt
2 teaspoons vanilla
⅓ cup milk
4 cups powdered sugar
Instructions
Make the cookies: Heat oven to 350°F. Line a baking sheet with parchment or a nonstick baking mat (Silpat).
In the bowl of an electric mixer, beat the butter on medium high speed until smooth and creamy, about 1 minute. Add the sugars to the butter and beat 2 minutes more or until light and fluffy. Add the eggs, one at a time, beating until just combined. Add the milk and vanilla and beat until just combined.
In a medium mixing bowl, combine the flour, baking powder and salt. Add the flour mixture to the butter mixture and beat until combined. Do not over mix. Wrap dough in plastic wrap and refrigerate at least 1 hour or up to 1 day.
Roll dough to ¼-inch thickness on floured surface. Cut into desired shapes and place cookies, 1 inch apart, on baking sheet. Bake 10 to 12 minutes or until just barely golden brown around the edges. Cool 5 minutes on baking sheet. Transfer to wire cooling rack and cool completely.
Meanwhile, prepare the frosting: In the bowl of an electric mixer, beat the butter and salt until smooth and creamy, about 1 minute. Add in the vanilla and milk and beat until just combined. Beat in the powdered sugar, 1 cup at a time, until frosting is smooth and creamy. Frost cookies with frosting.