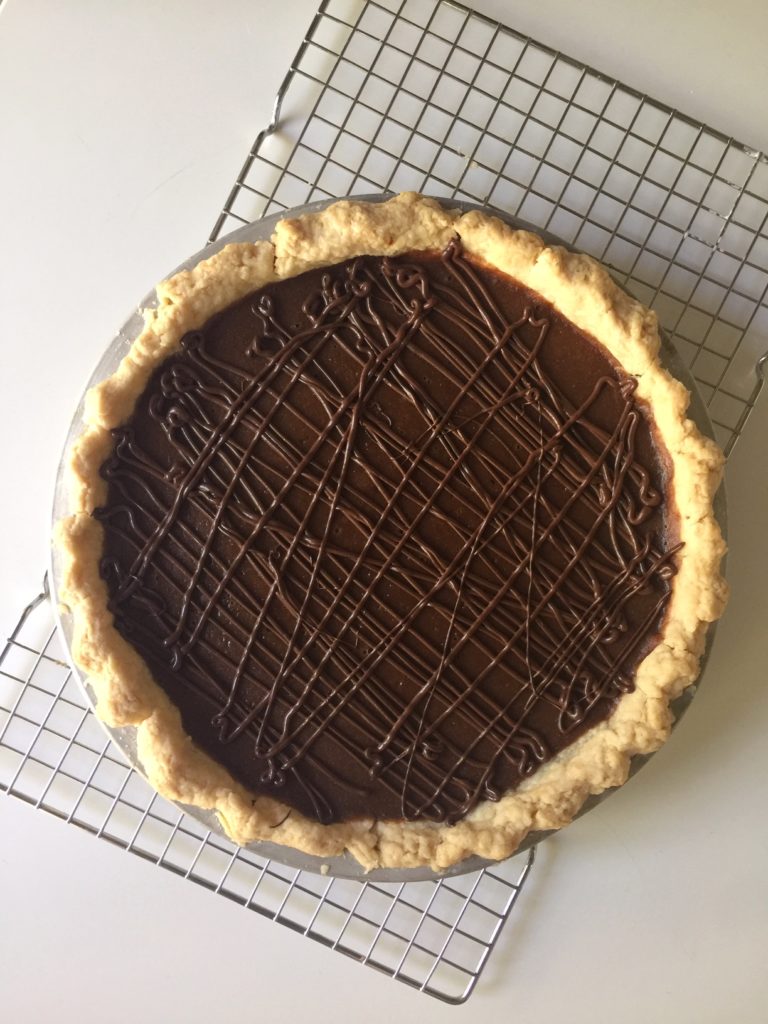 You'll have to forgive me for missing one week of my pie-per-week challenge. Already, I'm only three weeks into this thing and I've missed a week? #badblogger
Needless to say, I think I'm going to have to develop a strategy for how we can gift these pies to friends and family throughout the challenge. Although my husband is happy to eat the pies all by himself (you should see this man eat pie) I think for the sake of health we should share the love a little bit more. So Joe's co-workers, our friends, neighbors and the like – expect a pie delivery sometime this fall. We're struggling to keep up with the pie eating on our own!
This week's pie is a Chocolate-Pumpkin Pie. If you've never enjoyed the combination that is chocolate and pumpkin, then you're missing out. It's been years since I first tried a chocolate pumpkin pie and I've been hooked ever since. Joe actually said that the combination is better than traditional pumpkin pie, and I think I might agree. The flavor is both chocolate and pumpkin, leaning a bit more toward chocolate. Adding a little chocolate (and butter!) gives this pie a more decadence, tasting a lot less like a healthy dessert and more like plain old dessert.
Although I won't be giving up my traditional pumpkin pie any time soon (it's my favorite, after all!) I do think this pie deserves a place in your pie rotation this fall.

Pie Week #3 // Chocolate Pumpkin Pie
Author:
Espresso and Cream
Ingredients
Pie crust for one standard 9-inch pie
6 ounces semi-sweet chocolate chips
4 tablespoons butter
1 can (15 oz) pumpkin puree
1 can (12 oz) evaporated milk
3 large eggs
¾ cup brown sugar
1 tablespoon corn starch
1 teaspoon vanilla
1 teaspoon cinnamon
¼ teaspoon ginger
¼ teaspoon nutmeg
½ teaspoon salt
Additional melted semi-sweet chocolate for drizzling on top of pie
Instructions
Heat oven to 350°F.
Prepare the filling: In a medium saucepan over medium heat, combine the butter and chocolate chips. Melt, stirring frequently, until chocolate and butter are melted and smooth. Remove from heat.
In a second bowl, combine the remaining ingredients except the additional chocolate for drizzling. Stir until well combined and smooth. Add the chocolate-butter mixture to the pumpkin mixture, stirring until smooth and well combined.
Roll out pie crust onto a lightly floured surface into a ¼-inch thick circle. Transfer to a 9-inch pie pan. Crimp the edges with your fingers as desired. Pour the filling mixture into the unbaked pie shell. Bake for 55 to 60 minutes, or until the edges are set and the center is still slightly jiggly. Cool for 30 minutes on wire rack. Refrigerate for at least 8 hours or overnight. Before serving, drizzle with the melted milk chocolate.