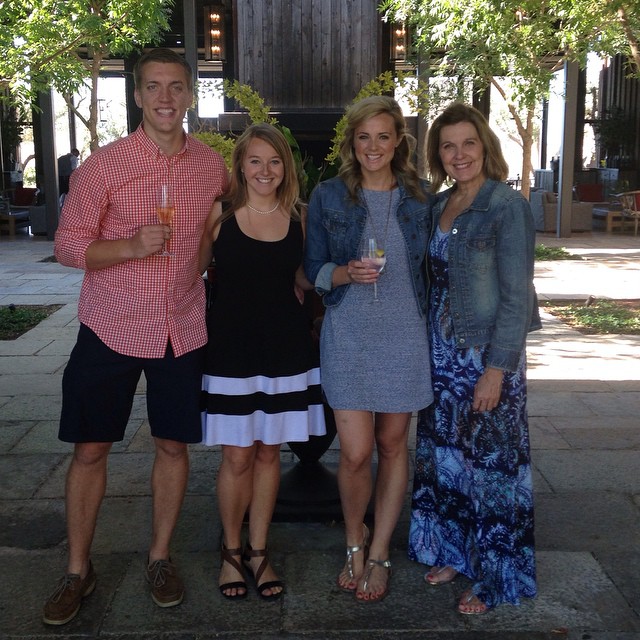 Madison's Note // Friends, I have a treat for you today! My dear dar friend, Emily, is sharing all about wine. While I don't claim to be an expert on all things wine, I do like to drink my fair share. When I was texting with Emily a few weeks ago about a handful of wine questions, she graciously volunteered to share some of her expert tips one how to select the best wine and, more importantly, how to find the best wine at the grocery store. Living in a small town, our access to great wine isn't as great as it was when we were living in Minneapolis, so this was super helpful to me, too! Now, I'll turn it over to Emily! 
My husband and I moved to Sonoma, California almost five years ago, and it's safe to say we've reached the point of total spoiledness over the amazing wine selection around us. Beyond the wines we're able to taste through both our jobs–he's an assistant winemaker and I work for a winery-specific public relations company– we're surrounded by boutique wine shops and hundreds of tasting rooms. In other words, our cup overfloweth, something I see most clearly when we visit our hometown in Iowa and pop into the local grocery store for a bottle of wine. There are two almost opposite challenges to finding a bottle of wine at a supermarket: on one hand, there isn't a staggering amount of diversity (in 2012, over half of the wine sold in the US came from three companies). On the other hand, one look down the wine aisle shows dozens of unique labels, multiplied by different grape varieties from each brand. Either way, wine selection can be a daunting task, so below are a few tips I've picked up during my early years in the wine industry and a few wines which, in my humble opinion, are worth grabbing from the shelf:
Drink what you like.

This is probably one of the most commonly heard mantras of the wine world: above all else, drink whatever floats your boat. No shame, even if it is that bottle of $2 wine from Trader Joe's.  

Don't drink that $2 wine from Trader Joe's.

Let me clarify: above all else, drink what you like, but I will say this: those $10 bottles of wine are priced there for a reason–whether that reason is ultra-cheap grapes or industrialized winemaking practices that make sub-par juice palatable with stabilizing chemicals, added sugar and/or oak chips for flavor. By spending a few dollars more, you'll enjoy a far better glass of wine.

On picking grapes.

Typically one of the most prominent words on a wine label is the grape variety: what Fuji, Granny Smith or Golden Delicious are to apples, Cabernet Sauvignon, Syrah, Chardonnay, Sauvignon Blanc and more are to grapes/wine. The variety is the single most significant indicator of what a wine will taste like, so a basic sense of the "Big Six" can go a long way in navigating the wine aisle:



Sauvignon Blanc (white)

— high acidity, tropical fruit,

green bell pepper or fresh-cut grass flavors


Chardonnay (white)–

apple and melon flavors, sometimes toast or buttered-popcorn-flavored Jelly Belly character if it spent time in oak


Pinot Noir (red)

— tends to be a lighter wine, sour cherry or raspberry and sometimes earthy flavors


Cabernet Sauvignon (red)–

fuller-bodied, tannic, blackberry bramble, sometimes green pepper flavors


Syrah (red)–

even fuller-bodied than Cabernet, peppery or smoked meat flavors and ripe black fruit


Zinfandel (red)–

full-bodied, ranges from raspberry flavors to dark black fruits or bramble, even chocolatey flavors. (White Zinfandel is a sweet rosé or pink wine – it's not to my taste, but see Rule #1)

Tour the world.

In general, wines that come from a specific region

like Sonoma Valley, Napa, Bordeaux, Tuscany or the Barossa Valley are better bets than if the label just says California, USA, France, Italy or Australia. Some wine regions outside the US–Italy, Australia and New Zealand, for example, are known for great quality for the price, though my list below sways to the patriotic side. 🙂

Take two

. (Two bottles? That, too.) Two quick minutes on the internet can leave you with a solid background on the wine you're enjoying–and who doesn't like whipping out a piece of trivia to impress one's husband or dinner party guests?



One Wine Gal's Opinion on Best Grocery Store Buys

Riesling – Kung Fu Girl or Chateau Ste. Michelle
Riesling is the cool kid's alternative to Moscato. The wine can range from totally dry to super sweet, and these two are somewhere in the middle. Kung Fu Girl is a part of Charles Smith Wines, which is, like Chateau Ste. Michelle, based in Washington State.  
Sauvignon Blanc – Kim Crawford
Kim Crawford is a great wine name to know. When my husband and I took a wine class a couple years ago, this was the first wine we blind tasted: our instructor selected it because it's one of the most quintessential examples of New Zealand Sauvignon Blanc, priced around $20.  
Chardonnay – La Crema or Kendall Jackson
Chardonnay is tricky because there are so, so many available–it's the most largely planted variety in the world. These are two that I think show the grape well; both are large Sonoma-based wineries that have been around for 35+ years, and while they make a lot of wine, they put a lot of emphasis on people and place.
Pinot Noir – Simi or Bogle
Simi has been around since the late 1800s (with a break for Prohibition), Bogle Winery is on their sixth generation of family winemakers, and the wines reflects the solid reliability that comes with their histories.
Cabernet Sauvignon – L.M. Martini
Another longstanding Napa winery, Martini is another example of a winery that sells single-vineyard (AKA pricier) wines locally and in certain big cities, but their Napa or Sonoma Cabernet is much more widely available for a more approachable price.  
Zinfandel – Ravenswood Vintner's Blend Old Vine
Ravenswood is one of the pioneering wineries in Sonoma, and they created their Vintner's Blend to offer a big and bold counterpart to other brands' White Zinfandels. While they make high-end Zinfandels from old vine vineyards, the Vintner's Blend is distributed nationally and is a lovely wine for the price.
Syrah – Coppola Diamond Collection Claret
This is actually a Syrah/Merlot blend from Francis Ford Coppola Winery, which is a pretty rare combination. Francis Ford Coppola Winery is in northern Sonoma County, and they make a significant amount of wine, from $75+ bottles to under $10 (see Rule #2).  The Diamond Collection is their mid-tier range of wines, typically in the $15-$20 range.