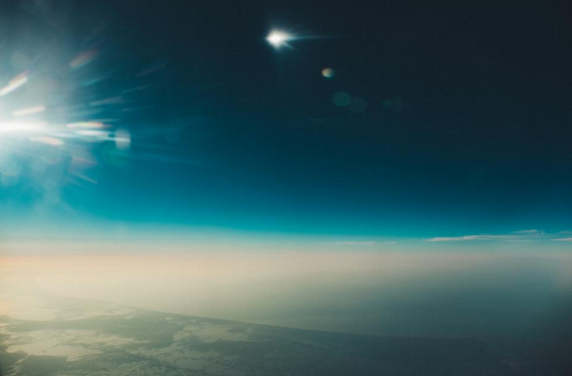 I'm writing to you from 30,000 feet somewhere between Chicago and San Francisco. Joe had a work training in San Francisco for the week which ended on Thursday afternoon, so I decided to hop on a plane and join him for a long weekend away. It also happened to be Valentine's Day weekend, which worked out pretty nice. Okay, the way I wrote that made it sound a lot more spontaneous, but in actuality there was a lot of pre-planning that goes on when you have a little one to consider!
I've realized since becoming a mom that I've turned into a very nervous flier. I've been flying quite a bit since I was little, but once Ainsley was in the picture something changed. I guess it just started to feel like there was a lot on the line, you know? And don't even get me started about when Joe and I fly together. Double the worry. I just love that little squishy baby so very much, and I can't imagine not being around to see her grow up. Okay, I sound awfully morbid. Let's move on!
This morning before I had to leave I was soaking up every little bit of my time with Ainsley. Nose wiping, bottle feeding, watching her try to feed me handfuls of her pancake at breakfast. The diaper changes and baby giggles and fights over taking off her pj's. Every bit of it was blissful. And I realized that I was made for this – that there is nothing I love more than even the most mundane tasks relating to motherhood. Of course, I don't always feel that way. There are days that feel so very long, when my patience is short and I am left craving for a little alone time. But going away makes the heart grow fonder, doesn't it? I've just barely left and already I'm looking forward to our reunion.
And while we're at it, let's talk about making time for our original #1's, shall we? Our husbands and marriages are so very important. While I wouldn't say the transition to parenthood has been terribly difficult for Joe and myself, it's still been a road paved with a few bumps along the way. The lack of spontaneity, babysitters, early morning wake-ups, sleepless nights and increased responsibility of raising a tiny human tends to take a toll on the romantic, deep side of marriage. Like how you can go days just keeping the ship afloat, doing day-t0-day tasks. Now that the dust of the first year is starting to settle, we're working on re-establishing routines that fostered deep conversations, romance and connection.
I'm so thankful for family who is taking care of Ainsley this weekend so we can get away together just the two of us. I'm already so thankful that I'll be returning home to my #1 girl in a couple days, re-charged and invigorated for all the mundane and wonderful tasks of motherhood.
I'm signing off for the weekend, but I hope you have a wonderful weekend planned with your own friends and family. You can follow along on our California adventures on Instagram (@madisonmhofmeyer) for anyone who is interested!
Madison