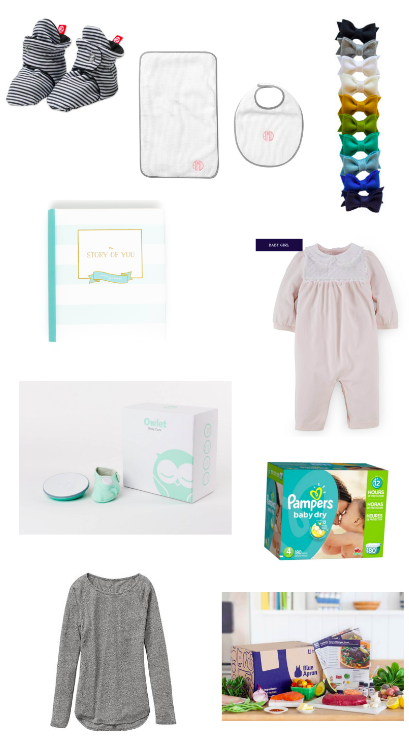 Lately, as I'm reflecting on Ainsley's first year of life, I've been thinking about the items I wish I would have registered for and the items that would have been welcome during those first few months of Ainsley's life. You see, there are the items that mom's register for and the items that later on they wish they had registered for.
I pulled together a list of the items that fit that bill for me in hopes that it would help you be a fantastic gift giver next time someone you love has a baby!
1. Zutano Booties 
The most frustrating part of dressing a baby? Finding shoes that stay on their feet! A friend of mine recommended these, saying they were easy to put on and hard for babies to get off their feet. We purchased some right away! They come in all sorts of fun colors and patterns.
2. Felt Bows 
I ended up buying a LOT of headbands, bows and girly items for Ainsley once she was born, but I wish I would have gotten some as gifts! These little felt bows from A Little Lady Shop are just the sweetest thing and they come in so many pretty colors. Added bonus? Buying from a small boutique adds an extra special touch.
3. Monogramed Bibs and Burp Cloths
This is a luxury take on a necessary item. We had friends send us a bunch of pretty monogramed bibs and burp cloths after Ainsley was born, and it feels so special when we use them, and a little fancy. I wouldn't have spent the money on it myself, which makes it even more wonderful to receive something like this.
4. The Emily Ley Baby BookGuys, this book is just so beautiful and special and worth every penny. It would make a lovely gift for an expecting mom that they would cherish forever. I was gifted one and it's perfect for non-crafters like myself who still want to create beautiful, personalized memories for their children.
5. A Really Special Outfit
This can be from anywhere you please, but my Aunt kindly splurged on a few really nice outfits for Ainsley and it was such a tender and generous gift. New parents are frequently buying a lot of items for baby and probably going a little cheaper on the clothing (think Carters, Old Navy, etc.) but having a few truly beautiful keepsake items that can stand the test of time and be passed down from generation to generation is a thoughtful gift!
6. Owlet Baby Monitor
I haven't personally tried this product, but I can promise you with our next baby I will be buying one. It's a new product that slips onto baby's foot like a sock and monitors their oxygen levels, alerting you if they drop and something is wrong with your little one. I can tell you that having this peace of mind during Ainsley's first few months of life would have been so wonderful. Plus, the foot/sock design seems like a great way to actually keep the monitor on without having it fall off at every diaper change.
7. Diapers (in large sizes!)
We got a lot of diapers in newborn, 1 and 2 sizes, but we ended up buying a lot of the larger sizes down the road. Think ahead and give the gift of large diapers! 🙂
8. Tiny Tags Necklace
I was gifted one of these last Christmas with Ainsley's name on it and I wear it all the time. I loved it so much that I gave my sister-in-law one with her kiddo's initials as well. It's a thoughtful gift that any new mom would be thrilled to be gifted.
9. A Blue Apron Subscription
Those first few weeks, take-out and freezer meals are always SO appreciated, but eventually it's nice to get back to cooking healthy, home-cooked meals. However, the grocery shopping and meal planning with a newborn can feel pretty overwhelming, even for someone who loves to cook. Blue Apron is a recipe and meal delivery service that brings you pre-measured ingredients and recipes straight to your door so you can cook the meal yourself without the planning, prepping or any hassle. Joe and I are trying it next week for the first time!
10. Nice Comfy Clothes for Mom
Sometimes mom gets overlooked in all the excitement surrounding baby, and chances are moms are hesitant to buy clothes for their ever-changing post-baby body. But there is nothing more confidence boosting and encouraging than having a nice pair of workout or lounge clothes, even if they only fit for a short time. My favorite brand these days is Athleta.