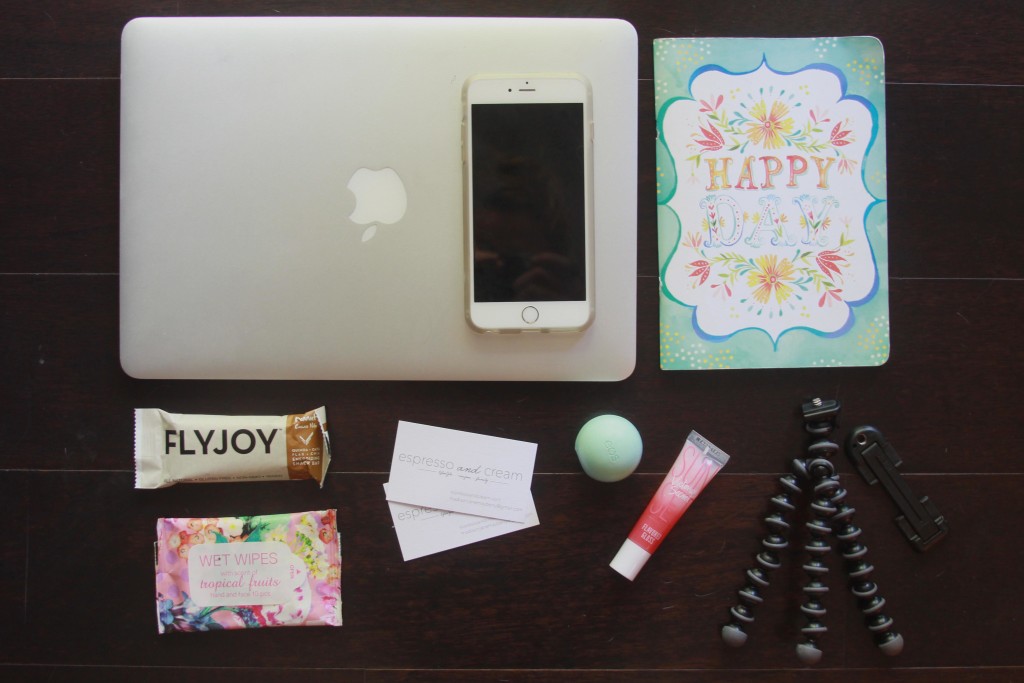 Tomorrow I'm leaving my favorite people (and my baby for the very first time overnight!) and heading to Influence Conference for the second year in a row. Conferences? Gah, conferences. I have such a love-hate relationship with them because my secretly introverted self feels so. dang. uncomfortable. But once I just do the dang thing? It's always worth it.
I'm working on going out of my comfort zone more and more these days, and I think it's doing me a world of good.
So what's in my bag? Here's a look:
1. My MacBook Air
I'll be doing a little work while I'm there and hoping to jot down some ideas for blog content while I'm listening to all the amazing speakers.
2. My iPhone
How else am I supposed to FaceTime my baby five times a day? Plus, what's a blogging conference without social media?
3. FLYJOY Bars
Conferences are notorious for having bad food and lousy snacks, so I'll be taking plenty of FLYJOY bars for myself and to hand out. If you're hungry and attending the conference, come find me and I'll hook you up!
4. Wet Wipes
I'm getting all fancy and taking the cute, scented wipes since I won't have a baby in tow. I'm now realizing that #momlife means getting excited about taking fancy wipes in your purse.
5. Business Cards
Purchased on VistaPrint. I'm never really sure why everyone hands out cards. Does anyone go back and look at them after the conference? I'll never know, but I can't imagine going without a stack.
6. Lip Glosses
Both basic (EOS) and fun (Victoria's Secret) because that's about as close as you'll ever get me to wearing lipstick.
7. Notebooks
For jotting down thoughts, ideas, prayers and dreams. A couple days away, without distractions, is always good for my heart and mind. It's such a breath a fresh air to have room to dream and plan and hope for the future.
8. My Joby GripTight Gorillapod Phone Stand
I'm convinced this will make Periscoping and selfies about a thousand times better.
Is anyone else out there going to Influence? If you are, please come find me and say hello!
Madison