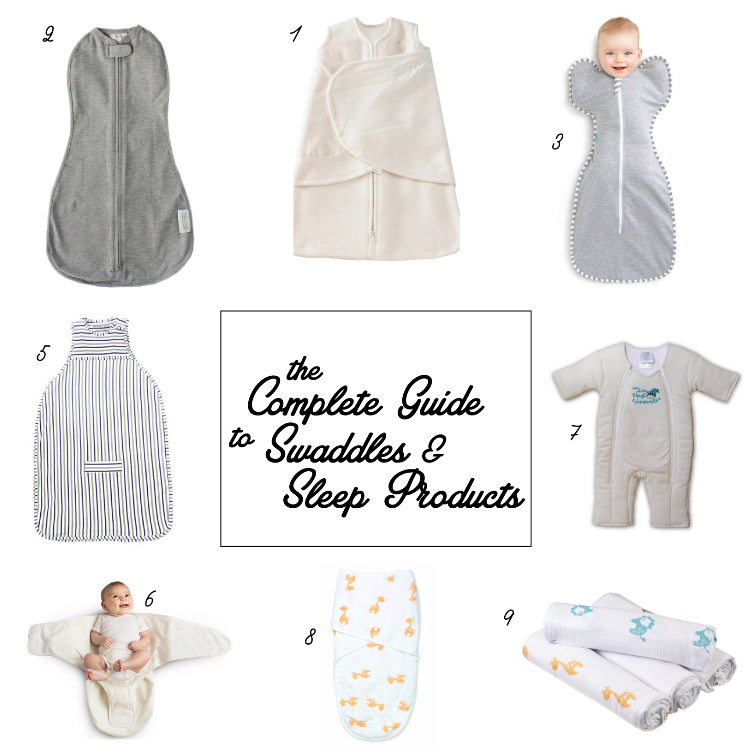 Alternately titled: I spent way too much on swaddles and sleep products so you don't have to. 
There were so many times during the first three or four months of Ainsley's life when I would have paid almost anything for a good night of sleep. We bought a lot (and I mean, a lot!) of different sleep "contraptions" that promised a great night of sleep for our infant. Some were super successful and others were a total flop. While I have to preface this by saying that every baby is unique and what works for my baby might not work for yours, I wanted to put together a full list of the sleep products we tried and what did and did not work. Let's dive into the full list, shall we?
1. HALO SleepSack Micro-Fleece Swaddle ($18.44)
The Good
This was our favorite sleep product for the first couple months of Ainsley's life. Our hospital gave these out to each baby born there, and we kept coming back to this swaddle when other sleep products just didn't work. It was easy to use and made the swaddle process very seamless. Plus, Ainsley slept really well when swaddled in the HALO.
The Bad
We bought a size up in this swaddle from Target when Ainsley grew too big to use the one from the hospital. I noticed that the cotton/fleece that they used in the Target version (same brand, just made for Target) was noticeably cheaper and more flimsy, making it hard to get a good, tight swaddle. I would recommend buying a higher quality one, like the Mico-Fleece version available on Amazon or those available at Pottery Barn.
Overall Score: 9/10
2. Woombie Original Baby Swaddle ($28)
The Good
It made me feel safe putting Ainsley in this. With other swaddles I was constantly worried about the material inching up over her mouth in the middle of the night, but there is no way it would/could happen with the Woombie. Also, it's fool-proof and easy to zip your baby in and not worry about correct positioning.
The Bad
For us, the Woombie just didn't work. Ainsley liked to have her arms free to move a little bit more, and this was super restrictive. We only used it for about a week before we jumped ship. Probably good for a baby who loves a really snug swaddle.
Overall Score: 5/10
3. Swaddle Up by Love to Dream ($29.02)
The Good
Like the Woombie, this swaddle made me feel super secure knowing there was no way Ainsley was going to get any fabric in her face, no matter how much she moved and wiggled in the night. It was easy to use (just zip it up!) and Ainsley couldn't get her arms out. Also, since Ainsley had an affinity for sleeping with her hands by her face, she loved the design of the swaddle, which zips with baby's hands up by the face. That way, she could soothe herself in the night by sucking on her hands in the Swaddle Up.
The Bad
Nothing! We really loved this product. It was a short time period that we used it (which is why I'm giving it the lower score) but I thought it worked great.
Overall Score: 7/10
4. Mom's On Call Swaddle Blanket ($22.95) (not pictured)
The Good
The swaddle seemed to be made of quality material and was super soft. 
The Bad
After reading the Mom's On Call Book and buying their products, I have to say that I'm less than impressed with their entire system. Although I do think I mastered their swaddle method (with their over-priced piece of flannel) it didn't feel super safe to me, especially with a baby that loved to move and squirm in the middle of the night. There were a couple times when I came into Ainsley's room only to find her with a bunch of loose swaddle material around her in the crib, which made me super nervous. Additionally, I disliked the tone of the book and their over-promising. They claim that if you get the swaddle method right, your baby will sleep through the night. If your baby doesn't sleep through the night? You're probably swaddling wrong. Call me crazy, but anyone who has had a baby that's less than textbook knows it's not that simple.
Overall Score: 3/10
5. Merino Kids Organic Cotton Sleep Sack ($119.00)*
The Good
I truly can't say enough good things about this sleep sack! This is the sleep sack we are currently using with Ainsley now that she can roll both ways and no longer needs to be swaddled at night. It keeps her warm, and I think it also helps her sleep well since she feels cozier and more secure. The cotton is super high quality and the snaps in the arm holes give your baby room to grow into the sleep sack over time.
The Bad
It's a bit on the pricier side, but knowing Ainsley will be able to use it for many, many months to come really puts the price into perspective. A lot of the other sleep products we purchased had a very small weight or size range, meaning we didn't get much use out of them. But this one can be used for kiddos up to 2 years old.
Overall Score: 10/10
6. Ergobaby Sleep Tight Swaddler ($44.93)
The Good
I don't have anything good to say about this swaddle. I had high hopes for the Ergo branded swaddle, but alas I was disappointed.
The Bad
The package makes the way to use this product look so simple! But if you can get your baby to sit still the way they show in the pictures in order to get the correct positioning to use this swaddle, then you are a better mom than I am! I couldn't figure this one out at all and found the whole process annoying. We didn't even use it for a single night. Total fail!
Overall Score: 0/10
7. Baby Merlin's Magic Sleep Suit ($39.95)
The Good
We love Merlin's Magic Sleep Suit! Ainsley used this for a couple months (months 3 and 4) while she transitioned out of the swaddle. Once she started rolling over, we transitioned her into the sleep sack for safety. This was a great transition item because your baby feels secure and movement is more restricted than in a sleep sack, but gives them a bit more freedom than a swaddle. Since Ainsley sucks her thumb, she loved being able to bring her hands to her mouth.
The Bad
We had a few mishaps when Ainsley would pee through her diaper as she started sleeping longer stretches. It takes quite a while to wash and thoroughly dry the suit.
Overall Score: 9/10
8. Aden and Anais Easy Swaddle ($19.95)
The Good
The material is soft and breathable, and I found this swaddle much easier to use than the swaddle blankets.
The Bad
I didn't think the material and the structure of the swaddle was secure and tight enough to really get a good, firm swaddle needed to help baby sleep.
Overall Score: 5/10
Aden and Anais Swaddle Blankets 4 pack (49.95)
The Good
These blankets are great for everything! I use them for Ainsley to play on, to cover changing tables, to wipe up spit or messes and cover the stroller on walks.
The Bad:
Unfortunately, they aren't great swaddles, in my opinion. I found re-swaddling my baby in the middle of the night hard enough with the "easy swaddles" and trying to do the traditional swaddle method in the middle of the night? Practically impossible for this sleep-deprived mom. Additionally, I thought the material was a little flimsy to get a good, tight swaddle.
Overall Score: 9/10 for general utility, 4/10 for sleep
Note: Not many people know this, but you can almost ALWAYS find these blankets in a 4-pack in the baby/kids section at Homegoods for about $20, which is so much cheaper than other retailers. Be on the lookout!
*The Merino Kids team sent me a free sleep sack to review. Opinions are my own. In fact, I purchased another one after they sent me the free one because I loved it so much and wanted a back-up!
**Affiliate links used as appropriate.