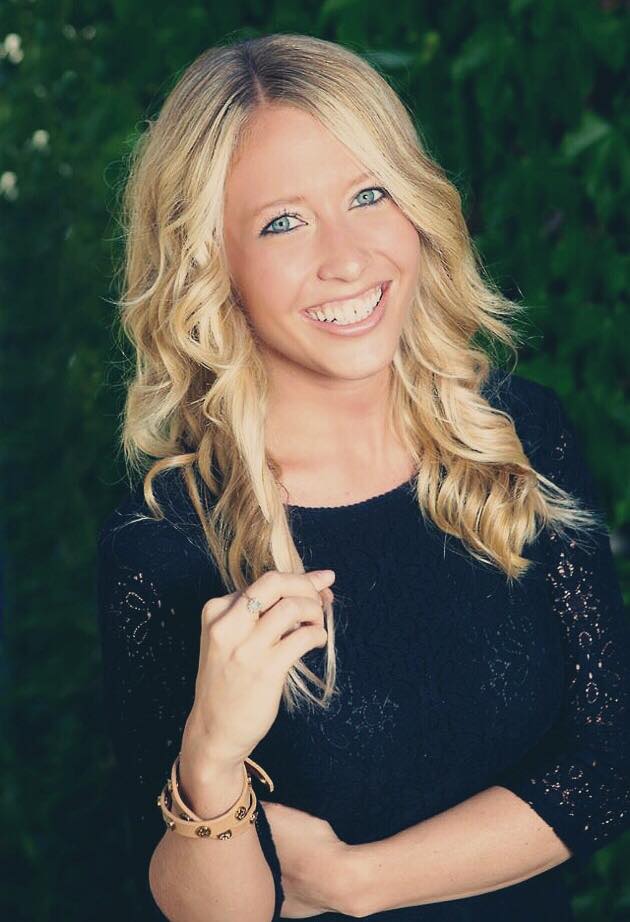 Today I'm continuing on with the budgeting post-baby series and talking about how to save money on your hair. Once upon a time in college I got into a habit of coloring my hair with boxed drugstore hair color. I think it was the worst my hair has ever looked, but it was so much cheaper than getting it done at a salon and my budget was tight.
Now that we're re-evaluating our budget post-baby the money spent at the salon was another area where I knew there was major room to save. Although I loved my regular hair gal (who had a lot of experience and was on the higher end of the price range) I decided to switch to a more junior-level stylist who was half (?!) the price. She's done a great job, and I still get to enjoy salon-quality color. 
I asked my friend and hair stylist, Tracy Rozeboom, to answer a few of my pressing questions on saving money without sacrificing great hair.
What should people ask for if they're searching for great-looking, low maintenance color? Are there any styles that people should steer clear of?
When looking for a low maintenance color I would recommend asking your colorist to show you a swatch of what your natural color is.  Then I would ask to stay within 2 levels of that color. That way your grow out can last longer without you having to come in as often. If you want a more noticeable change ombre & boliage  techniques that are super trendy for summer!  This allows you to have something fun and different, yet remain low maintenance.
Also, if you want to be lighter for summer just ask for a few foils around your face.  Everyone is naturally a bit lighter around the face so by enhancing that you are brightening up the face and the grow-out isn't as harsh. I would steer clear of a style that has a 'wow' factor.  Anything that isn't close to your natural color is going to be work to keep up.
As a stylist, would you prefer your clients to mention that they're trying to be budget-savvy on the front end? Would that impact the cut or color you steer clients to or away from?
YES.  If your hairstylist does not do a full consultation when you sit in the chair then please be sure to speak up!  Hopefully they will ask you a hand full of questions, but if not tell them about your lifestyle.  Include what your daily routine looks like, how much time you spend on your hair in the mornings, how often you'll go to the salon, what products you are using, any life events, budget, etc.  By doing so the haircut and/or color can be based on what works best for you.
Then when you show them a picture of what you want, they can pin point what you like about that style/color for you, yet tweak it to match your lifestyle & budget!
Once you get home from the salon, what are some of the best ways to preserve your color and make it last longer? Are there any at-home products you would recommend to help extend your color?
The best way to preserve your color when getting home from the salon is to not wash it for 24 hours. There isn't a rule about that, but I have attended professional classes that teach this to be true! In general, the less you wash your hair,the better. Washing your hair less will help preserve your color, balance your scalp's pH with the natural oils of your skin, and make your products last longer. I recommend washing every other day.
As far as at home products go, I would stick to the recommendations of your stylist. The companies that make your hair color also make the product to work with your color. I know they cost more upfront, but they will save you money by making your color last longer! One money-saving tip I pass along to my clients? If you have blonde hair, you can use baby powder instead of dry shampoo!
Tip for the blondes: Ask your stylist about using a purple shampoo once every other week! It will brighten up your hair, save you some salon time and money and blow your mind!
What are the biggest mistakes, in your opinion, that people make when caring for their hair?
NUMBER 1 RULE: HEAT PROTECTANT. I think the biggest mistake that people make is to skip the products and fry their hair.  Beautiful hair begins with healthy hair.  You don't need to spend a ton of money on a whole cupboard of products. The top two products I recommend to everyone that sits in my chair are a deep conditioner to be used twice a week and a heat protectant (with protein) to be used everyday.
Money-Saving Tip: You can swap a deep conditioner for a jar of coconut oil!
In your opinion, is it necessary to buy salon-quality hair products to have great hair? If you want to keep your hair healthy and can only splurge on one salon-quality product, what would it be?
I know salon products can cost a lot! The reason is the ingredients. Cheap products are full of wax that make you think your hair is soft and healthy when really it is coated and the hair strand isn't absorbing any nutrients.  This can also lead to a wax build-up on your scalp.  Choose to splurge on a good shampoo and conditioner.  The shampoo will clean your scalp and hair without adding wax to the problem and the conditioner is like lotion full of moisture and nutrients.  By doing so you can get back to liking LOVING your hair!