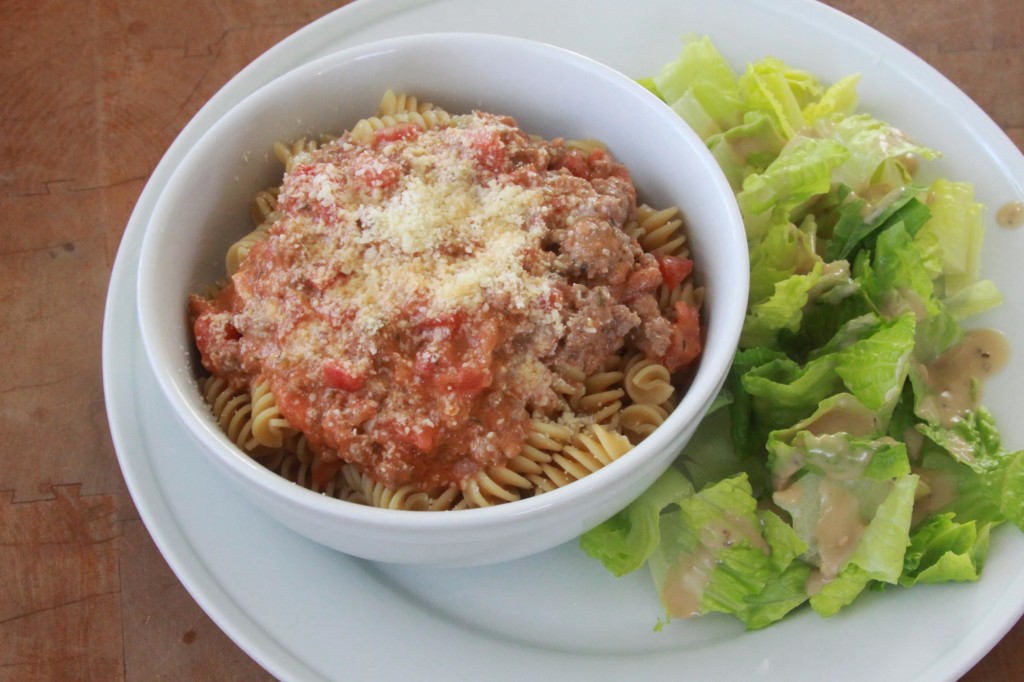 Even as someone who cooks and develops recipes for a living, the question of what to have for dinner frequently leaves me a little bit weary. I love cooking when I have plenty of time to plan and prepare, but the weeknight routine of figuring out what to eat serves more as a stressor than a stress reliever. Usually dinner is sandwiched in between after-work plans and trips to the gym and by the time it's actually mealtime, I just want to eat NOW. You know the feeling?
I'm always looking for easy weeknight meals to add to the rotation of favorites, and this simple creamy pasta dish has quickly made its way onto the list. It comes together in just about 20 minutes and is super family-friendly. This dish is modeled after Joe's favorite dish, Ina Garten's Pastitsio, which is a recipe that's labor-intensive and a total calorie bomb, so it's reserved for special events and holidays rather than everyday meals.
My version is made creamy with a small amount of cream cheese to mimic the creaminess of the traditional pastitsio along with a can of crushed tomatoes, marinara sauce and lean ground beef seasoned with spices to mimic the higher-fat sausage that's commonly used. It's not nearly as indulgent as the real thing, but for a weeknight meal it certainly makes the cut.
Quick Weeknight Pastitsio
Author:
Espresso and Cream
Ingredients
1 tablespoon olive oil
1 lb ground beef
1 teaspoon Italian seasoning
½ teaspoon salt
½ teaspoon cinnamon
¼ teaspoon cayenne pepper
¼ teaspoon ground black pepper
3 cloves garlic, minced
1 can (14 to 15-oz) diced tomatoes
2 oz cream cheese, softened
1½ cups marinara sauce
1 box rotini pasta, cooked according to package directions
Grated Parmesan cheese, if desired
Instructions
In a large Dutch oven or stockpot over medium high heat, heat the oil. In a medium mixing bowl, combine ground beef, Italian seasoning, salt,cinnamon, cayenne pepper and black pepper until well combined. Add ground beef to skillet and cook until browned; drain if necessary. Add garlic to pan and cook 3 to 4 minutes more until garlic is lightly browned and fragrant.
Add diced tomatoes and cream cheese and continue to cook, stirring frequently, until cream cheese is evenly incorporated. Add marinara sauce and cook until heated through, about 1 to 2 minutes more.
Divide pasta among bowls. Top with the marinara sauce. Serve with grated Parmesan cheese, if desired.