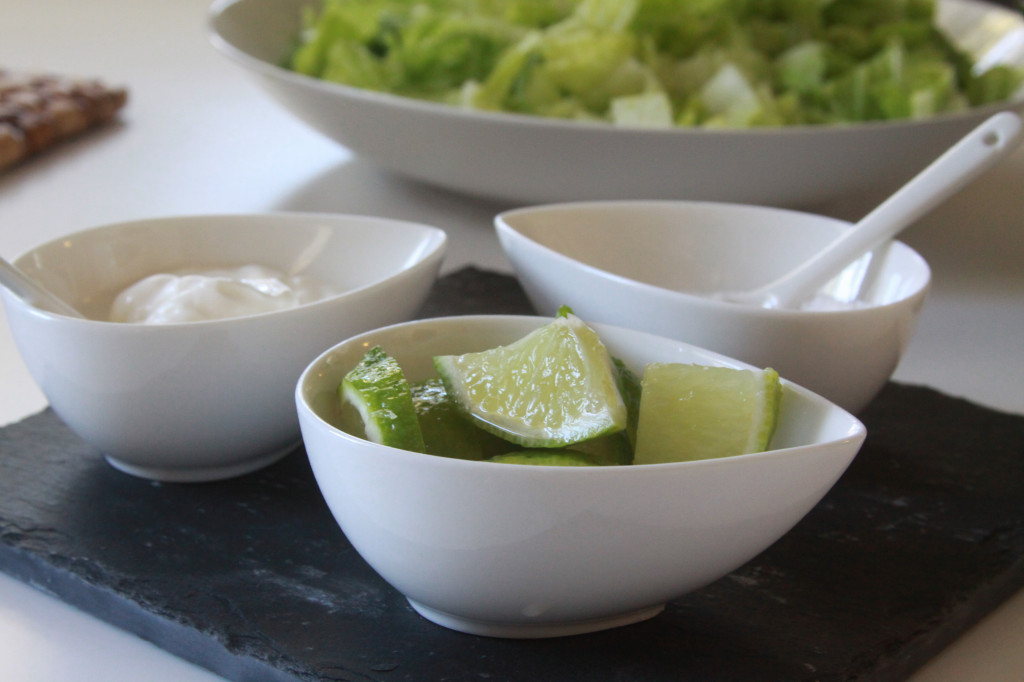 Today marks the final installment of my partnership with Food Should Taste Good. It's been so fun to have an extra reason to host and entertain friends while serving really delicious chips. But then again, I love any reason to have people over and eat a meal together.
We had our church group over last night for Mexican night. Although entertaining on weeknights after a busy work day used to stress me out, I've implemented a few simple strategies that make it much less stressful than it once was. Here are a few of my favorite tips:
1. Plan your meal mindfully.
I think one of the biggest stressors I used to have when entertaining was that I tried to do too much without adequate time. These days I pick my entree and sides with ease and flexibility in mind. The dishes I serve need to be easy to prepare and need to hold up well in case guests arrive late or I put something in the oven a little too early.
For this reason, I think enchiladas are perfect. I served two types of enchiladas (this recipe and this recipe) and prepped them in advance, then just tossed them in the oven 20 minutes before guests were set to arrive and left them in the oven until we were ready to eat. A little extra time in the oven doesn't compromise the taste and texture of enchiladas, making them a perfect dish to serve on a weeknight.
2. Make the sides easy. 
Once again, the key is to not try to do too much with too little time. Focus on your entree and make the sides you serve on the easier side. Many times that means a pan of roasted veggies at our house that are cooked and seasoned perfectly. Last night, it meant Food Should Taste Good chips, salsa, homemade guacamole (recipe below), sour cream and lettuce. Nothing besides the enchiladas really took much time and most of it could be prepped in advance. Major win!
3. Play with size, color and texture.
A few little touches can make a big difference when setting your table. I'm not an entertaining master, but I do like to make the table look pretty. Place a few pretty cloth napkins underneath your serving pieces, use colorful paper napkins that fit your theme, serve your beverages in a metal pail with ice, etc. A few extra special touches go a long way in making your table look special without a lot of extra work.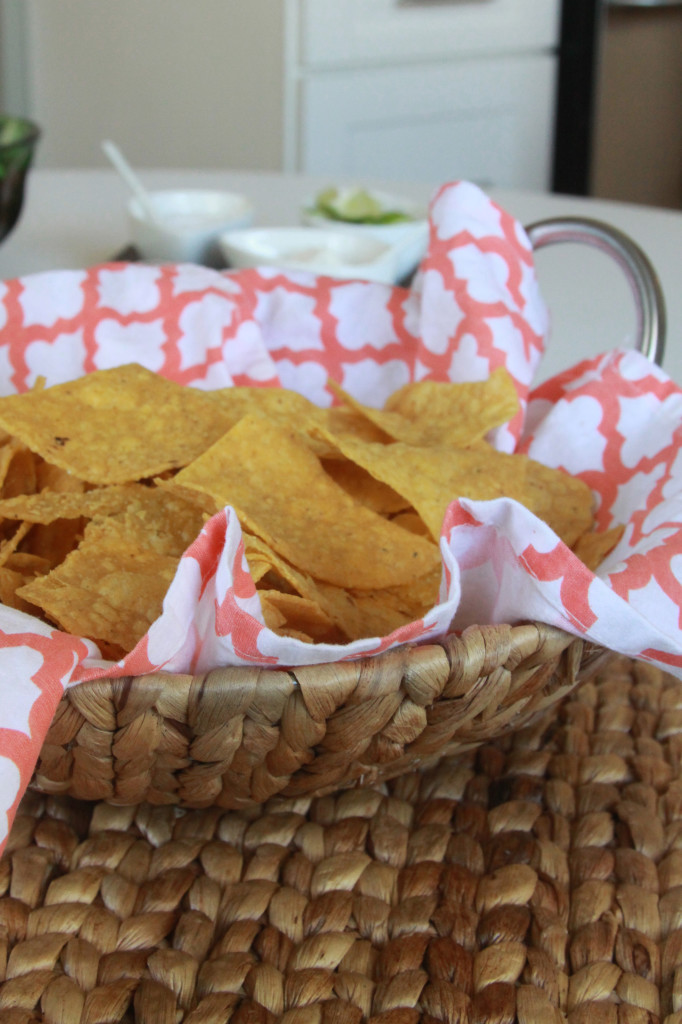 The chips we served at our party were the Food Should Taste Good Cantina chips, which are my absolute favorite. They taste the most like the restaurant-style chips that I eat way too many of when I'm out to eat with a great amount of salt that's perfect for serving with salsa and guacamole. I probably should have had another bag on hand because they were practically gone by the time I got my food!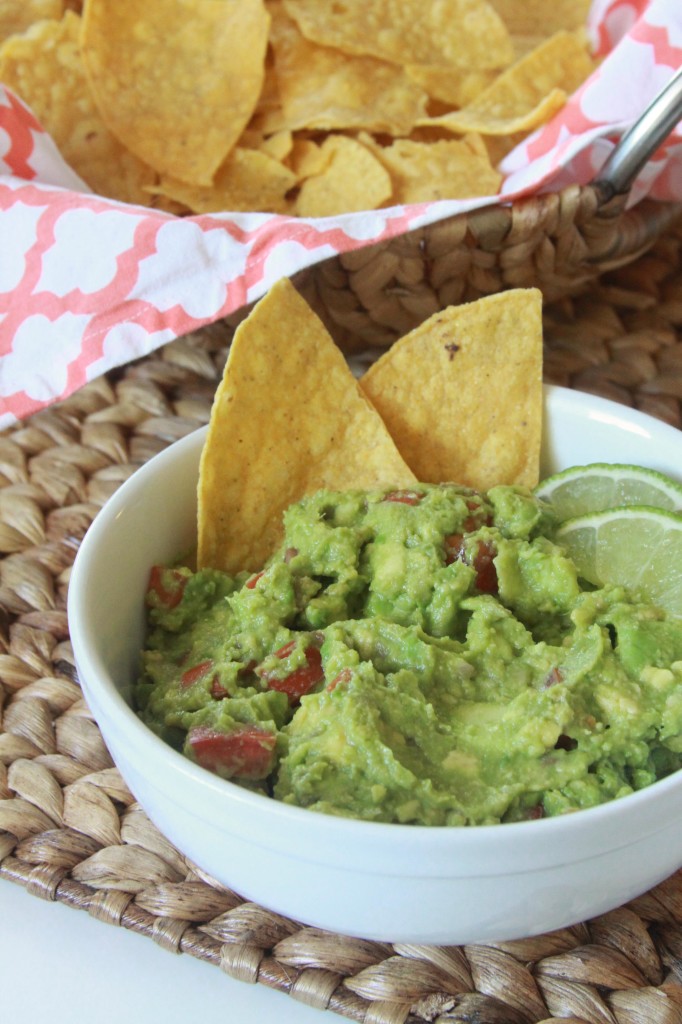 I'm sure there are plenty of other more "authentic" guacamole recipes you could find on the internet, but I like to keep things simple with my guac, with just a little bit of lime, salt, tomatoes and jalapenos added to my avocados. The recipe I use is below! Although I have to admit that these days I don't really use a recipe but rely on taste as my guide. Just be sure not to skimp on the salt!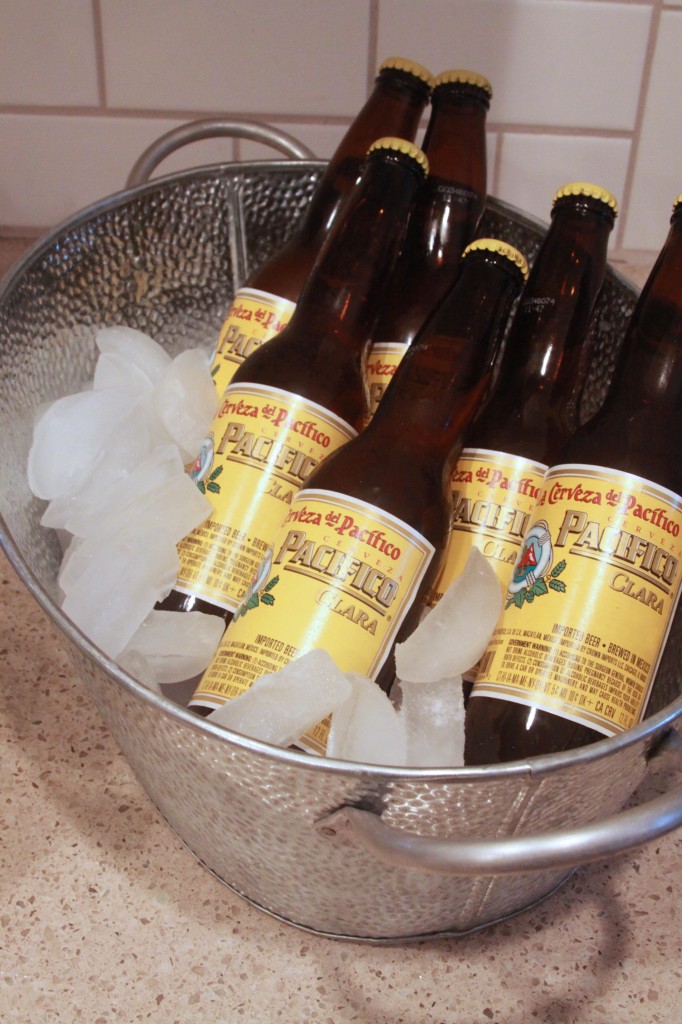 Quick and Easy Guacamole
Author:
Espresso and Cream
Ingredients
4 medium ripe avocados, pitted, peeled and cut into cubes
Juice from ½ of a small lime
Generous pinch of salt
1 medium roma tomato, seeded and finely chopped
1 small jalapeno pepper, seeded and diced (optional)
Instructions
Place cubed avocado in medium mixing bowl and use a fork to mash the avocado until some small chunks remain. Add the lime juice and stir until well combined. Season to taste with salt. Stir in the tomato and jalapeno and stir until well combined. Serve with chips or on top of enchiladas!
This post is brought to you in partnership with Food Should Taste Good. All thoughts and opinions are my own.