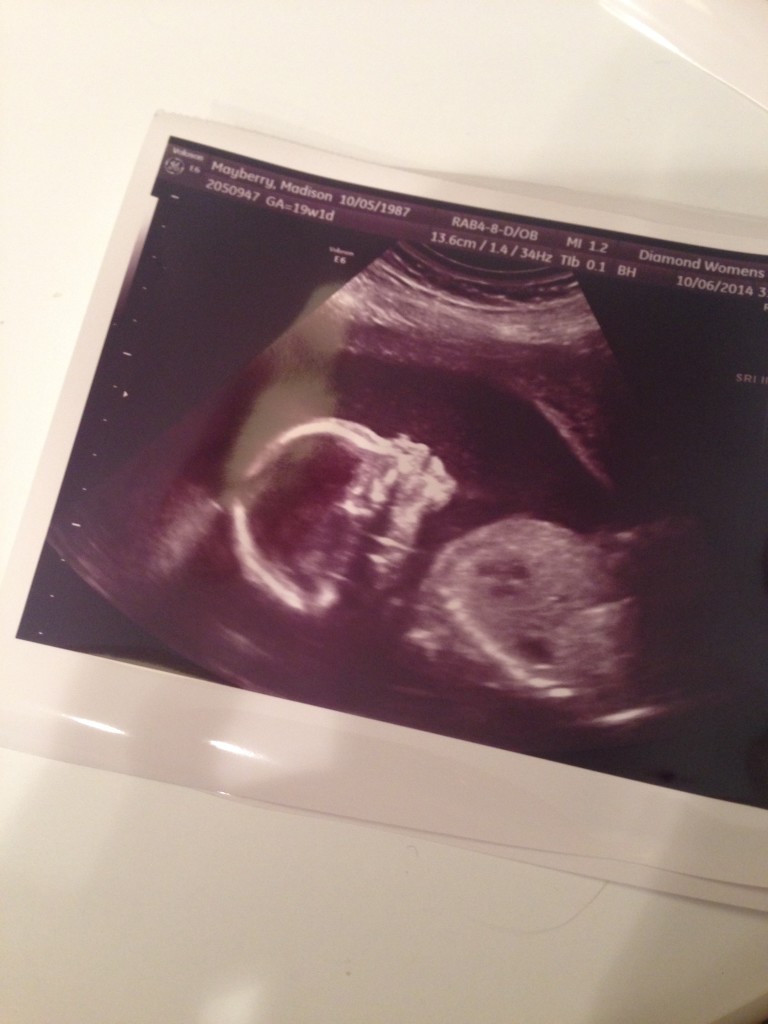 How far along are you?  19 weeks 1 day
Generally Feeling: I'm continuing to battle headaches quite regularly, but other than that I've been feeling really good. I still find that I'm tired at the end of the day more easily than before I was pregnant, but nothing too extreme.
Showing? Yes! I'm convinced I'm not going to ever get a huge pregnancy belly because I'm on the taller side, but perhaps I'll be laughing about this when I'm 35 weeks along and huge?!
Cravings? This is the first week I really feel like I'm eating totally normally. I snack often but other than that, I'm feeling so normal. It's amazing how I used to take feeling and eating normally for granted before I got pregnant.
Weight Gain: Still 13 pounds! I insisted on taking off my heavy boots (that I wore while being weighed last time) so I think that may account for the lack of weight gain this time around and the extra weight gain last time. 😉
Fears:
We had our 19/20 week ultrasound yesterday and overall it went really well! I was quite worked up about it, but all the measurements they got were right on track, and baby is even measuring a few days ahead.
Unfortunately, we have a stubborn little one on our hands because no matter what we did, we couldn't get that little peanut to move in the right direction. Consequently, the tech could only get a partial view of his/her face and couldn't get a good look at the heart. We've been referred to a specialist to have a level 2 ultrasound done to get a better look at the heart and confirm everything is healthy and normal, and I'm a little worked up about it.
Additionally we found out our baby's umbilical cord has only 1 artery compared to the typical 2. It's called SUA. Since all our other markers pointed to a healthy baby, our doctor wasn't concerned, but I will be more closely monitored for the remainder of my pregnancy with ultrasounds every month to be sure baby is growing and getting all the nutrients they need along the way. Although the appointment was generally a HUGE success, it was hard for me not to focus on the things that could go wrong and be fearful, but I feel like God is pulling us out yet again and asking us to trust Him with our baby's life and health. Not an easy task! 
Looking Forward To: Having our level II ultrasound over and done with next week Tuesday! Prayers for a great scan and healthy results would be so very appreciated. I know we keep asking for prayers, but boy do I feel like we continually need them.
What I've Been Loving: This past week was the first week I've really felt baby's movements, even a few times when I've been able to feel them with my hand on my stomach! They're still pretty inconsistent, but it's fun none the less. 
Sleep: Better this week! We delayed putting the heat on at our house and the cold temps at night have really helped me sleep much better.
Maternity Clothes? Nothing really new to report here. Still wearing a mix since my bump isn't all that big.
Boy or Girl: We're keeping it a secret! But our ultrasound tech was 95% positive on boy v. girl so it's nice to know with certainty what we're having. We did decide to share the names we have picked out. So, without further delay, we've decided our boy and girl names are…
Holden Joseph Hofmeyer and Ainsley Jane Hofmeyer
We settled on Holden only a few weeks ago because we were deciding between Holden and Bennett, but ultimately Holden won out because we loved the masculine nature of the name, the fact that it's easy to spell and pronounce and goes well with Hofmeyer. Ainsley has been our choice for a girl's name for almost a year. We've loved that it's unique without being too different and the fact that it is a little masculine and feminine all at once. And Jane is a family name, so it was an easy decision.
Madison