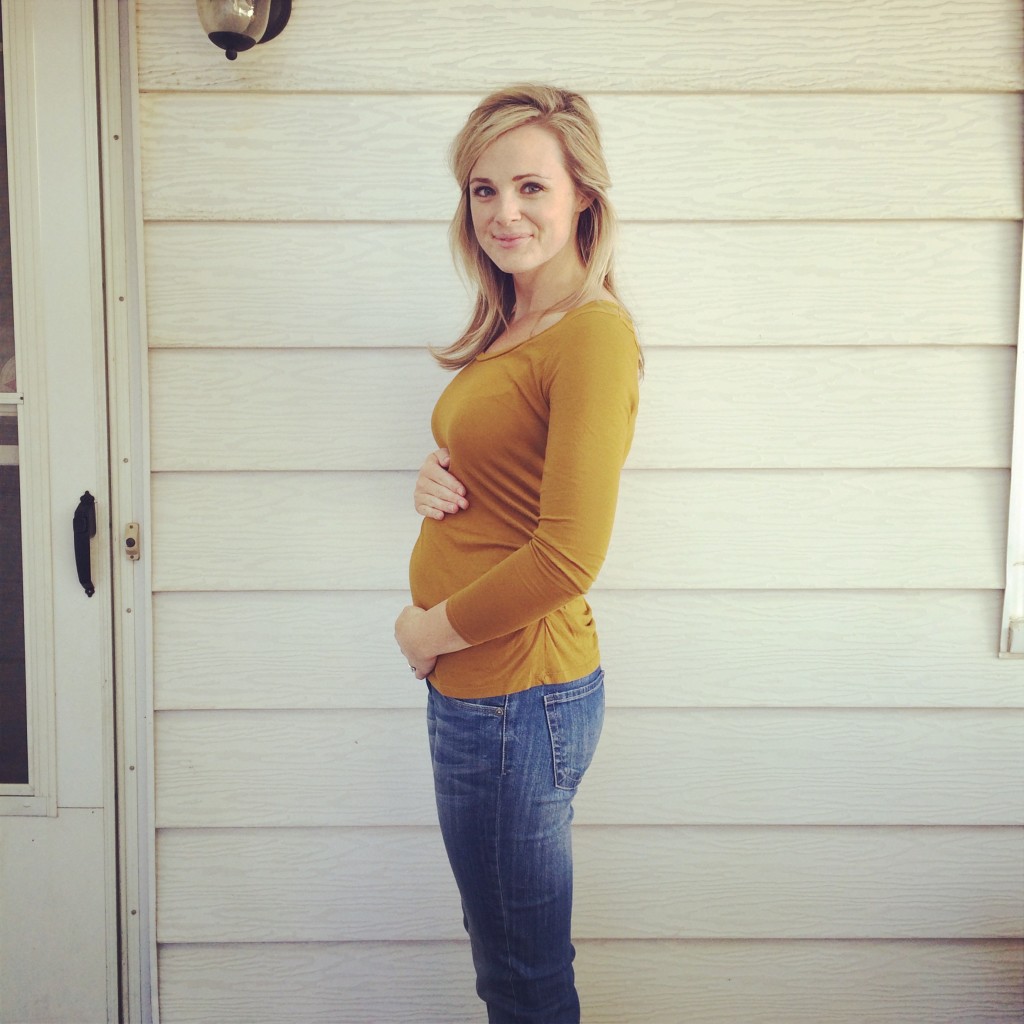 How far along are you?  16 weeks 2 days
Generally Feeling: This week I struggled again with quite a bit of nausea, which is draining because it makes finding foods that satisfy quite difficult. But overall I have SO much more energy and have been able to get a lot done, which makes up for the nausea. I'm thankful that my extra energy has been making it easy to workout consistently, too.
Showing? The last few days I feel like I've really started to show more. I think it may be the real thing, too, because I've been able to sleep through the night without needing to go to the bathroom, which I've heard can be a benefit of "popping" in the 2nd trimester. Cravings? Nothing new to report. I'm still loving citrus fruits like lemons and clementines blended in the Vitamix with water and stevia. Overall, I'm really having a hard time finding anything that sounds good and my main goal seems to be finding foods that don't make me feel sick. Toast with butter and salt is still a favorite.
Weight Gain: I haven't been weighing myself at home, only at doctor appointments, so I won't have another update until next week. I'm guessing 11-ish pounds Fears: This week I really worried about our baby's growth. Things like "fundal height" and the size of my uterus became a temporary fixation and source of worry. I think part of it is the fact that I'm hardly showing, which I realize is normal, but it makes it hard to believe that this baby is growing and developing normally despite the fact that I'm not showing much on the outside.
Looking Forward To: Decorating the nursery! My mom is coming up in a couple weeks and we're going to really start work on decorating. We bought our first major purchase, a rocker/glider from Room and Board Outlet this past weekend, too! What I've Been Loving: Joe and I started reading baby books to the baby at night before bed. Maybe it's silly since our baby can't really hear anything yet, but it helps us connect with our little peanut and it's fun to get into a routine of doing something with the baby together at night. Sleep: Not the greatest. Between the trips to the bathroom and trying to get comfortable on my side, I toss and turn quite a bit.Maternity Clothes? Still not wearing many maternity clothes aside from my one pair of maternity jeans. I've been using a belly band and the old hair tie trick, because I honestly love the way my normal jeans fit SO much better than maternity jeans. I went to Old Navy this week and purchased a few non-maternity dresses that fit my body and give me a little extra wiggle room. And I purchased a few pairs of black maternity leggings from Gap that have already gotten plenty of use with this colder weather! Boy or Girl: Waiting (impatiently!) until October 6th!