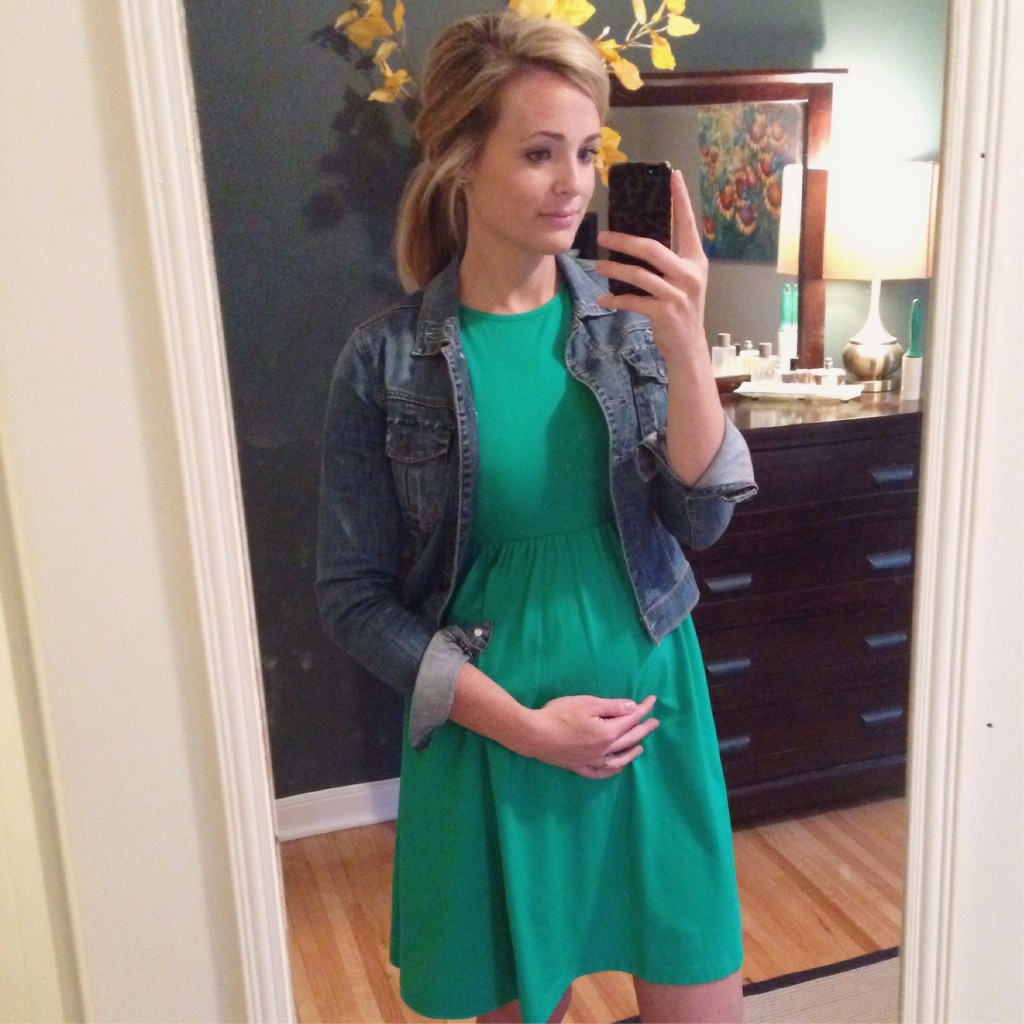 How far along are you?  17 weeks 1 day
Generally Feeling: This is the first week that I can say I'm truly starting to feel better. Mornings continue to be hard, since nothing really sounds good, but for the most part the nausea is getting more manageable. I've been battling bad headaches in the past couple weeks, but I'm finding that it's almost 100% related to how much water I've been drinking. If I up my water intake they go away, so I'm continuing to be mindful of that.
Showing? Yes! Not a lot, but enough that I feel more pregnant and it no longer feels like it varies as much from day to day. Seeing a little bump makes it feel so much more real.Cravings? Milk! I was never much of a milk drinker before I got pregnant, but now I can't get enough. I discovered the most wonderful "healthy milkshake" the other day and have literally been drinking one or two a day. Combine 1 cup whole milk (preferably organic) with a big handful of ice, a dash of real vanilla extract and a pinch of stevia and blend on high in the blender until creamy and frothy. So tasty!
Weight Gain: 13 pounds Fears: Pregnancy is funny because I feel like I go from one fixation to another. I've been working really hard not to give into irrational fears. My doctor confirmed this week that although baby's sitting low, growth (measured in fundal height) is appropriate, so that's one less thing to worry about! I'm continuing to realize that there will always be something to worry about if I want to. Looking Forward To: Still getting anxious to decorate. I've been Pinning nursery ideas like crazy and sending all my inspiration over to my mom, who is my co-designer in all things. I've been a cleaning maniac lately, too. We've always had a clean house, but I feel like nesting mode has already kicked in as I think about all the things around the house that I want to have done before baby arrives. What I've Been Loving: I'm certain that I've felt the baby a handful of times now. It's not consistent and I have to be paying close attention to recognize what I'm feeling, but it's such cool sensation! Additionally, I went on my first run of this pregnancy yesterday and man, did it feel good. I've been afraid to run, but yesterday it just felt right. Sweating and covering a few miles really made a huge difference in my mood!
Sleep: Still not the greatest. I'm very close to buying some sort of pregnancy pillow. If you have any recommendations, I'm all ears! Maternity Clothes? I bought a handful of dresses last week online at ASOS Maternity that don't necessarily look "maternity" which makes them perfect for transitioning in this in-between time. I've never purchased anything from ASOS but I am in love with the dresses I got, especially this one and this one in navy.  Other than that, I've been getting buy with a lot of non-maternity items as well. Thankfully the weather is still beautiful here, so I haven't had to transition to true cold weather clothing. Boy or Girl: Two more weeks to go! Do you have a guess? Leave it below!