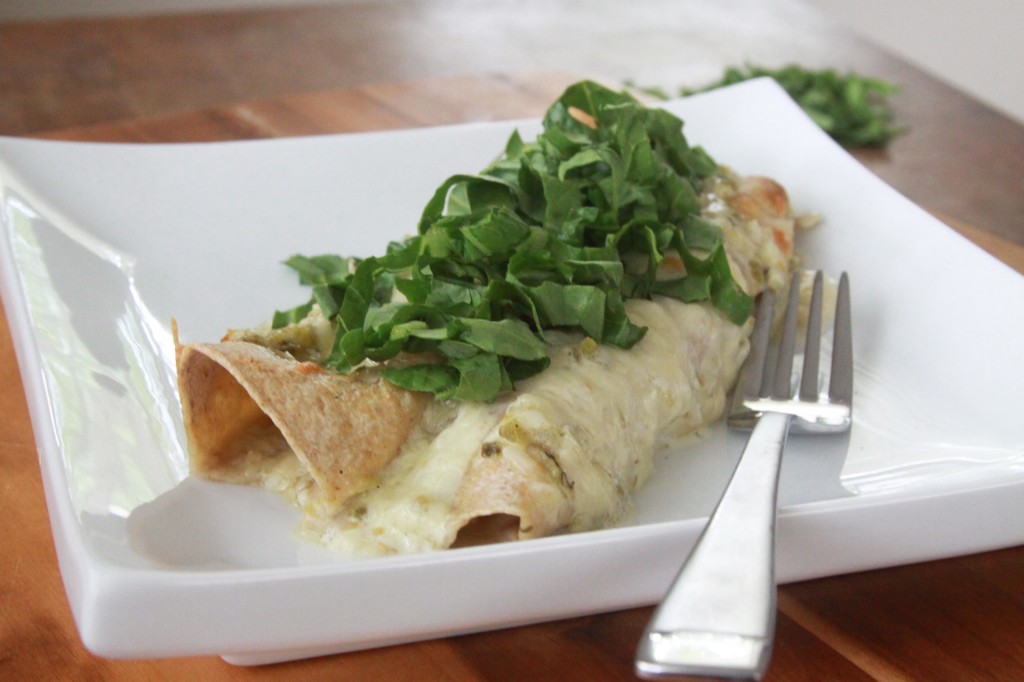 Over the past week and a half I feel a little like I'm just barely keeping my head above water. Between the doctors visits (which have been numerous) and the morning sickness, which has been getting stronger, to the demands of a busy work schedule, it feels like I've got a lot going on. Emotionally, I've been a little bit maxed out, so cooking at home has taken a back seat. Thankfully, Joe is extremely flexible and not at all picky, but this weekend I felt the need to re-commit to making dinners and lunches that were worth writing home about.
My manager, Ann, and I were talking last week about favorite family meals and she mentioned that she makes green chicken enchiladas that her family is crazy about. Although I didn't get the recipe, I got the general idea of what she tossed in her enchiladas and it sounded amazing. So on a rainy Saturday with a little time on my hands, I got to making my own version.
I was pleasantly surprised when it only ended up taking me 15 minutes to put together a pan of these enchiladas and toss them in the oven. While they baked I wrote thank-you notes and did laundry and 20 minutes later our house smelled amazing! I'm pleased to report that these enchiladas also tasted amazing and were a huge hit with both me and Joe. If you're looking for an easy weeknight dinner, these should definitely go into a regular rotation. You can mix-up the heat level depending on the spiciness of your salsa and green chiles. And if you're a real spice lover, I would suggest adding in some diced jalapeno to the filling.

Green Chicken Chile Enchiladas
Author:
Espresso and Cream
Ingredients
2 cups shredded rotisserie chicken (or cooked and shredded chicken breasts)
2 cups shredded Monterey Jack cheese
1 jar (16 oz) salsa verde or roasted tomatillo salsa (I used Target's Archer Farms brand)
1 can (4.5 oz) diced green chiles
6 medium whole wheat tortillas
½ cup heavy cream
Lettuce, salsa and sour cream for garnish, if desired
Instructions
Heat oven to 375°F. Spray a 13x9-inch baking dish with cooking spray.
In a medium mixing bowl, combine the chicken, 1¼ cups of the cheese, 1 cup of the salsa and the diced green chiles. Stir until well combined.
Spoon a heaping ⅓ cup of the chicken mixture onto each of the tortillas. Roll up tortillas and place in baking dish. In a small bowl, combine remaining salsa and the ½ cup heavy cream. Pour mixture over enchiladas, spreading evenly over enchiladas in pan. Top with the remaining cheese.
Bake 20 to 25 minutes or until cheese is melted and filling is bubbly. If desire, broil the last 1 to 2 minutes to brown cheese. Let stand 5 to 10 minutes. Serve with desired toppings, such as lettuce, salsa and sour cream, if desired.