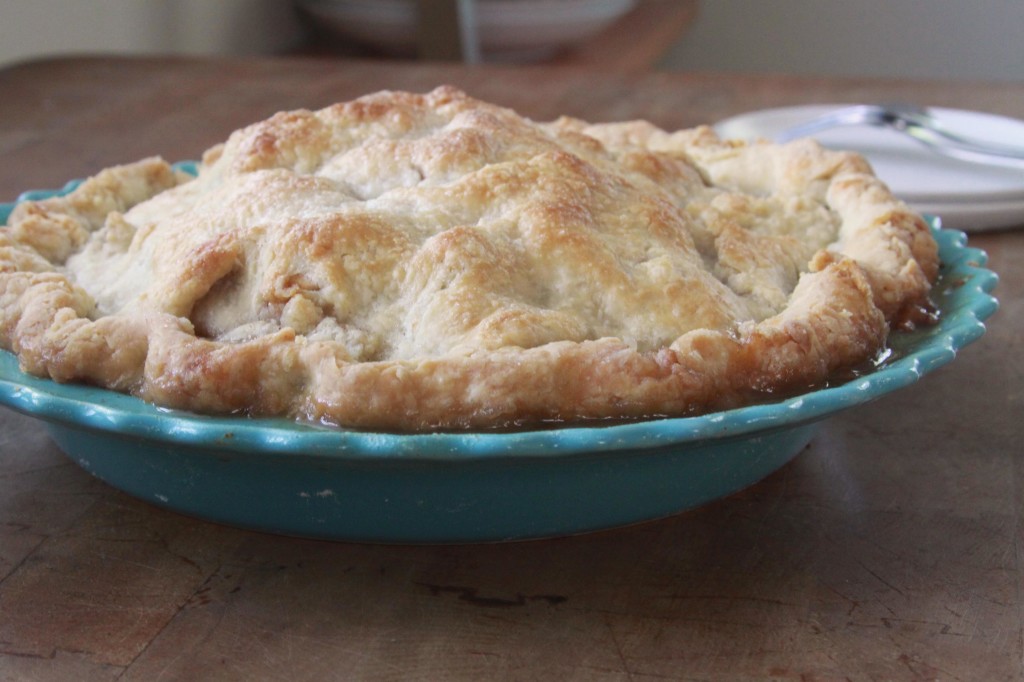 Update: We went in for another scan on Thursday before the long weekend and got some strange news. Things on our ultrasound looked very normal, pretty much a 180-degree change from our scan on Monday. The doctor and the ultrasound tech didn't know what to make of it all, so I'm chalking it up to God. Sound good? We've been told to still expect miscarriage, but that we now have a legit reason to hope. So we've been playing a very strange waiting game until Wednesday, and your continued prayers would be much appreciated.
I hope you all had a wonderful Fourth of July weekend! Joe and I spent a lot of time working on the house, in the yard, and even painted our office, a room that I've intentionally left out of the E&C house tour because I've disliked it so much. We're a long way from revealing the final product on the blog, but I'll be sharing some sneak peaks Instagram as we pull the room together.
A few weeks back I made a pie and I would be lying if I said the crust was anything worth eating. Truth be told, it was horrible. Sometimes pie crust is hard and scary, isn't it? Well, I was determined to have success the second time around because that first attempt was just haunting me. With a new sense of resolve, I went back the the kitchen to make another pie crust for a classic apple pie. The result was amazing, if I do say so myself. It was flaky and tender and perfect enough to bring over to Joe and his friends, who needed a break from painting a house on a hot day.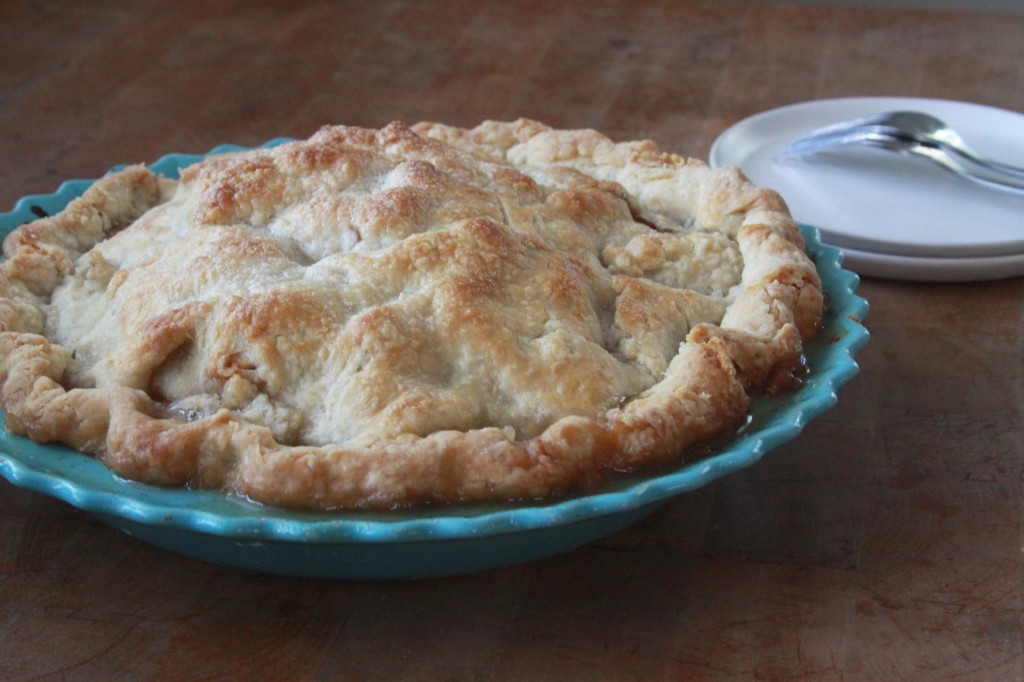 I based my pie crust on one of my favorite recipes from Sherry Yard in her fabulous baking book, Desserts by the Yard. Over the years I've made great pie crusts and horrible pie crusts. And I think that if I had to recap what makes success versus failure, it would be in the way the liquid is incorporated into the dry ingredients. Sometimes I'm feeling impatient and I dump the water in rather quickly, in two or three additions. The problem with doing this is that the water doesn't get evenly incorporated into the flour mixture and I end up needing to add more water than the recipe calls for.
But when I'm patient, adding just a drop or two at a time and constantly using a fork to stir the flour mixture as I add water, that's when I have the most success, when the magic of tender, flaky pie crust happens. So give yourself a few extra minutes to incorporate your liquids into your dry ingredients and you'll be blessed with the end product.

Classic Apple Pie with Ultra-Flaky Pie Crust
Ingredients
PIE CRUST INGREDIENTS (for 2 crust pie)
2½ cups all-purpose flour
2 tablespoons granulated sugar
¼ teaspoon salt
½ cup vegetable shortening
8 tablespoons (1 stick) unsalted butter
½ cup ice water
PIE FILLING
6 cups thinly sliced Granny Smith apples (peeled and cored)
6 cups thinly sliced Golden Delicious apples (peeled and cored)
1⅓ cups granulated sugar
¼ cup brown sugar
½ cup all-purpose flour
1 tablespoon cinnamon
¼ teaspoon salt
TOPPING FOR PIE
2 tablespoons milk
1 tablespoon granulated sugar
Instructions
To make Pie Crust: In a large bowl, combine flour, sugar and salt until well combined. Break up the shortening into small pieces and add the shortening to the flour mixture. Cut the butter into small pieces. Add the butter to the flour mixture, too. Use a pastry cutter to cut the butter and shortening into the flour mixture until the butter and shortening are the size of peas.
Gradually add the ice water (1 spoonful at a time) to the flour mixture, using a fork to mix the water into the flour mixture as you add spoonfuls of water. This is key, slowly adding the water. It ensures that you get the flour mixture evenly hydrated without having to add too much water.
Divide dough into two portions and gently press into rounds. Wrap in plastic wrap and refrigerate at least 1 hour.
Roll one of the dough rounds out onto a floured surface to form the bottom crust. Press crust into the bottom of a 9-inch pie plate.
In a very large bowl, combine the apples, sugar, brown sugar, flour, cinnamon and salt. Stir until well combined. Pour mixture into crust-lined pie plate. (There will be a lot of apple mixture since it bakes down and loses volume.)
Roll out second dough round onto floured surface. Top pie filling with second crust. Roll edges of pie crust together to seal. If desired, crimp edges. Cut two to three slits on top of pie crust for steam to escape.
Heat oven to 375F. Place a metal baking sheet under pie plate to catch any excess liquid. Brush top of pie with the milk. Sprinkle with the 1 tablespoon sugar. Bake 55 to 65 minutes or until crust is deep golden brown and filling is bubbly. Cool at least 1 hour. Cut into slices to serve.