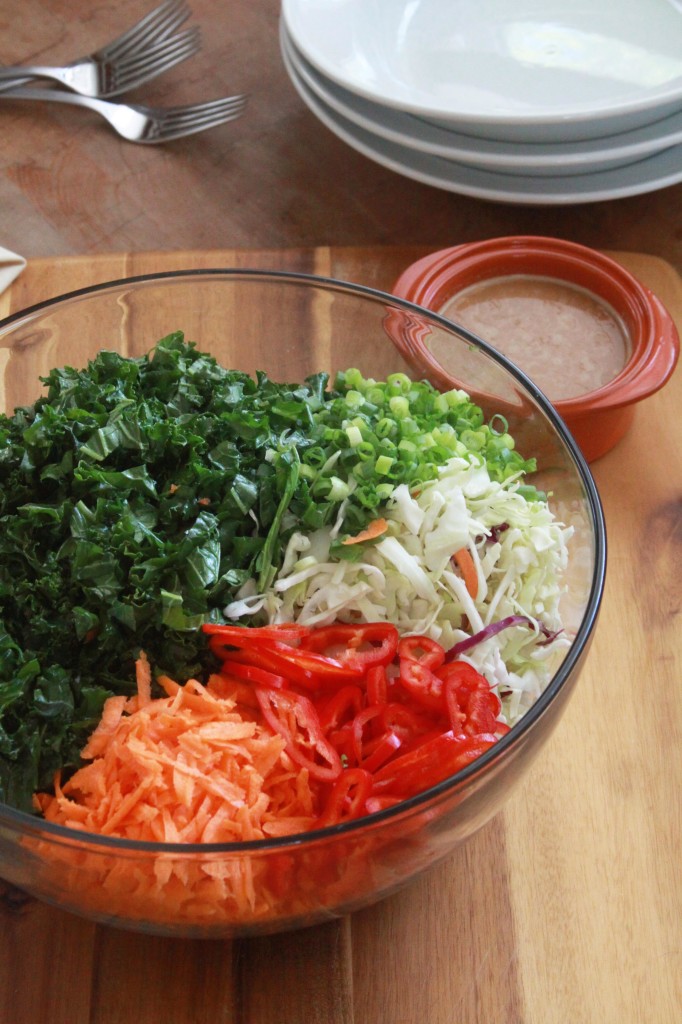 Last month I developed a Thai Chicken and Kale Chopped Salad recipe for the Tasteseekers Kitchen blog at work that I've since made a handful of times. Big, colorful salads are one of my favorite things to make for lunch and dinner, especially when the salad is substantial enough to keep you full and satisfied hours later.
This past weekend Joe helped one of his friends paint his house. It was a two-day ordeal that involved quite a few hours out in the sun so when they got done on Saturday night and headed to our house for a late dinner, I was in charge of preparing a side dish to go with their very large grilled steaks. Steaks and a vegan salad: It goes together, right? I didn't exactly set out with the intention of making this recipe vegan, but as I chopped and tossed things together, I realized that's just what I did.
Don't be intimidated by all the ingredients, chopping and making of your own dressing. I promise that it really is quite simple, and the flavors of all the fresh veggies paired with the thai peanut dressing is nothing short of amazing. The recipe itself serves quite a bit, enough for four main-dish portions or six to seven smaller side-dish sized salads. I highly suggest chopping all the ingredients in advance and making the dressing, then tossing everything together just before you plan to eat. And since the ingredients in this salad are heartier than, say, a Romaine lettuce salad, dressing the salad a little early won't leave your salad soggy.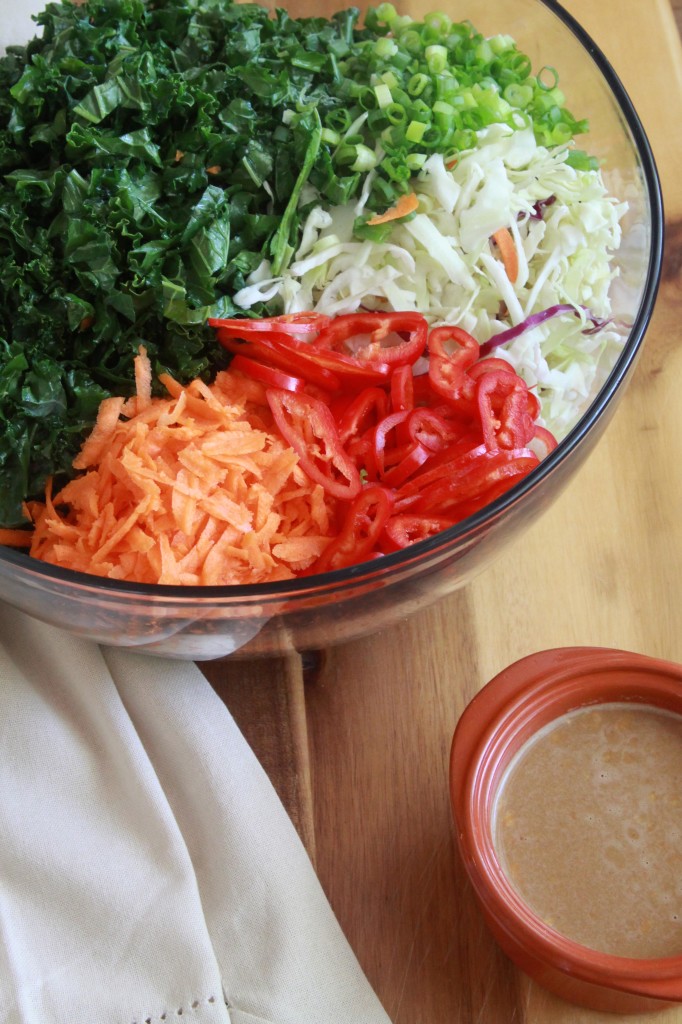 Vegan Thai Chopped Salad
Author:
Espresso and Cream
Recipe type:
Entree, Side Dish
Ingredients
SALAD INGREDIENTS
10 cups finely chopped kale, stems removed
½ tablespoon olive oil
1 bag (16 oz) coleslaw mix
4 miniature red sweet peppers, thinly sliced (or ½ cup chopped red sweet pepper)
3 medium carrots, grated
2 green onions, sliced (white and green parts)
THAI PEANUT DRESSING
3 tablespoons peanut butter
⅓ cup hot water
2 tablespoons reduced-sodium soy sauce
2 teaspoons sugar
1 teaspoon Sriracha or other hot sauce
¼ teaspoon ginger
1 clove garlic, minced
Instructions
In a very large bowl, combine the kale and olive oil. Work together the kale and olive oil with your hands until kale is evenly coated with the oil. Add the remaining salad ingredients to bowl.
To make dressing, whisk together the peanut butter and hot water until smooth. Whisk in the remaining ingredients until well combined. Drizzle dressing over salad and toss until well combined and salad is evenly coated.