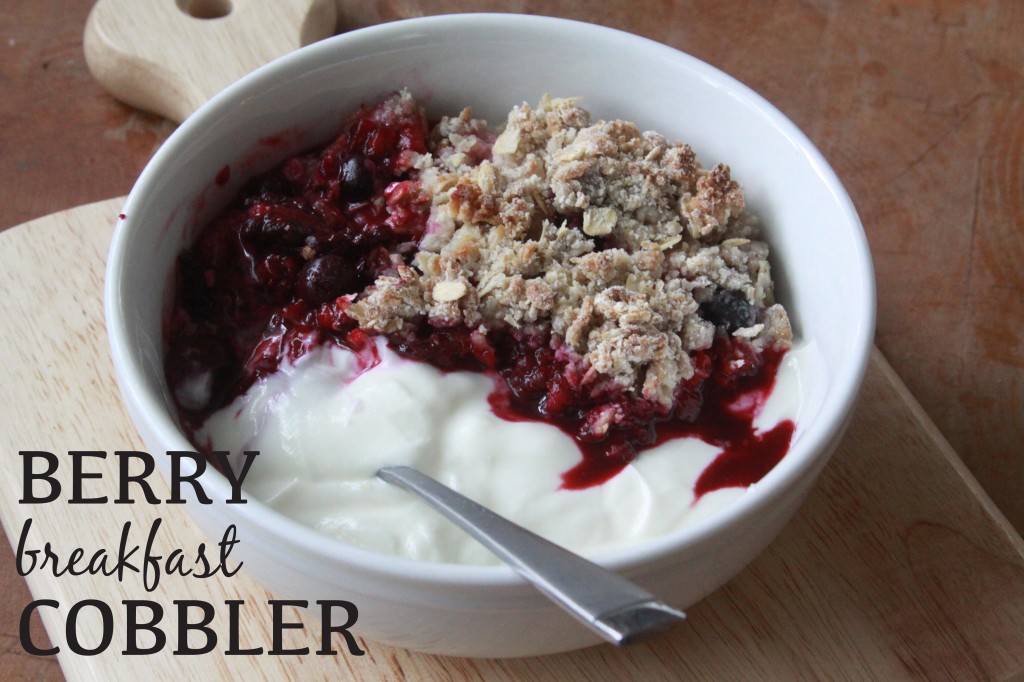 I love breakfast more than any other meal of the day. We've been over this before, right? I tend to get pretty protective of my mornings, especially slow and lazy weekend mornings when Joe and I can watch the morning news and drink a pot of coffee together and eat breakfast with the sun shining through our big picture window. Although I love waking up early, even on the weekends, I don't like to be rushed into action first thing in the morning. I'm all about having a little time to wake up and settle into the day.
If you've eaten dinner at my house any time in the last year and a half, the chances are pretty good that I've served you berry cobbler for dessert. This recipe from Sprouted Kitchen is one of my absolute favorite recipes because it's easy, slightly healthier than a traditional cobbler and I always have the ingredients on hand. Usually I use frozen mixed berries in place of the blueberries and whatever Greek yogurt we happen to have in the fridge.
The other day I found myself thinking about that dessert and how fun it would be to have berry cobbler for breakfast. Since the base of any fruit dessert is, well, fruit, I figured it couldn't be that hard to make a slightly indulgent yet totally breakfast-acceptable dish. And you know what? I was right.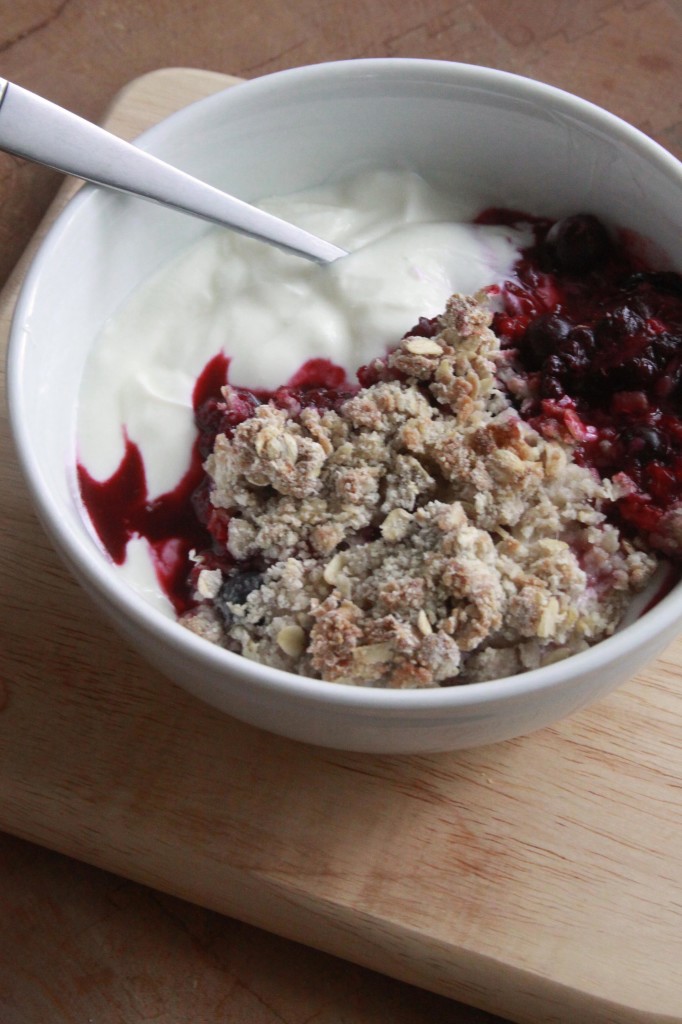 This Berry Breakfast Cobbler is going into regular rotation at our house, I can just feel it now. It's perfect for breakfast, but Joe and I have also been eating it after dinner as a healthier way to ward off that need for something sweet at the end of the day. It's packed with antioxidants from the berries and whole grains from the flour and oats, which add a hearty, earthy taste and texture in the best possible way.
Although I'm not one to typically use a lot of low-calorie sweeteners in my baking, I did sweeten the berry mixture with stevia instead of sugar to keep the calories in check and prevent this dish from becoming a morning sugar bomb in disguise. If you don't want to use stevia, I would suggest swapping 1/2 cup of granulated sugar for the stevia in this recipe. I'm sure it would be every bit (if not more) delightful.

Berry Breakfast Cobbler
Author:
Espresso and Cream
Recipe type:
breakfast, dessert, snack
Ingredients
Cobbler Topping
1 cup whole wheat pastry flour or all-purpose flour
½ cup old fashioned oats
2 tablespoons brown sugar
1½ teaspoons baking powder
3 tablespoons butter, cut into small pieces
1 (6 oz) Greek yogurt (plain or some type of berry flavor - I used Greek blueberry)
Berry Base
6 cups frozen mixed berries
¼ cup granulated stevia (such as Truvia)
3 tablespoons all-purpose flour
Instructions
Heat oven to 375°F. Spray a 9-inch deep-dish pie plate with cooking spray. Set aside.
In a medium mixing bowl, combine the flour, oats, brown sugar and baking powder together until well-combined. Work the butter into the flour mixture with your hands until the butter is in very small pieces and mixture resembles a coarse meal. Add in the Greek yogurt and stir until just combined (mixture will be lumpy.) Set aside.
Toss together the berries, stevia and 3 tablespoons flour. Transfer mixture to the prepared pie plate. Sprinkle topping over berry mixture.
Bake 40 to 45 minutes or until berry mixture is bubbly and topping is browned and crispy. Cool at least 30 minutes before serving.