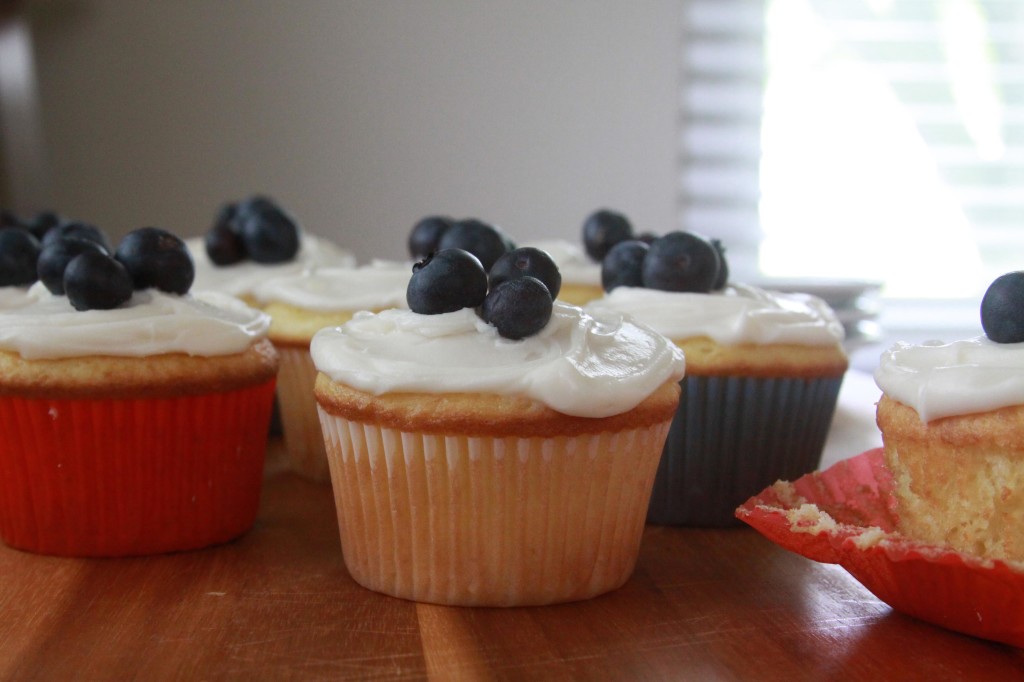 Lately I've been trying to see my husband's golf hobby as a blessing in disguise. Sure, he's gone for a large chunk of each weekend, but that means I have plenty of time to spend on the things I love to do, like blogging, getting together with girlfriends for a walk or coffee, and laying outside in the sunshine while reading magazines.
I think sometimes I'm too quick to underestimate the importance of  having individual interests and hobbies in a marriage. Because I love Joe and love spending time with him, it's easy to default to spending most of our time together, and while quality time is certainly important, it's amazing how much richer and fuller our conversations and time together ends up being when we devote time to interests apart from things we do together.
This extra time on the weekends has meant that I have a little better grasp on editorial plans for this little blog and the upcoming holidays. It's also why you happen to see me posting a real, actual Fourth of July recipe almost an entire week before the actual holiday, which pretty much never happens.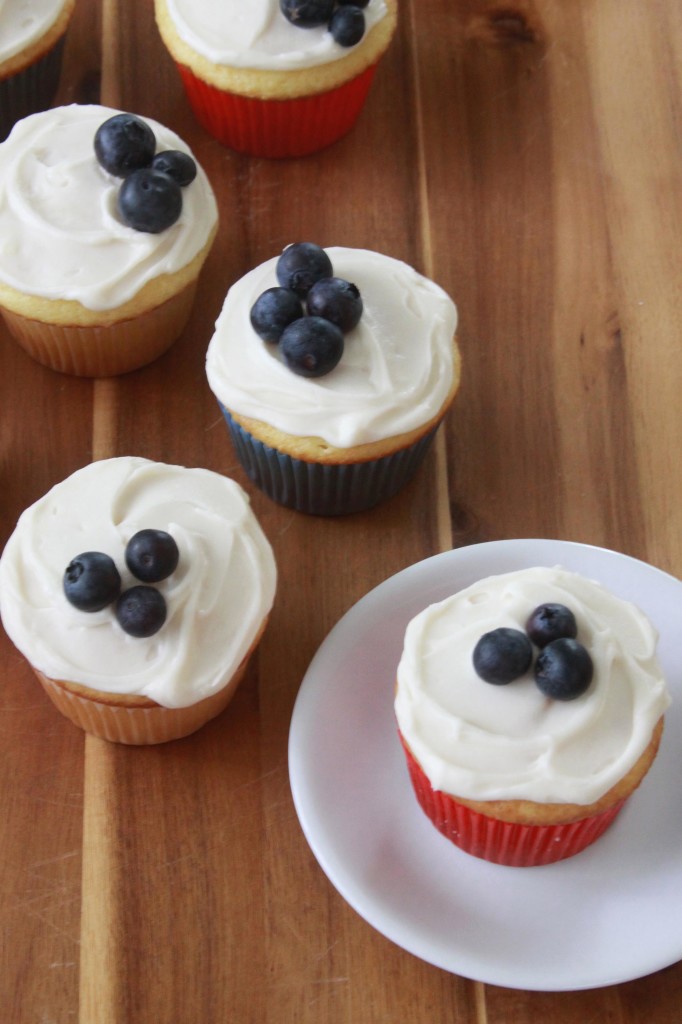 Since I'm not a huge fan of "cute" food, I kept these cupcakes pretty simple with just the slightest nod to the red, white and blue. The real special part about these cupcakes is how great they taste and how easy they are to make. I started with a box of white cake mix, then added all sorts of good stuff to the batter like sour cream, an extra egg, some vanilla and a box of vanilla pudding mix.
The cupcakes are light and airy and totally delicious, especially when topped with a vanilla sour cream frosting. The sour cream adds just the slightest tang to the frosting and prevents it from tasting too sweet. For a frosting lover like myself, that just means you can enjoy extra frosting! If you're looking for a dessert that is a little more in-your-face Fourth of July, I would suggest topping the cupcakes with a mix of blueberries, raspberries/strawberries and shredded coconut.

4th of July Sour Cream Cupcakes
Author:
Espresso and Cream
Ingredients
FOR THE CUPCAKES
1 box Betty Crocker SuperMoist white cake mix
1 box (3.9 oz) instant vanilla pudding mix
1 cup sour cream
¾ cup vegetable or canola oil
½ cup water
4 large eggs
1 teaspoon vanilla
FOR THE FROSTING
¼ cup sour cream
¼ cup (4 tablespoons) butter, softened
2½ cups powdered sugar
1 teaspoon vanilla
Milk (to thin if necessary)
GARNISH
Fresh blueberries
Instructions
Heat oven to 350°F. Line 18 standard-sized muffin tins with paper baking liners in red, white and blue colors, if desired.
In the bowl of an electric mixer, combine all the cake ingredients. Mix 2 minutes on medium speed until well combined and batter is smooth. Divide batter between cupcake liners. Bake 16 to 18 minutes or until a toothpick inserted in the center comes out clean. Cool in pan 5 minutes. Transfer cupcakes to a wire cooling rack and cool completely, about 30 minutes.
Meanwhile, prepare the frosting. In the bowl of an electric mixer, beat together the sour cream and butter until smooth. Add in the powdered sugar and vanilla and beat until well combined. Add 1 to 2 tablespoons milk to thin the frosting as needed.
Frost cooled cupcakes with frosting. Top with fresh blueberries. Store leftover cupcakes in the refrigerator loosely covered with plastic wrap.