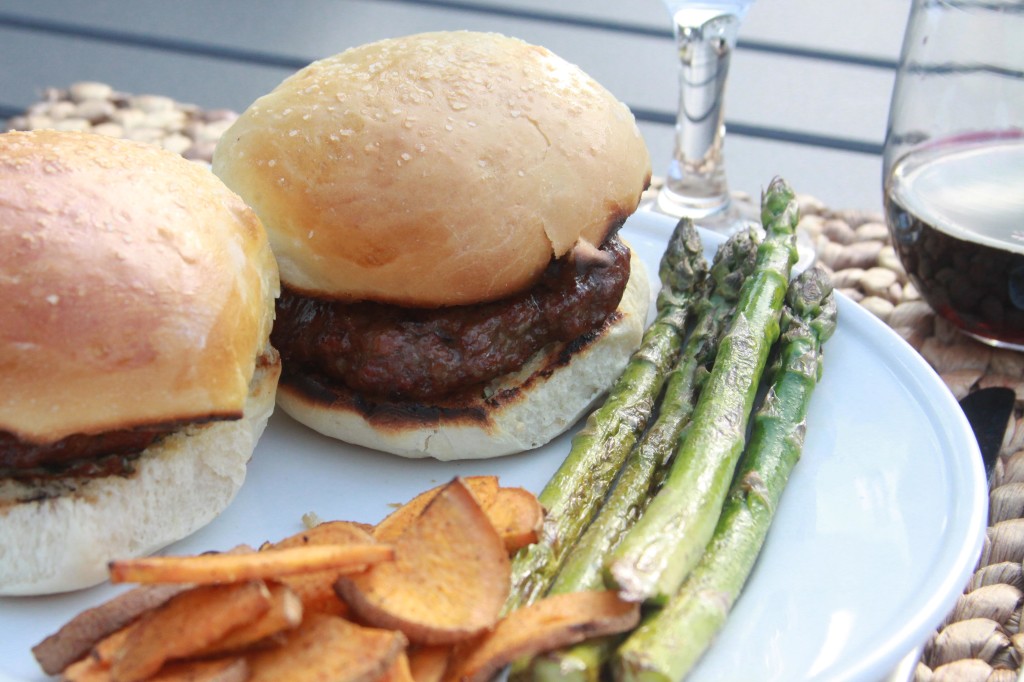 I'm not quite sure what makes some weekends so wonderful and fulfilling, but this weekend was one of those great weekends. It felt like the perfect combination of relaxation and productivity with just the right amount of time spent with friends and family, and a little down time, too. Since the weather was absolutely beautiful, we grilled and spent more than one night drinking wine out on the patio.
Joe and I have this pretty great deal going. Since his parents are cattle farmers, we have a deep freeze filled with all the beef we could ever ask for. It makes it easy to entertain during the summer because we can always throw a roast in the slow cooker or brats and burgers on the grill. However, burger buns aren't something I always have on hand.
Case in point? This weekend when my mom was visiting and we didn't have any buns on hand. Instead of going to the store, I decided I could use the yeast we had at home to make hamburger buns from scratch. I found a great recipe from All Recipes and was amazed at the results. The rolls were really quick to pull together and didn't take a lot of hands-on time. I simply pulled the dough together and went about our other weekend activities while the dough took time to rise.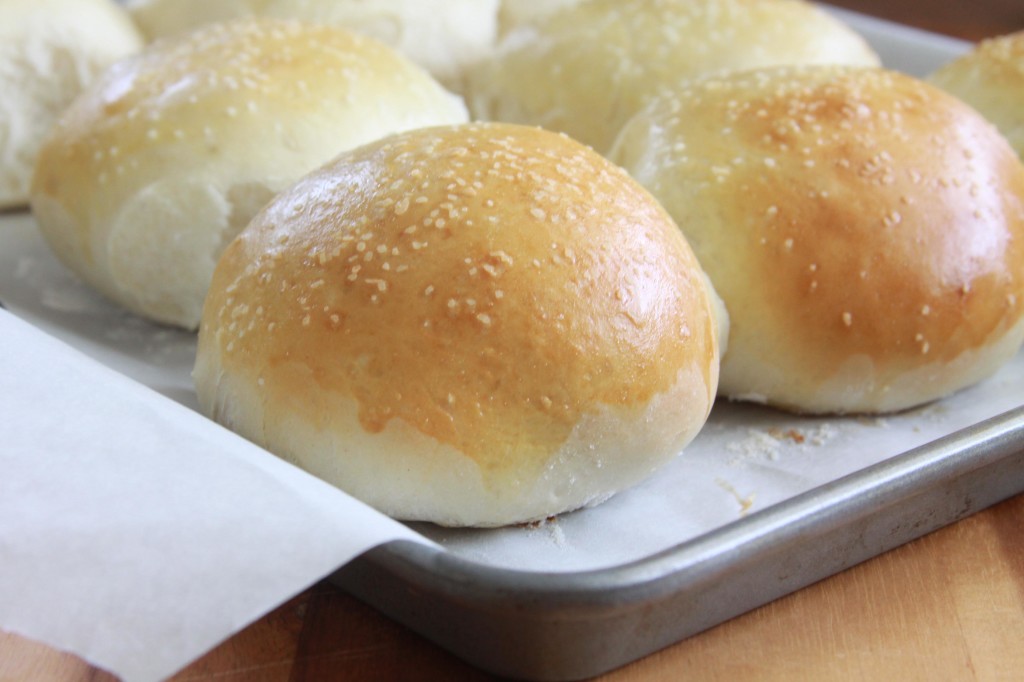 There's something so incredibly gratifying about making bread from scratch, hamburger buns included. Although it may seem like a little bit of an undertaking, I promise that the flavor and texture of the rolls makes it worth the extra effort! Joe said that the burgers we made this weekend were some of the best he's ever had. Maybe he's just getting the good husband award, but I'll take the compliments when they come.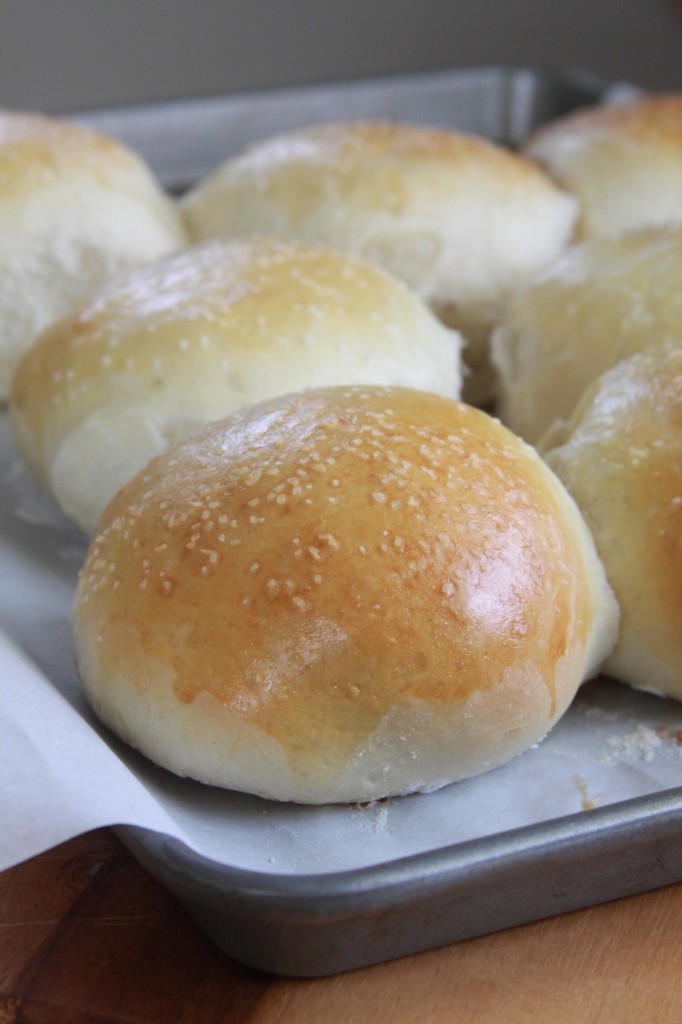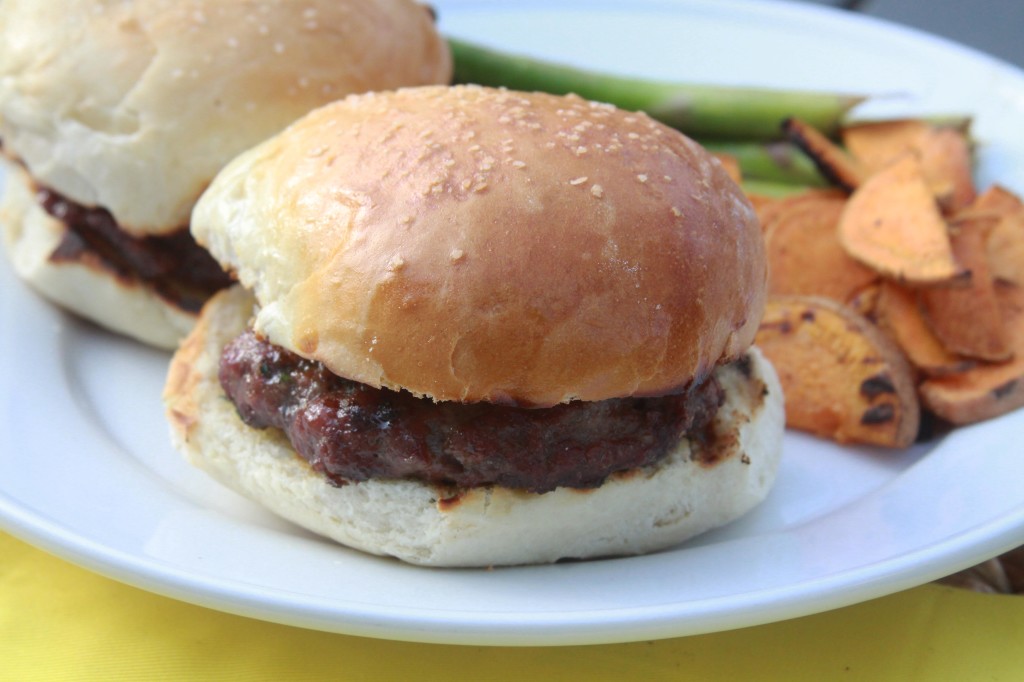 Homemade Hamburger Buns
Author:
Espresso and Cream
Homemade hamburger buns are easier to make than you might think and they're incredibly delicious! Totally worth the small bit of extra effort to make them at home.
Ingredients
1 cup warm water
1 packet (0.25 oz) active dry yeast
2 tablespoons sugar
3½ cups all-purpose flour, plus additional for kneading as necessary
1½ teaspoons kosher salt
1 large egg, lightly beaten
3 tablespoons butter, melted
Topping
1 egg, whisked
1 teaspoon kosher salt for topping, if desired
Instructions
In the bowl of an electric mixer fitted with a hook attachment, combine the water, yeast and sugar. Stir until well combined. Stir in 1 cup of the flour until well combined. Add in the remaining flour and salt, along with the egg and butter.
Knead using the hook attachment of the mixer for 5 to 6 minutes. Dough should be smooth and elastic but not sticky. Add an additional tablespoon or two of flour if necessary.
Place dough in a greased bowl, covered, in a draft-free place (I like to put it in a slightly warmed up oven) for an hour or until doubled in size.
Once dough has risen, punch down and knead a couple times. Divide dough into 8 portions shape into discs about ½ inch thick. Place rolls on a parchment-lined baking sheet a couple inches apart. Dust tops of rolls with flour. Cover with aluminum foil or plastic wrap and place in a draft-free location for another hour or until doubled in size.
Heat oven to 375F. Brush tops of rolls with the whisked egg. Sprinkle with salt. Bake 12 to 16 minutes or until deep golden brown. Cool completely. Cut rolls in half and fill as desired.