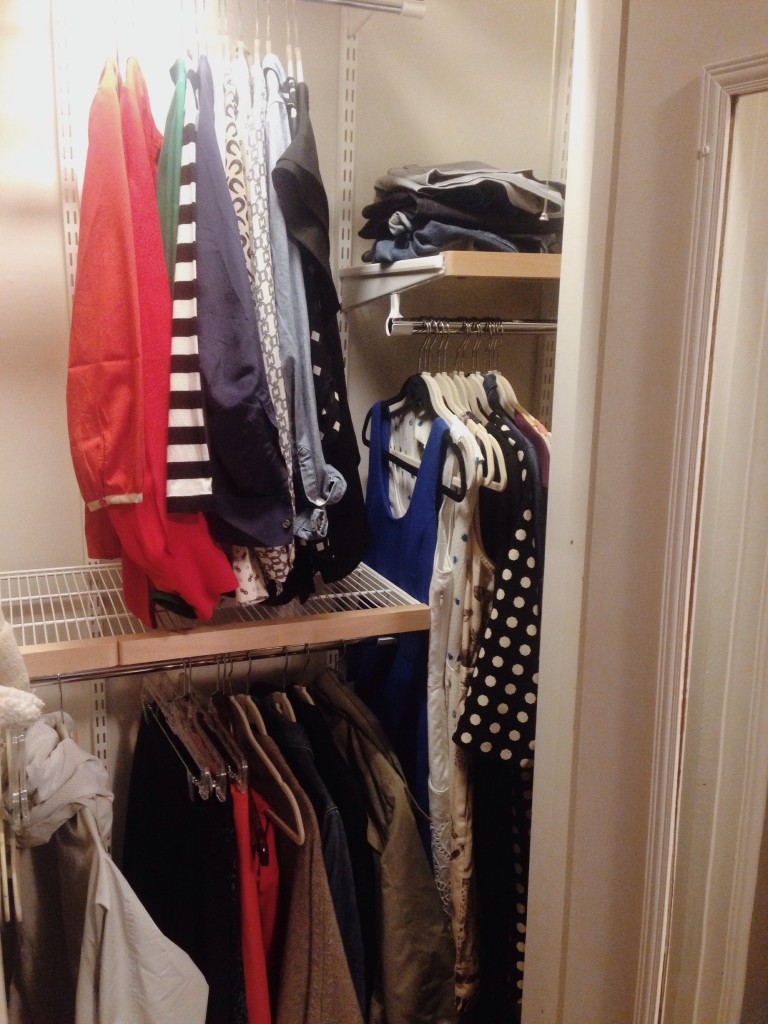 You know those weekly roundups that people do on their blogs? I love them. Although I don't currently have my own version on Espresso and Cream, I soak up the roundups from other people.
Recently my dear friend Laura posted a round-up which included a link to the blog Un-Fancy. It was all about creating a capsule wardrobe. If you're like me and have no idea what a capsule wardrobe is, then check this post out. As I was reading the post, all I could think was, "Yes! That's me!" 
Truth be told, I have a lot of clothes in my closet. It's a little ridiculous how many items of cute, nice clothing I have. But when I go to get ready in the mornings, I have the hardest time finding something I really love wearing. I have a handful of dresses I love, a favorite pair of jeans and a few shirts I go to time and time again, but the rest of the items in my closet just sit there looking pretty 90% of the time. That's crazy talk!
I don't think I'm alone in feeling this way, but I'm incredibly sick of spending money on clothes I don't really love. It's wasteful and frustrating. So I decided to take the Un-Fancy challenge.
1. Pair down your wardrobe for a single season to just 37 items. (okay, I cheated and included 40) This doesn't include workout gear, pajamas, undergarments, swimsuits, and/or jewelry and accessories. The items should only include pieces you really love and get super excited about wearing. Keeping this in mind helped when deciding what to keep. I just kept asking myself, "Do I really love this piece? How often have I worn it lately?"
2. Store all your off-season clothing somewhere else. Put all the in-season items that you took out of your closet for the challenge in a box for storage. I love that you don't need to throw out the clothes just yet. If you really miss something you can go get it from the box. It made it much easier to part with these items.
3. Don't buy anything new for the full season! Yikes! That made me nervous, but thinking about the money I'll save each month in our clothing budget got me excited. I'm planning on putting that money away for the next three months for the next step…
4. After you've made it through one season, you can start to think about the next season's capsule wardrobe. Some summer pieces may transfer over into the fall season and so on, but you can only have the same limited number of pieces. You can, however, make purchases for this next season. The idea is that after a full season of doing this experiment, you'll get a good feel for your true style. And since you can only have 40 (or 37) items in your closet at any given time/season you'll make smarter, more "you" purchases. I'm guessing the items I buy will also be more expensive and higher quality. Less = more!
5. Keep doing this for a full year. At that point you should have a fully fleshed out capsule wardrobe. After that, you enter maintenance mode, slowly and carefully adding pieces only as needed and only if you truly love the item you're buying.
Does anyone else feel as excited about this idea as me? Something about it speaks to my inner minimalist, and more than anything I'm driven by having a closet full of curated items that I deeply love. The prospect is so appealing! I'll be sharing more photos of my Un-Fancy challenge this summer using the group hashtag #unfancy and following the blog's writer, Caroline Joy on Instagram for inspiration. I would encourage you to take up the challenge, too, if you're as frustrated as I am!
Has anyone considered taking on a challenge like this? Is anyone on board for doing the Un-Fancy challenge with me? Let me know! I would love to follow along with you on your journey!
Madison